Inventory and Monitoring at Eisenhower National Historic Site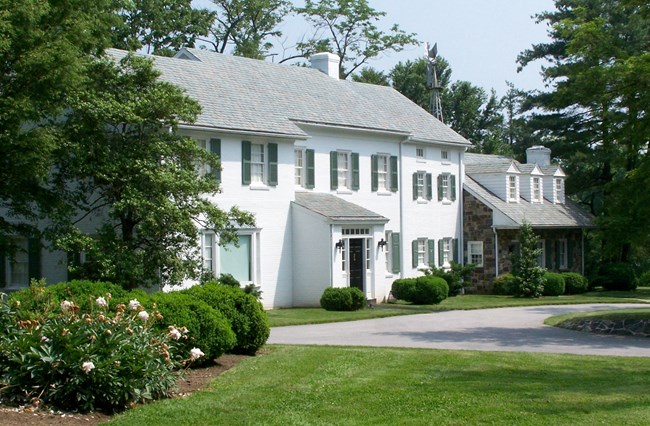 Environmental Setting
The Eisenhower National Historic Site is located adjacent to the Gettysburg National Military Park in southeastern Pennsylvania. The farm served President Eisenhower as a weekend retreat and meeting place. With its putting green, skeet range, and view of South Mountain, it was a much needed respite from Washington, D.C. The farm also supports Black Angus cattle, reminiscent of the Eisenhower's show stock. The park encompasses 279 ha (690 acres) of historic structures, agricultural fields, and small patches of forest. The park's mission is to protect and preserve the resources associated with Eisenhower NHS in order to promote understanding and appreciation of the life, work, and times of President Dwight Eisenhower.
When evaluating the combined area of Eisenhower National Historic Site and nearby Gettysburg Battlefield, agricultural field is the most common vegetation type (40%). These large expanses of grasslands provide important habitat for birds and mammals, and contain several rare plant species. In total, the parks are home to 16 species that are considered endangered, threatened, or species of special concern in the State of Pennsylvania. Both parks are also considered Pennsylvania Important Bird Areas and Eisenhower National Historic Site has been designated a Pennsylvania Important Mammal Area.
Key Resources and Issues
The park currently faces numerous threats to its natural and cultural resources. Runoff from nearby agricultural fields can lead to stream and groundwater contamination, and an overabundance of deer can adversely affect forest regeneration. Add to these, stresses due to global warming and the potential spread of invasive exotic species that impact biological diversity and degrade park habitats.
In addition to the natural resource management activities being performed by park staff, scientists of the Mid-Atlantic Network Inventory and Monitoring Program have instituted several monitoring protocols to monitor the status and trends of natural resources at the Eisenhower NHS.
Last updated: November 20, 2019