Operating Hours & Seasons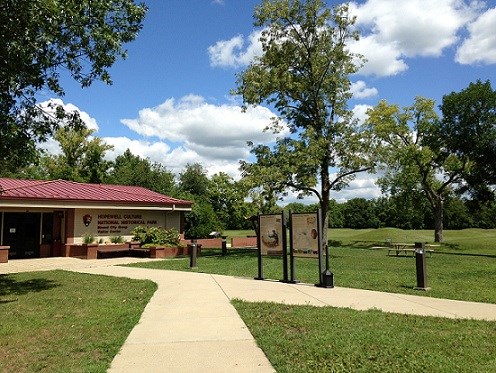 Mound City Group Visitor Center
The park's Visitor Center is open daily for limited hours of operation from 9:00 a.m. to 4:00 p.m. (with extended hours in June and July). The park film, bookstore and restrooms inside of the visitor center building will be open during these hours. The park museum is temporarily unavailable until further notice. Please call the park for additional information or if you have questions.
Parking at the Mound City Group Visitor Center
Head-in parking is available in the parking lot. Oversized vehicles must park on the shoulder of the driveway around the flagpole. Please call the park at 740-774-1126 for help with parking.

The grounds at Mound City Group are open from dawn to dusk. There is NO overnight camping permitted at any of the Hopewell Culture NHP sites.

The visitor center is normally closed on January 1st, Thanksgiving Day, and December 25th. Additional rare closure days may occur during times of inclement weather or when situations dictate the need for the building to be closed. Visitor Center building closures will always be posted in the Alerts section and on our Social Media pages.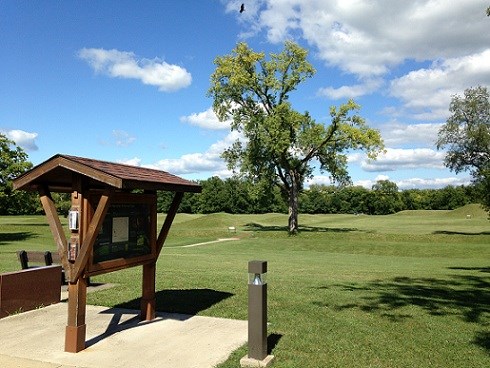 Park Grounds
Park grounds at the Mound City Group, Hopeton Earthworks, Hopewell Mound Group, and Seip Earthworks units are always open from dawn to dusk.

All shelter houses and picnic tables are on a first-come, first-serve basis. We do not take reservations for any of the shelter houses or picnic tables.
Important Note for All Sites:
Launching, landing and operation of any type of Unmanned Aerial Vehicles (UAV / drones) is not permitted within National Park Service boundaries at any time. This flight restriction is a 24/7 regulation, every day of the year. All sites and areas of Hopewell Culture National HIstorical Park (even parking lots) are included. Please report violations to a ranger or by calling us or emailing us. Read more about Unmanned Aircraft in the National Parks.
Seip Earthworks
Currently, Seip Earthworks has limited visitor facilities consisting of a covered picnic shelter. Parking is available at the front of the grounds only, immediately off of U.S. Route 50. The road that extends to the old Seip farmhouse is gated and not available for public access. There are interpretive signs and mowed-grass trails throughout the grounds.
Hopewell Mound Group
Hopewell Mound Group has public restrooms, a covered picnic shelter, mowed-grass trails and 2.5 miles of interpretive trails. The parking lot has ample spots for cars and larger vehicles.
Hopeton Earthworks
Hopeton Earthworks has an adequate parking lot to accommodate cars and a few large vehicles. There are no restrooms available at the site. The 1.1 mile-long trail (round-trip) has a scenic overlook that allows visitors to view the interpretive mowing which showcases the original earthworks' size and shape.
High Bank Works
High Bank Works is currently is restricted to Special Permit Use only or during ranger-led events. Please Contact Us if you have questions about the High Bank Works site.
Spruce Hill Earthworks
Please contact the Arc of Appalachia Preserve System to request information about or for access to Spruce Hill Earthworks. Park rangers are unable to provide permission and/or access to Spruce Hill Earthworks.

Last updated: September 27, 2023