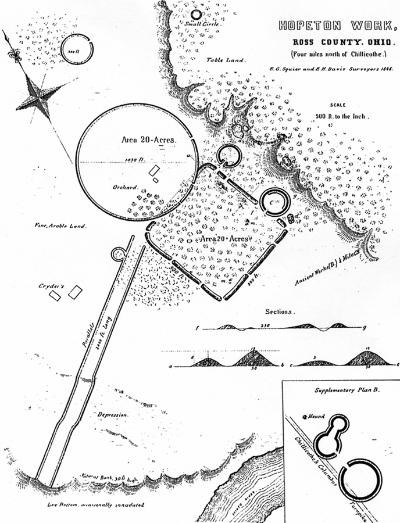 Two thousand years ago, American Indians of the Hopewell culture gathered in the Scioto River and Paint Creek valleys to build enormous geometic earthworks. For the next half millennia, the Hopewell culture flourished in the area creating spectacular earthen architecture and finely crafted objects. The Hopeton Earthworks complex includes a 20-acre circle, a 20-acre square, at least two small circles and parallel walls.

Hopeton is located about one mile east of Mound City Group on a terrace east of the Scioto River. The 292-acre site consists of a square enclosure about 900 feet on a side that is joined to a circle with a diameter of about 1,050 feet. Smaller circular structures also join the square at various points, and linear parallel earthworks extend westward toward the river for about 2,100 feet from the northwest corner of the square.

Quicklinks for information and maps on visiting the site today.
Ceremonial Gatherings
The Hopeton Earthworks complex was constructed on a grand scale. The walls of the square were 12 feet high and 50 feet wide. The Great Circle's diameter was 1,050 feet, with walls five feet high. The parallel walls ran for at least 2,400 feet and were 150 feet apart from each other.
The construction of the earthworks was purposeful. For instance, the parallel walls were constructed to align with the sunset on the winter solstice. In addition, the American Indians that built the walls of the enclosure carefully selected the type of soil they used. Red clay soil was used on the exterior of the walls and yellow clay soil was used on the interior walls. Even more remarkable, the Great Circle's diameter of 1,050 feet was repeated at four other earthworks sites: Circleville, High Bank, Newark, and Seal.