Frequently Asked Questions
FAQ Quick Links - Click a question to jump to answer
---
Q: What's the difference between a National Park and a National Monument?
A: National Monuments are areas reserved by the federal government because they contain objects of historic, prehistoric, or scientific interest. They are typically established by presidential proclamation, occasionally these areas also are established by direct action of Congress. Size is not important in the case of the national monuments. The 1906 American Antiquites Act authorizes the President to establish National Monuments.
National Parks are areas set apart by Congress because of some outstanding scenic feature, historical value or natural phenomena. Under present policies, national parks must be sufficiently large to yield to effective administration and broad use. The principal qualities considered in studying areas for park purposes are their inspirational, educational, and recreational values.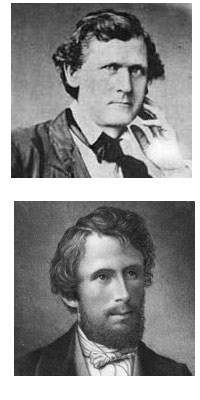 Q: When were the mounds excavated?
A: Many of the mounds at the park have been excavated in historic times. Although earthworks were mapped in the 1810s by Caleb Atwater, mound excavations formally began in the early 1840's by Ephraim Squier and Edwin Davis, both Chillicothe residents. Additional mound excavations occurred at the close of the nineteenth century and into the first quarter of the twentieth century. The last major excavations at Mound City occurred during the mid-1970's. Much of the information gained from these excavations is used today to understand the Hopewell culture.
Visit the Historical Figures in Hopewell Archeology page to learn more about Dr. Edwin Davis and Ephraim Squier.
Q: How do you pronounce Chillicothe and Scioto?
A: Chillicothe (chil-akoth-E) is the town where the park is located. The name derives from a Shawnee word for principal town.
The Scioto (sei-O-tuh) River flows for over 231 miles, beginning in Auglaize country, flowing past the Mound City Group unit and terminating at the Ohio River in Portsmouth.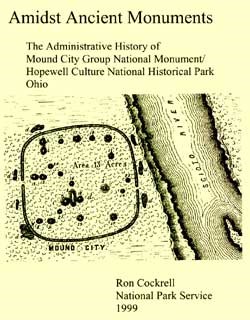 Q: When was the park established?
A: On March 2nd, 1923, President Warren G. Harding established Mound City Group National Monument by using powers granted to him by the 1906 Antiquites Act. In 1980, Congress expanded the monument by adding a portion of Hopeton Earthworks. On May 27th, 1992, Congress authorized the legislation (Public Law 102-294) that renamed Mound City Group National Monument to Hopewell Culture National Historical Park. That law also authorized the acquisition of three additional sites, High Bank Works, Hopewell Mound Group and Seip Earthworks. Learn more about the history of Hopewell Culture National Historical Park by reading the online Administrative History.
Q: What other National Park Service sites are there in Ohio?
A: The National Park Service has a total of eight national park sites in Ohio. Click on a site's full name to be taken to their respective page. Each park's "alpha code" is bolded in parenthesis. See map at bottom of page for geographic locations of these Ohio NPS sites. Click on the park's picture on the map to be taken to their website.
SOUTHERN OHIO NPS GROUP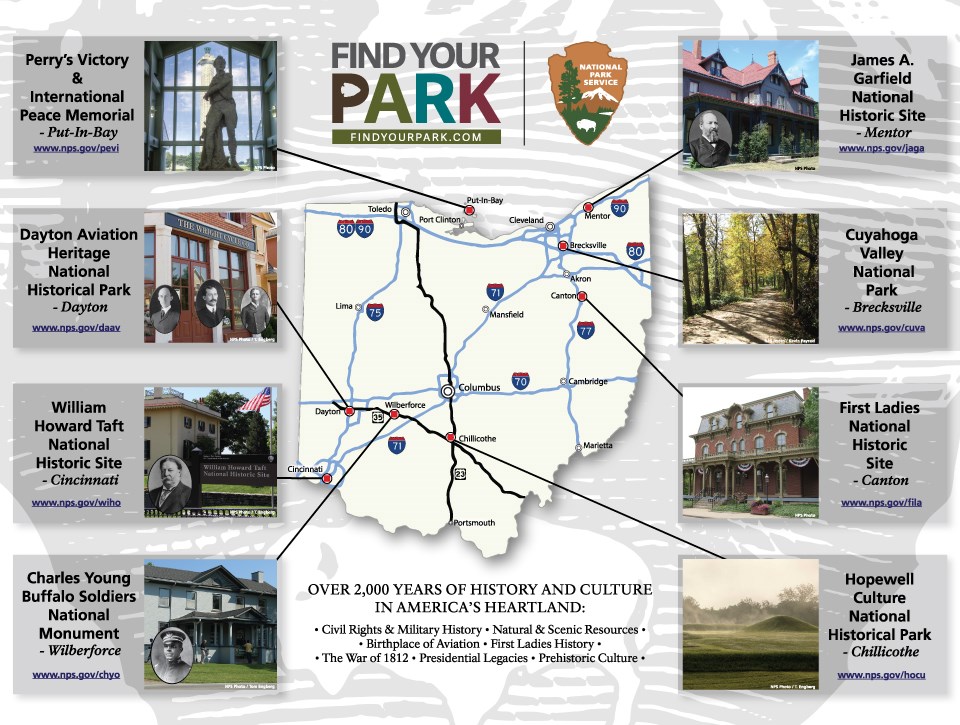 Last updated: April 1, 2020