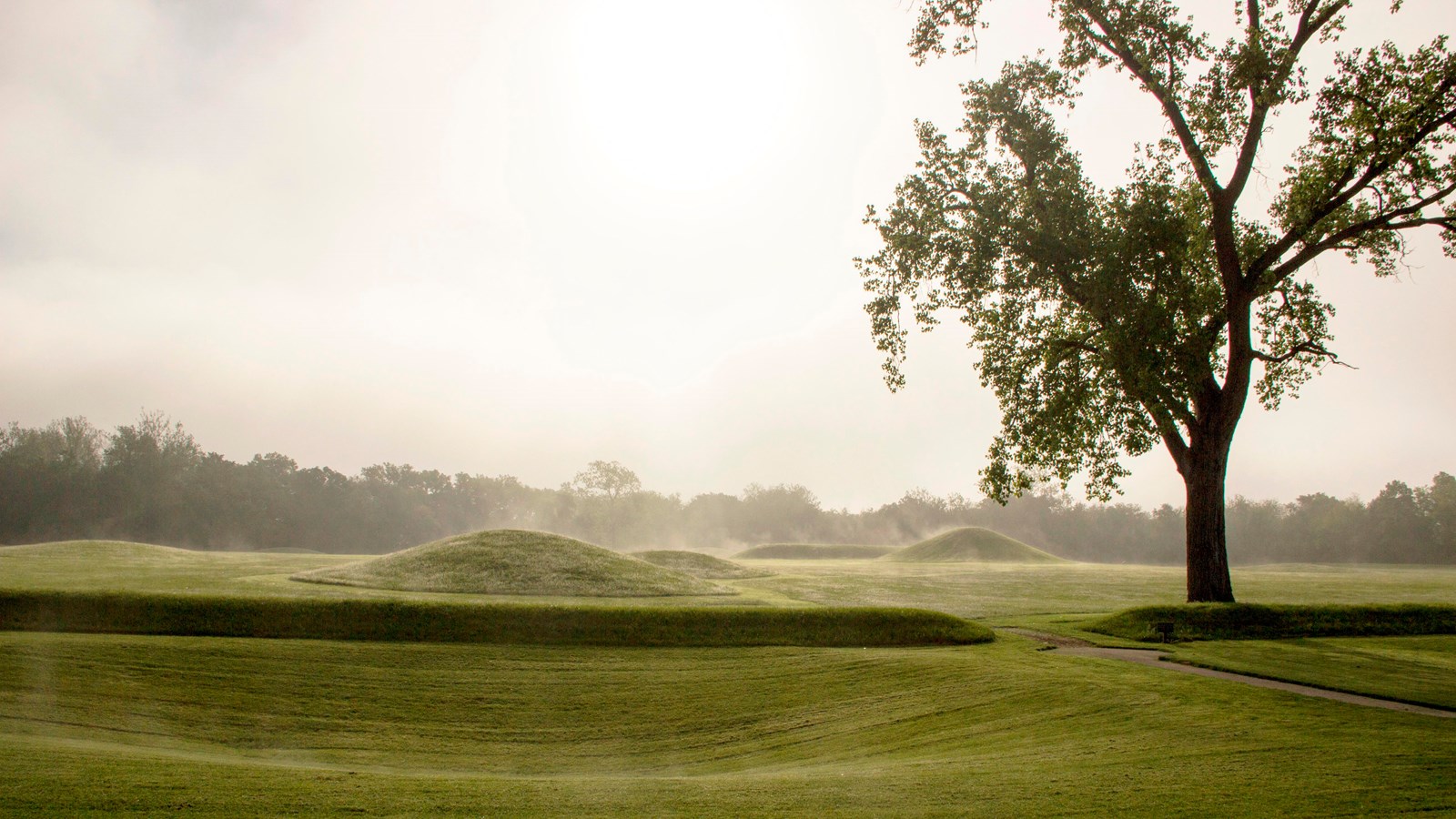 Location:
Chillicothe, Ohio
Significance:
2,000 Year Old Earthworks
Designation:
National Historical Park
Accessible Rooms, Accessible Sites, Baby Changing Station, Bicycle - Rack, Cellular Signal, Electrical Outlet/Cell Phone Charging, First Aid Kit Available, Gifts/Souvenirs/Books, Historical/Interpretive Information/Exhibits, Information, Information - Maps Available, Information - Ranger/Staff Member Present, Information Kiosk/Bulletin Board, Parking - Auto, Parking - Bus/RV, Picnic Table, Recycling, Restroom, Restroom - Accessible, Scenic View/Photo Spot, Trash/Litter Receptacles, Water - Bottle-Filling Station, Water - Drinking/Potable, Wheelchair Accessible, Wheelchairs Available
This wonder of the ancient world was constructed by Native Americans over many centuries between A.D. 1- 400. Mound City Group's walls enclose at least two dozen mounds in an area larger than ten football fields. Never the less, compared to the many giant complexes located around the Chillicothe area, Mound City Group is a relatively small Hopewell earthwork. This wondrous site remains revered and spiritual to many, including non-Native Americans.

This site features the park's only visitor center. It is located at at 16062 State Route 104, Chillicothe, OH 45601. Visitor center hours are 8:30 am to 5:00 pm, every day of the week (except Thanksgiving Day, Christmas Day & New Year's Day). Park grounds are open every day of the year from dawn until dusk.

Please be mindful that Mound City Group is still considered a sacred place by many people, so we ask all visitors to treat the earthworks with respect. There are no trails within the enclosure. Visitors are welcome to stroll reverently amongst the mounds. Please, do not walk on the mounds or earthen walls. Park trails include a nature trail and a beautiful paved river walk along the Scioto River. The nature trail winds through a young forest and passes masonry stones from a lock of the Ohio-Erie Canal that ran along the west border of the park in the 1800's. Facilities in the visitor center include restrooms, a small gift shop, an auditorium and a musuem. The parking lot is located off of S.R. 104, about 2 miles north of U.S. 35. Visit the Mound City Group page for additional information about this site, including directions and maps.

Important Note: Launching, landing and operation of any type of Unmanned Aerial Vehicles (UAV / drones) is not permitted within National Park Service boundaries at any time. It is not restricted to just park operating hours. This is a 24/7 regulation, every day of the year. All sites and areas of Hopewell Culture National HIstorical Park (even parking lots) are included. Please report violations to a ranger or by calling us or emailing us. Read more about Unmanned Aircraft in the National Parks.
Last updated: May 17, 2021