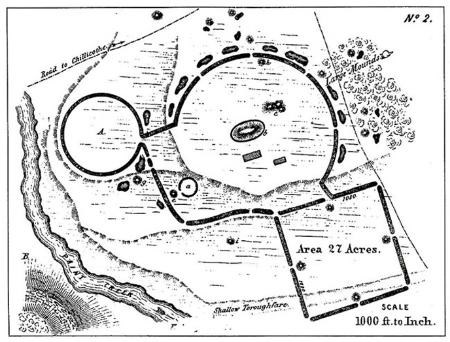 Two thousand years ago, the region between Seip Earthworks and Chillicothe was one of the most important cultural centers in eastern North America, for hundreds of years. On high terraces along the Paint Creek and Scioto River valleys, almost two dozen giant geometric earthwork complexes were constructed by prehistoric people referred to as the Hopewell Culture. One of the most magnificent engineering feats of them all was Seip Earthworks: over two miles of embankment wall enclosing over 120 acres in the shape of two immense circles and a 27 acre square with astronomical alignments. The embankment wall was as high as ten feet tall in places. Tragically, this great complex suffered the same fate as all Hopewell earthworks. Built on prime agricultural land, Hopewell geometric earthworks have been plowed over for the last two centuries, leaving only a few remnants of these magnificent ancient monuments of America.

Watch video of the historic re-dedication event at Seip Earthworks in late 2014 when the Ohio History Connection transferred ownership of the land to the National Park Service.

Information on visiting the site today.