Lockwood House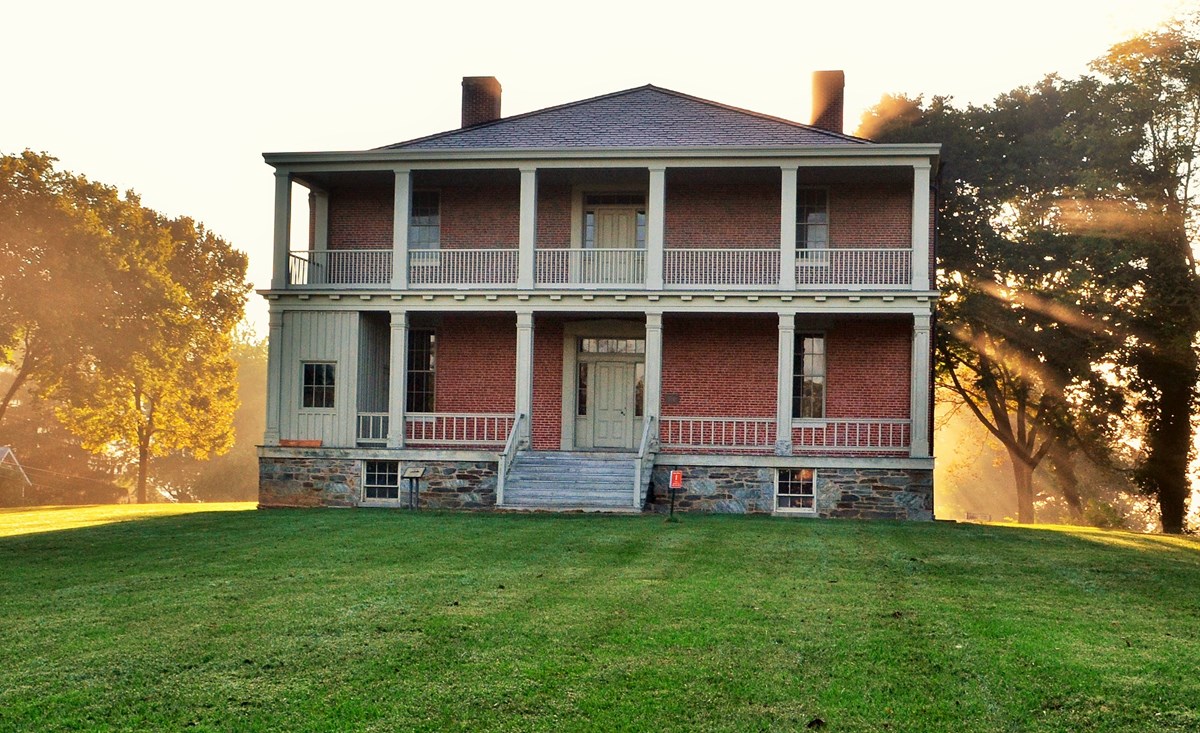 One of the largest residences in Harpers Ferry, the Lockwood House, hosted numerous venues during the Civil War. Originally constructed as the home of the Armory Paymaster in 1848, the massive stone and brick structure has an elaborate two-story porch, which became an ideal site for a base hospital during the summer of 1862. Labeled the "Clayton Hospital," the large rooms, high ceilings, and airy porch offered a healthy environment for soldiers suffering from camp diseases such as dysentery, diarrhea, and various fevers. The Lockwood House also became the location where wounded Union soldiers were treated during the Battle of Harpers Ferry in September 1862.
Following the Gettysburg Campaign in 1863, the Union army reoccupied Harpers Ferry and the garrison commander, Brig. Gen. Henry Lockwood, selected this building for his headquarters. The current name of the building is named after Henry Lockwood. Lockwood was not the only general to use the building; the building was also headquarters for Maj. Gen. Philip H. Sheridan. Sheridan occupied the Lockwood House during the second week of August 1864, as he prepared to launch his Shenandoah Valley Campaign that would remove Confederates from the area.
When not used as a headquarters or a hospital, this building served as a bivouac, a prison, and a ballroom. A grand Thanksgiving ball was held here in November 1863, featuring the brass band of the 34th Massachusetts Infantry and under the candlelight of a chandelier made of rifle barrels and bayonets.
At the end of the war, Freewill Baptist missionaries from Maine utilized the Lockwood House as a school for former slaves. Under the direction of Rev. Nathan Brackett, the Lockwood House became the nucleus of Storer College.
In recent history, architects and conservationists have found Civil War era graffiti scribbled on the building's plaster walls. Today, preserving the graffiti has been an ongoing conservation project and makes the house unique that it has lasted so long.
Last updated: May 3, 2022