Camping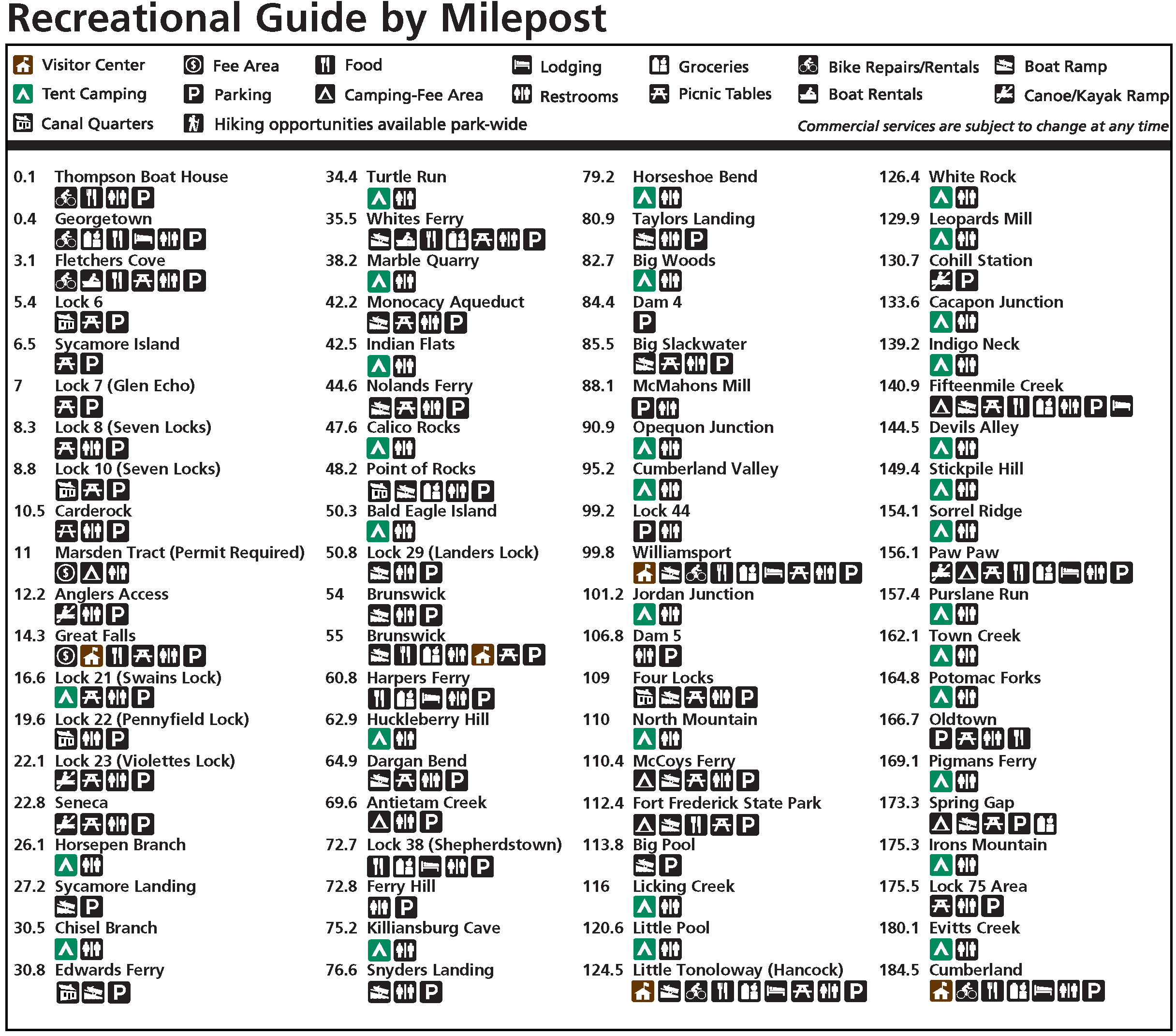 Want to spend a night under the stars at the C&O Canal? Then you've come to the right place! The C&O Canal is a 184.5 mile long linear park stretching between Washington, DC, and Cumberland, Maryland. It is about a 4 hour drive end to end.

The park offers two different types of campsites: Hiker Biker Overnight campsites and Drive In campgrounds. There are no RV hookups in our park. Read more below to find out which type of campsite will work best for you.

Download the Recreational Guide by Milepost (pdf).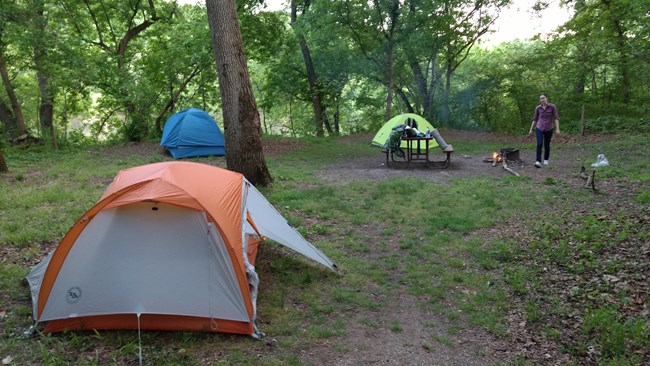 Hiker-Biker Campsites
No fee; first-come, first-served; no reservations.
Stays limited to one night per site, per trip.
With the exception of Swains (Mile 16.6), all campsites are located anywhere from 1 to 5 miles from the nearest parking area. Use the Recreation Guide by Milepost above to determine the nearest parking area to your campsite of choice. Please plan accordingly.
All sites have: chemical toilet, water, a picnic table, and grill.
Potable water may not be available at each campsite. Water is treated with iodine. Please plan to have water purification tablets with you. Water is turned off from mid-November to mid-April each year.
Mile 16.6 Swains Lock
Mile 26.1 Horsepen Branch
Mile 30.5 Chisel Branch

Mile 34.4 Turtle Run

Mile 38.2 Marble Quarry

Mile 42.5 Indian Flats

Mile 47.6 Calico Rocks

Mile 50.3 Bald Eagle Island

Mile 62.9 Huckleberry Hill

Mile 75.2 Killiansburg Cave

Mile 79.2 Horseshoe Bend

Mile 82.7 Big Woods

Mile 90.9 Opequon Junction

Mile 95.2 Cumberland Valley

Mile 101.2 Jordan Junction

Mile 110 North Mountain

Mile 116 Licking Creek

Mile 120.6 Little Pool

Mile 126.4 White Rock

Mile 129.9 Leopards Mill

Mile 133.6 Cacapon Junction

Mile 139.2 Indigo Neck

Mile 144.5 Devils Alley

Mile 149.4 Stickpile Hill

Mile 154.1 Sorrel Ridge

Mile 156.9 Purslane Run

Mile 162.1 Town Creek

Mile 164.8 Potomac Forks

Mile 169.1 Pigmans Ferry

Mile 175.3 Irons Mountain

Mile 180.1 Evitts Creek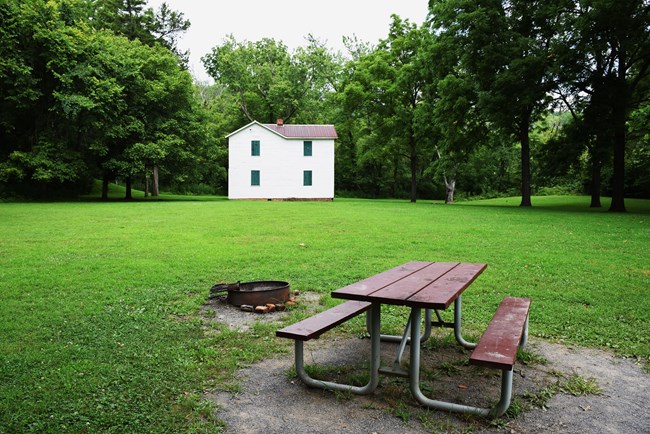 Drive-in Campgrounds
By reservation only. Make a reservation.
$20 per site per night, pass holders may be entitled to additional discounts
Trailer length may not exceed 20 feet
No RV Hookups
Drive-in campsites are equipped with grills, chemical toilets, and water.
Antietam Creek and Paw Paw have adjacent parking, but visitors cannot park at the actual campsite. Visitors may not park and sleep in recreational vehicles in these parking areas.
Stay is limited to 14 days between May 1 and October 1. Stay is limited to a total of 30 days for the entire calendar year.
Limit eight people per site.
Mile 69.6 Antietam Creek (Parking along Canal Road)
Mile 110.4 McCoys Ferry (Drive In campground)
Mile 140.9 Fifteenmile Creek (Drive In campground)
Mile 156.1 Paw Paw Tunnel (Parking adjacent to campground)
Mile 173.3 Spring Gap (Drive In campground)
Group Campsites
Reservation only, www.recreation.gov

$40 per site per night during peak season, and $20 during non-peak season.

Groups with more than eight people need to use the group campsites or register for more than one site in the campground.
Mile 11.5 Marsden Tract
Mile 110.4 McCoys Ferry
Mile 140.9 Fifteenmile Creek
Mile 173.3 Spring Gap
Private Accommodations
Private accommodations available in many canal towns or stay in a refurbished lockhouse operated by the C&O Canal Trust.
Camping Regulations
Camp only in designated sites.
No overnight permits required for vehicles in Chesapeake and Ohio Canal parking lots. The National Park Service is not responsible for cars or their contents; do not store valuables in cars.
This is a trash free park; take all trash away.
Quiet hours: 10 pm and 6 am
Pets must be leashed at all times.
Bring only kiln fired or dried wood into the park; it may also be collected from grounded dead material in park and used in campgrounds only, do not remove wood. Bring handsaws to cut to size.
Fires restricted to grills and fire rings provided or portable grills positioned off the ground. Coals must be extinguished and removed from the park.
Single campsites at drive in campgrounds allow a maximum of two tents and eight people.
Hiker-Biker campsites can fix a maximum of five to ten tents, depending on the campsite. Please refer to signage at the campsite for specific details.
Do not tie ropes to trees and structures.
The use of hammocks at the Chesapeake & Ohio Canal NHP is permitted at designated hiker-biker campsites and within campgrounds where reservations are required. If attaching to trees, hammocks must have straps that are at least one inch wide. Plastic zip cords, nails or screws are not permitted for the purpose of anchoring a hammock.
Do not wash dishes, bathe, or clean fish near wells.
Draining or dumping refuse from trailers or other vehicles is prohibited.
Recreation Guide by Milepost
| Mile | Location | Bike services | Boat ramp | Boat rentals | Camping - Fee Area | Camping - Tent | Canal quarters | Canoe/Kayak ramp | Fee Area | Food | Groceries | Lodging | Parking | Picnic tables | Restrooms | Visitor Center | Water | Mile | Location |
| --- | --- | --- | --- | --- | --- | --- | --- | --- | --- | --- | --- | --- | --- | --- | --- | --- | --- | --- | --- |
Download This Dataset
Last updated: September 18, 2021