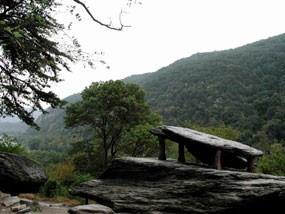 Your Entrance Fees at Work
Harpers Ferry was established as a National Monument in 1944 and became a National Historical Park in 1963. In 1986, a congressional act authorized the collection of fees at National Park Service areas. Fees were established at Harpers Ferry in February of 1987. This guide will assist you with information about the fee system during your visit to Harpers Ferry National Historical Park.
Your park entrance fees support park preservation, education, and maintenance. They are valid for three consecutive days, beginning on the date of purchase, at Harpers Ferry National Historical Park.
An Investment in Your National Park
Each year, nearly 500,000 visitors explore the history and natural beauty of Harpers Ferry National Historical Park. Restored structures, museum exhibits, wayside exhibits, trails, and educational programs bring history to life for visitors from all over the United States and the world. As visitation increases throughout the National Park System, providing a safe and memorable experience for all visitors can present quite a challenge. Increasing demands are placed upon existing facilities, and new facilities and services become necessary. In order to keep pace with growing needs, many parks, including Harpers Ferry, now participate in the Recreational Fee Demonstration Program.
The Recreational Fee Demonstration Program was established by Congress in 1996. Under this program, participating parks retain 80 percent of user fees collected, with the remaining 20 percent distributed among parks with the greatest need. With increased funds available on-site, participating parks have begun to clear a backlog of maintenance projects, so that new projects and services may now be considered.
For more information on the Recreational Fee Demonstration Program, visit https://www.nps.gov/feedemo/
The benefits of the Fee Demonstration Program are already visible at Harpers Ferry National Historical Park. As you enjoy the park, you may notice signs bearing the User Fee logo. Wherever you see this logo displayed, you will also see your entrance fees at work improving this park for your enjoyment and the enjoyment of future generations.
Some improvement projects include:
Carpentry, painting and repairs to the John Brown Museum complex.
Installation of new lights in the John Brown Museum complex.
Create historically accurate items to be used in building restoration.
Historic landscaping in the LowerTown.