Jenny Lake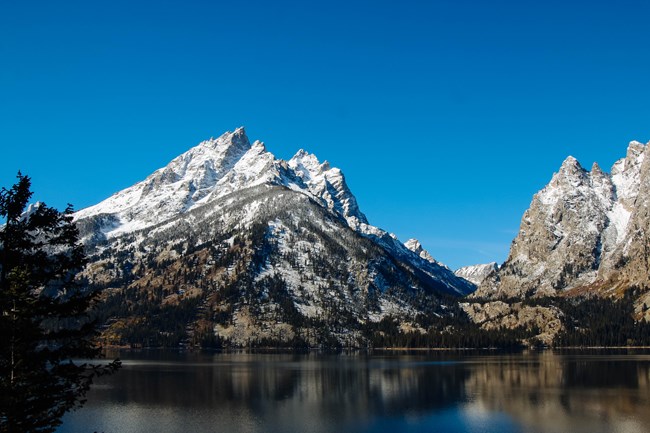 Explore Jenny Lake
Jenny Lake is one of the most visited areas in Grand Teton National Park. Tucked away at the base of the Teton Range, the lake is a centerpiece of the park. From the east shore, visitors have views of Teewinot Mountain, Mount St. John, and into Cascade Canyon. From the west shore, visitors can look back across the lake towards the valley of Jackson Hole.
Several popular trails leave from Jenny Lake. Hikers can loop the lake, visit Hidden Falls and Inspiration Point, or travel into the backcountry via Cascade Canyon. Longer trails such as Lake Solitude or Hurricane Pass can be accessed from Jenny Lake.
Visitors have many options in how to explore Jenny Lake: hike a trail, take a boat ride, hang out by the lakeshore, or stop by the visitor center. Park at Jenny Lake to access all aspects of the area. Parking is limited. In summer, the parking lot fills and you may be required to park along the road. If doing so, pull fully off the shoulder.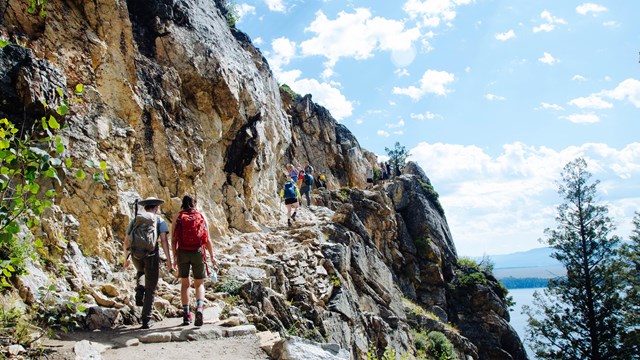 Hike to Inspiration Point
Inspiration Point is a popular trail with stunning views of Jenny Lake and the Jackson Hole.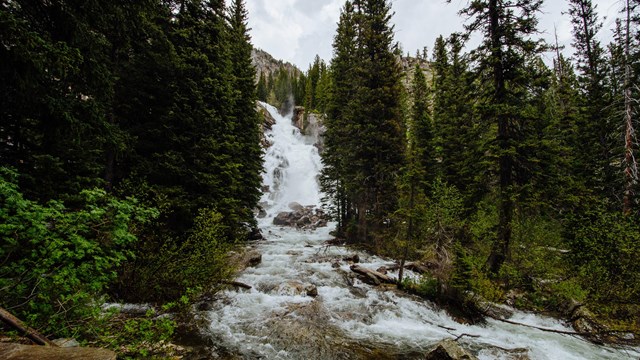 Hike to Hidden Falls
Hike to Hidden Falls for views of a 100ft/30m cascading waterfall.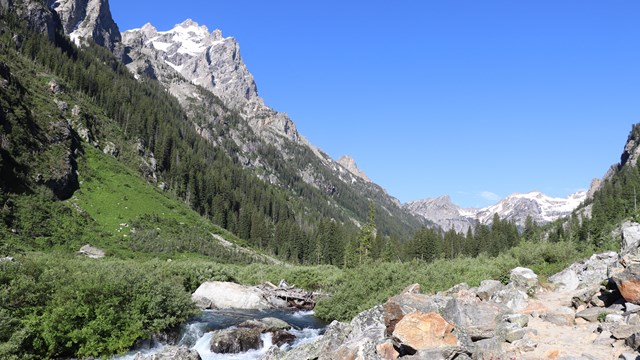 Hike into Cascade Canyon
Hike deep into the Teton Range on the Cascade Canyon Trail.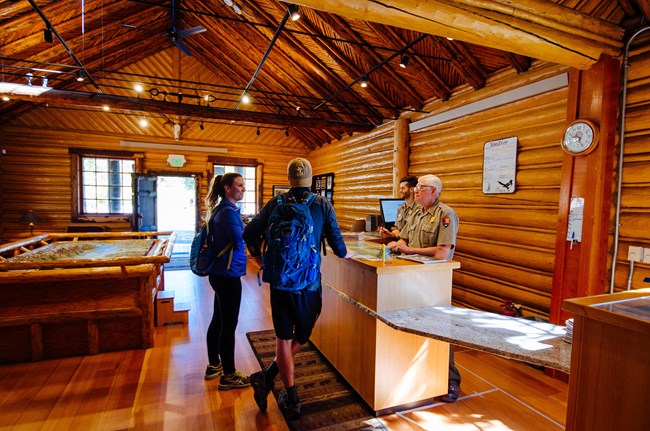 Visit the Jenny Lake Visitor Center
The
Jenny Lake Visitor Center
makes its home inside the historic Harrison Crandall Studio. The original building was built in the 1920's, and recent renovations were completed in 2019.
Stop in to chat with a ranger, visit the
Grand Teton Association
store, or learn about the history of art in conservation and the National Park Service.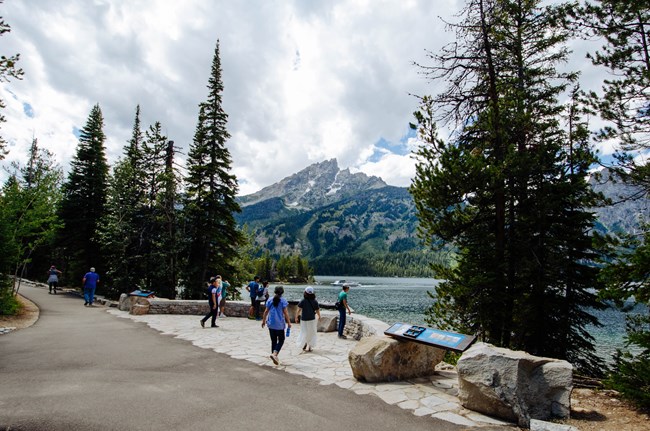 Explore the Discovery Trail
Follow the
Discovery Trail
to Jenny Lake. Along the way, stop to explore interpretive panels highlighting area wildlife, history, and the creation of the landscape. Take an easy stroll to see the lakeshore, or use the path to access the boat dock and area trails.
The Discovery Trail is a paved, 0.35m/0.56km trail, with wheelchair access to Jenny Lake.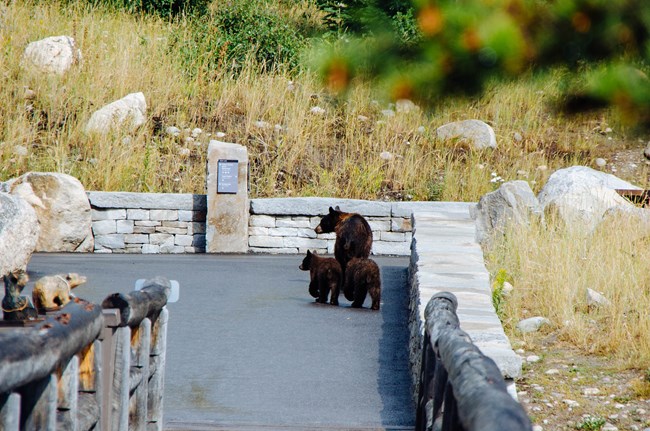 Bear and Wildlife Safety
Do you know what to do when encountering a wild animal? Jenny Lake is home to black and grizzly bears, moose, deer, and other large animals. Bears are often seen on trails and in the developed areas. Being prepared for an animal encounter can help ensure the safety of you and the wildlife.
Learn more about how to
stay safe
in bear country.
Safety tip:
never approach a wild animal. Always maintain a distance of at least 100yds/91m from bears and 25yds/23m from other wildlife.
Boat Jenny Lake
Take a shuttle boat across Jenny Lake, or spend a day paddling by bringing your own boat or renting a canoe or kayak.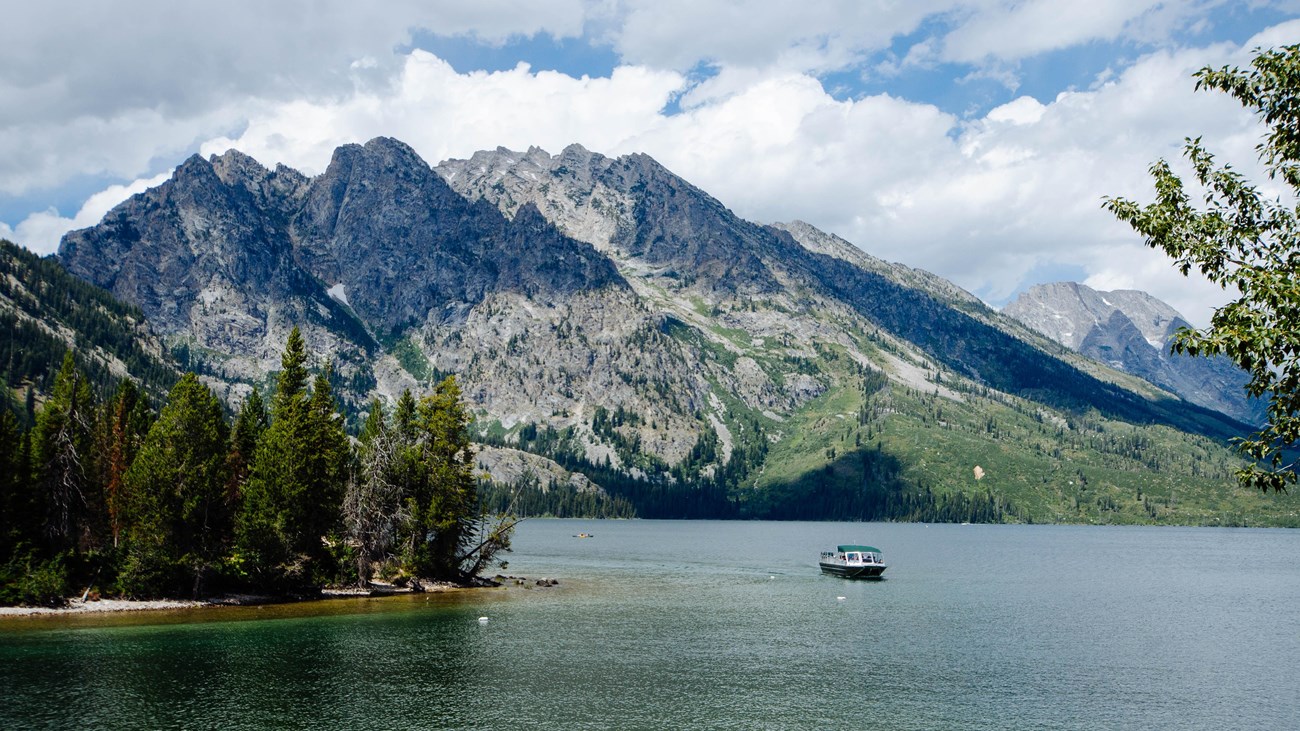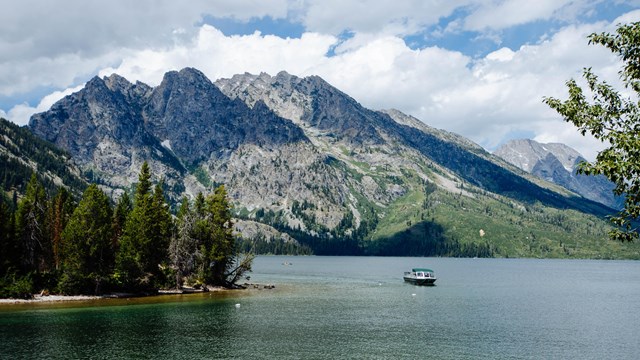 Take the Shuttle Boat
Take the shuttle boat for easier access to Hidden Falls and Inspiration Point.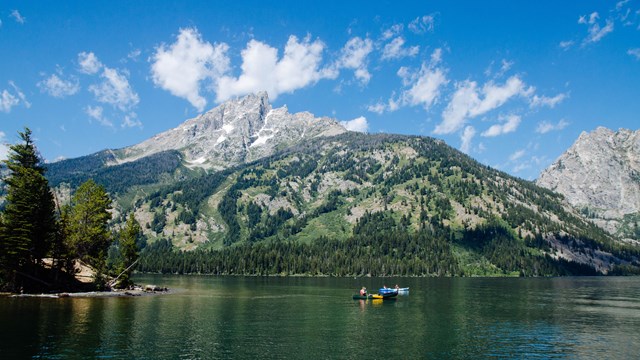 Rent A Boat
Rent a canoe or kayak and explore Jenny Lake from the water.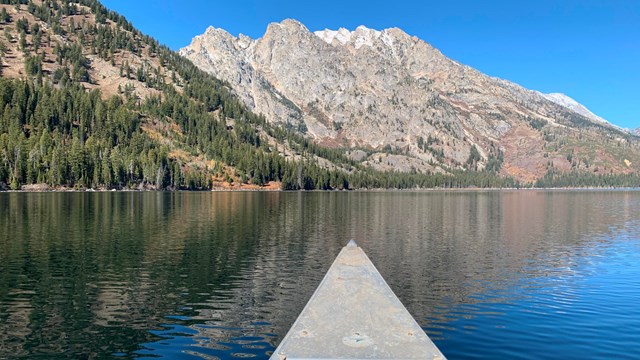 Bring Your Own Boat
Bring your own boat to Jenny Lake (some restrictions).
Jenny Lake Frequently Asked Questions

Where is everything? Please refer to the Jenny Lake area map to locate the visitor center, lake, boat dock, restrooms, store, ranger station and campground; and the park map for general information.

Where are Hidden Falls and Inspiration Point? You may hike around either end of the lake or take a shuttle boat to access the falls and vistas. Hidden Falls is 5m/8km roundtrip and Inspiration Point is 6m/9.6km roundtrip from the visitor center, or 1m/1.6km and 2m/3.2km respectively from the west boat dock for those using the Jenny Lake Boating shuttle boats (fee charged). Please refer to the Hiking Guide for more information.

Can I pick up backcountry permits at Jenny Lake? Backcountry permits are available at the Jenny Lake Ranger Station. Boat permits are not available at Jenny Lake. Boat permits can be purchased at the Craig Thomas Discovery and Visitor Center in Moose or the Colter Bay Visitor Center in the northern part of Grand Teton.

What kind of boating opportunities are available? Jenny Lake Boating offers shuttle services across Jenny Lake, scenic cruises on Jenny Lake, and canoe and kayak rentals.

Are there bears at Jenny Lake? Yes, both black and grizzly bears, but don't be tricked! Black bears may be blonde, cinnamon, brown or black in color, and grizzly bears may be brown to black in color. Ask a ranger for more details. Please follow the park's bear safety recommendations.
How did Jenny Lake form? During the ice age, glaciers flowed down canyons and carved out depressions on the valley floor, depositing terminal moraines along the valley floor. Today water fills these depressions forming lakes. Jenny Lake is 256 feet deep at it deepest point.
What was the Jenny Lake Visitor Center originally? Harrison Crandall homesteaded in 1924 near the Cathedral Group Turnout. He became the park's unofficial photographer using this cabin as his studio for many years. This is the cabin's third location.

What was the Jenny Lake Ranger Station originally? Lee Manges built his homestead cabin in 1925 near Windy Point. Rangers relocated the cabin turning it into the park's first ranger station and museum in 1930.

How did Jenny Lake get its name? The name Jenny Lake dates back to the Hayden Expedition of 1872 when Jenny Leigh, Shoshone Indian wife of Richard "Beaver Dick" Leigh, assisted the expedition.
Stay Here
Pitch a tent at the Jenny Lake Campground or stay at the Jenny Lake Lodge.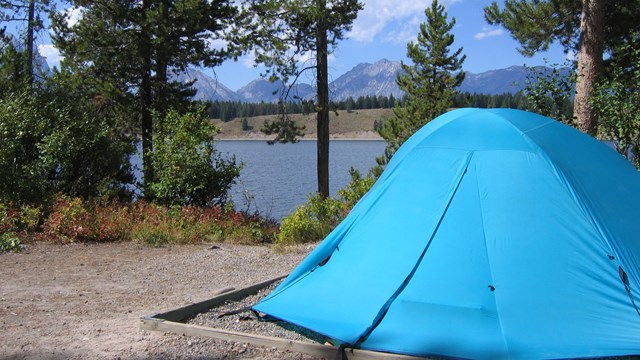 Find A Campground
Find a place to camp in Grand Teton.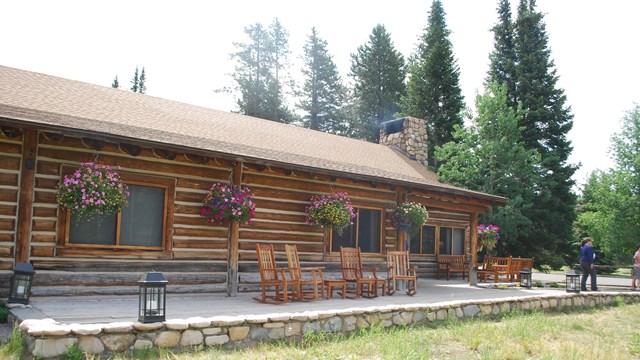 Lodging
Explore lodging options in Grand Teton.
Additional Jenny Lake Information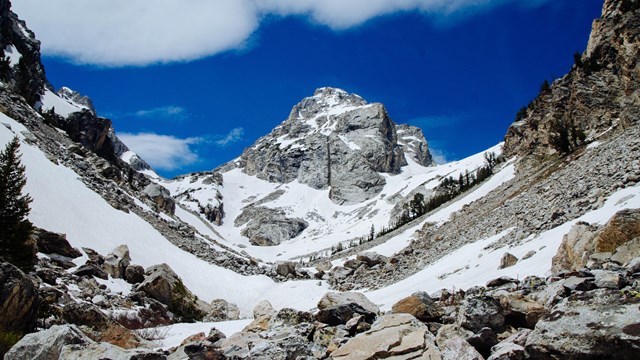 Hikes from Lupine Meadows
Head into the heart of the Teton Range with trails from Lupine Meadows.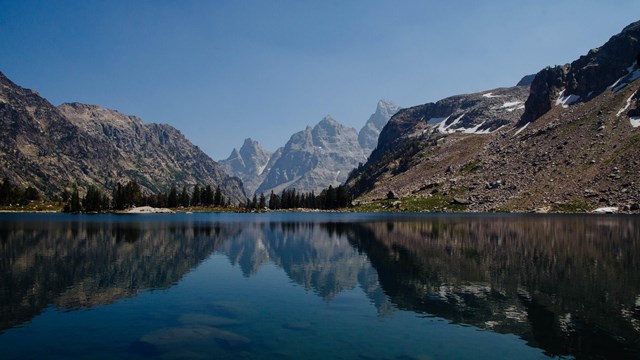 Explore the Backcountry
Travel into the Teton backcountry for an overnight stay.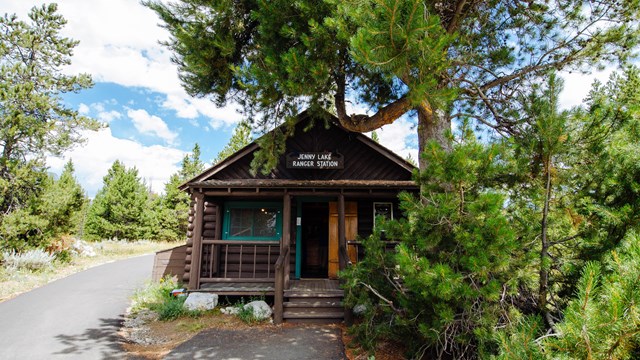 Visit the Jenny Lake Ranger Station
Visit the Jenny Lake Ranger Station for climbing and backcountry information.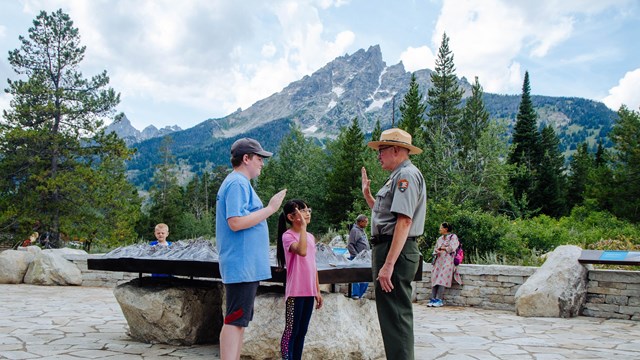 Become a Junior Ranger
Experience Grand Teton and become a Junior Ranger. Open to all ages.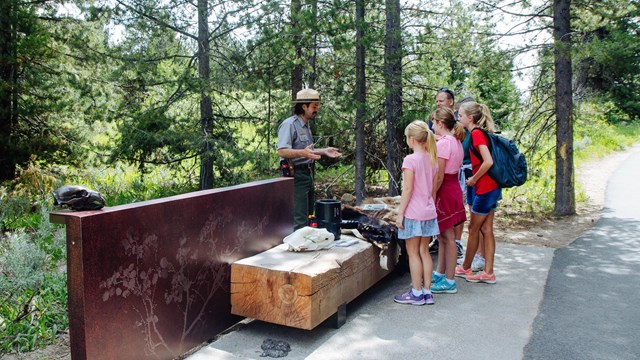 Attend a Ranger Led Program
Learn more about Grand Teton by attending a ranger led program.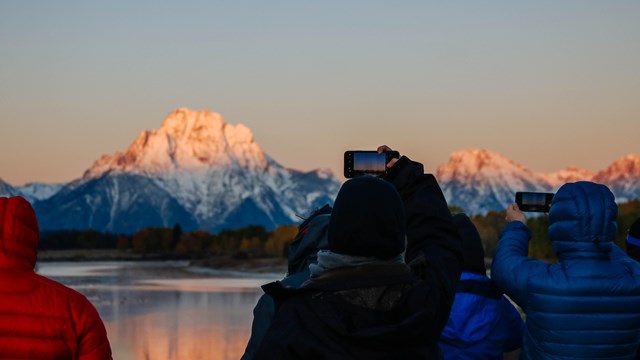 Plan Your Visit
Learn more about Grand Teton and plan your trip here.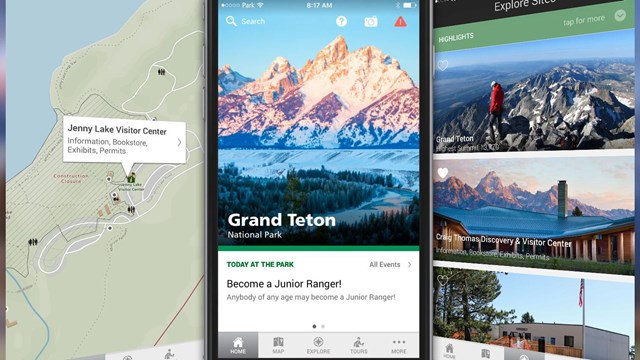 We have an app for that
Download our new app before you get here! Explore Grand Teton and discover places to visit, find a bite to eat, and a place to stay.
Last updated: March 1, 2023