Boating and Floating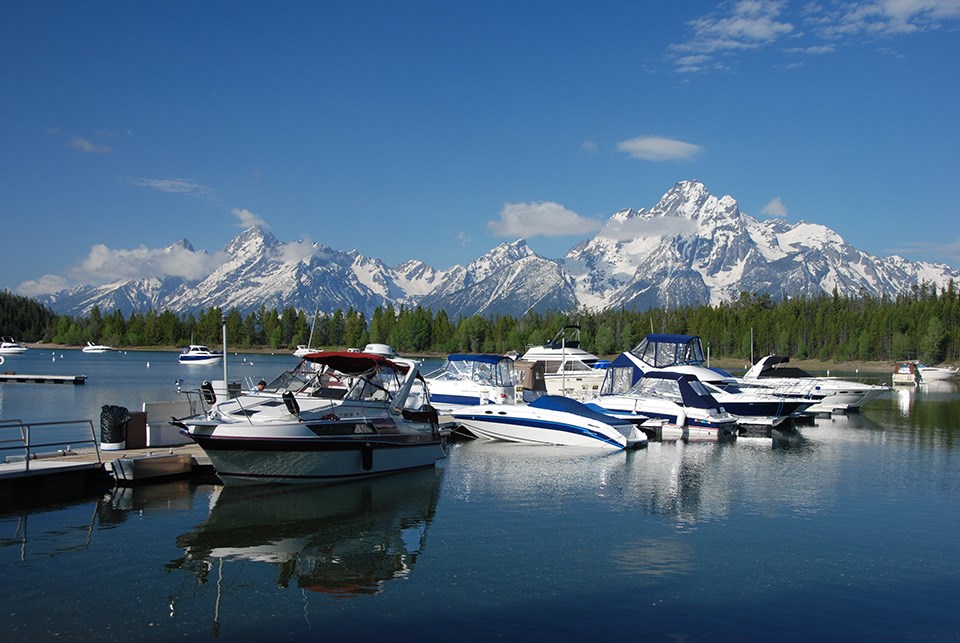 There are many opportunities for enjoying water in Grand Teton National Park. The Snake River flows through the park and features world-class fishing, unparalleled wildlife viewing and mild rapids depending on time of year. Many of the more accessible lakes are open for a variety of activities.Motorboats are permitted on Jenny (10 horsepower maximum) and Jackson lakes. Human-powered vessels are permitted on Jackson, Jenny, Phelps, Emma Matilda, Two Ocean, Taggart, Bradley, Bearpaw, Leigh and String lakes.
Sailboats, water skiing and windsurfers are allowed only on Jackson Lake. Personal watercraft (PWC) are prohibited on all waters within the park. Stand-up paddle boards (SUPs) require a park permit. Permits may be purchased at the visitor centers in Moose, Jenny Lake (cash only) or Colter Bay.
Pets are only allowed on a permitted vessel on Jackson Lake, but not in lakeshore campsites or in the water. Pets are not allowed on the Snake River or any other body of water in the park.
Permit fees
Motorized craft $40
Non-motorized craft $12 (including: canoes, kayaks, drift boats, & SUPs)
If you plan to enjoy the park's waterways you will need to download the following brochures for guidelines and permit information:
Floating Brochure:

provides information on floating the Snake River, including river flows, permits required and safety precautions.

Boating Brochure

:

provides guidelines for registering boats in the park, launch sites and safety requirements.
PREVENT THE SPREAD OF PATHOGENS - CLEAN. DRAIN. DRY.
Aquatic invasive species, such as whirling disease and zebra or quagga mussels, are a serious ecological and economic threat to the Greater Yellowstone Ecosystem. Any activities that come in contact with any body of water have the potential to spread non-native plants, pathogens, and other invasive species among water bodies. Learn more about aquatic invasive species.
Wyoming state law requires a boat inspection prior to launch for boats that enter the state. Boat inspection information. Boaters must also purchase an Aquatic Invasive Species (AIS) decal from the Wyoming Game and Fish Department.
Wyoming AIS fees
Motorized, WY registration, $10

Motorized, non-WY registration, $30

Non-motorized, WY owner, $5

Non-motorized, non-WY owner, $15
The following businesses are licensed by the National Park Service to provide visitor activities:
Boat Rentals
Float Trips
Jackson Lake Kayaking Tours
Jenny Lake Shuttle
Marinas
Scenic Cruises


Last updated: April 4, 2019