Boating and Floating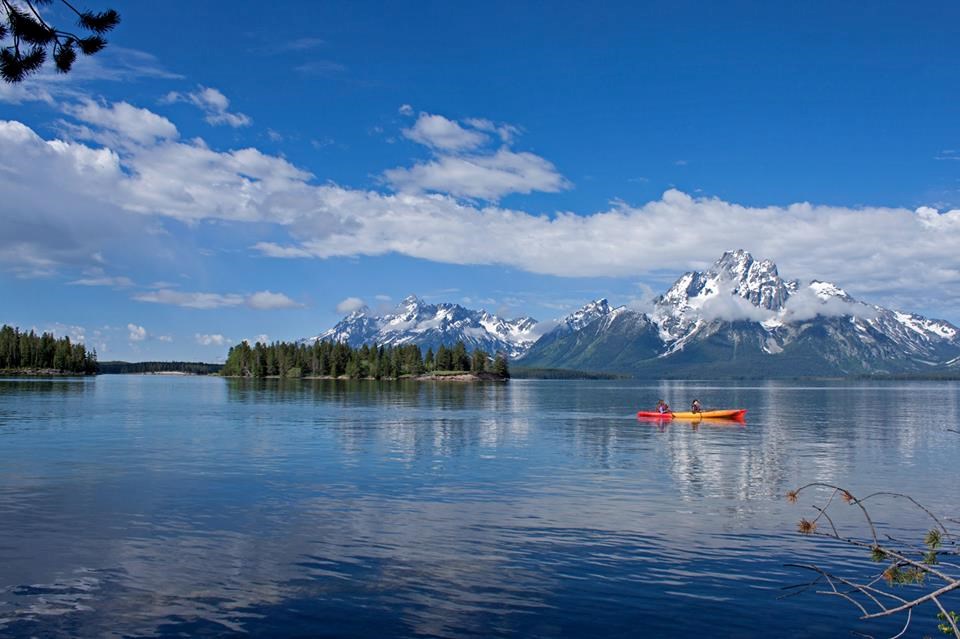 Boating in Grand Teton
There are many opportunities for enjoying water in Grand Teton National Park. The Snake River flows through the park and features world-class fishing, unparalleled wildlife viewing, and mild rapids depending on time of year. Many of the more accessible lakes in the park are open for a variety of activities.

Floating the Snake River is complex. A tangle of channels and constantly shifting logjams require boaters to anticipate their routes well in advance. Accidents are common. Please use caution and check conditions before each trip. Flow rates vary greatly throughout the year. They are posted at river landings and permit offices weekly or when there is a significant change.

Spring flows are very cold, fast, and muddy, making the river more difficult to navigate. As snowmelt diminishes, volume decreases and water clears. In spite of reduced flow, the current remains deceptively powerful. Strong, upstream afternoon winds may slow your pace.
Boat Permits
Boat permits are available for purchase at Recreation.gov. Boaters can also have their permit mailed directly to them within two weeks. The park will issue boating permits during summer operations at the Craig Thomas Discovery and Visitor Center and Colter Bay Visitor Center permit desks. All boats are required to have a boat permit prior to launching on any of the park's waters. The park also requires windsurfing boards (which are only allowed on Jackson Lake), and stand-up paddle boards (SUPs), kayaks and canoes to have a park boat permit before they launch in park waters. Innertubes, air mattresses, kick boats, float tubes and similar individual swimming/fishing flotation devices are exempt from needing a park boat permit and are prohibited on rivers and streams in the park.

You are responsible for knowing all the rules and regulations while boating in the park, and for reviewing all safety information. RIVER USERS: See Floating brochure for information on the difficulty rating of each section of the river. You are responsible for choosing a section to float that is within your ability level.

To fulfill the temporary permit requirements, you must:
Have a valid AIS permit.
Have a boat sticker attached to the boat's port-side stern.
Permit Fees
Permits are required for all motorized and non-motorized boats, including stand-up paddleboards (SUPs). Privately owned vessels must register each year with Grand Teton National Park. Permits may be purchased on
Recreation.gov
or at the visitor centers in
Moose
or
Colter Bay
during summer operations.
Motorized craft $75
Non-motorized craft $25 (including: canoes, kayaks, drift boats, & SUPs)
Aquatic Invasive Species
PREVENT THE SPREAD OF PATHOGENS - CLEAN. DRAIN. DRY.
Aquatic Invasive Species (AIS), such as whirling disease and zebra or quagga mussels, are a serious ecological and economic threat to the Greater Yellowstone Ecosystem. Boats, waders, and anything else that comes in contact with a body of water has the potential to spread non-native plants, pathogens, and other invasive species among water bodies.

All boats entering Grand Teton National Park are required to stop for an AIS inspection. By law, boats coming from out of state must be inspected or have valid proof of inspection before they launch on waters in Wyoming, including waters in the park. This includes motorized boats, rafts, drift boats, canoes, kayaks, stand-up paddle boards, and all watercraft 10 feet and longer. Boaters must also purchase an Aquatic Invasive Species (AIS) decal from the Wyoming Game and Fish Department.

Learn more about preventing the spread of AIS.
Wyoming AIS Fees
A Wyoming State Aquatic Invasive Species decal can be purchased online at the
Wyoming Game and Fish Department website
or from a variety of local vendors.
Motorized, WY registration, $10
Motorized, non-WY registration, $30
Non-motorized, WY owner, $5
Non-motorized, non-WY owner, $15
Boating and Floating Regulations
Motorboats are permitted on Jenny (10 horsepower maximum) and Jackson lakes. Human-powered vessels are permitted on Jackson, Jenny, Phelps, Emma Matilda, Two Ocean, Taggart, Bradley, Bearpaw, Leigh, and String lakes. Sailboats, water skiing, and windsurfers are allowed only on Jackson Lake.

Only human-powered rubber rafts, canoes, dories, and kayaks are permitted on the Snake River within the park and parkway. All other waters within the park and parkways are closed to watercraft, including Pacific Creek, Cottonwood Creek, Buffalo Fork, and the Gros Ventre River.

Vessels must carry USCG approved personal flotation devices (PFDs) of the appropriate size for each person on board. Passengers under 13 years of age must wear a PFD while onboard.
A park boat permit is required for each watercraft. Display the permit on the port side (left) in the stern (back).
Boating under the influence of alcohol or drugs is prohibited.
Innertubes, air mattresses, float tubes, and similar flotation devices are prohibited on the Snake River.
Motors are prohibited on the Snake River.
Motors may be used on Jackson Lake for the Flagg Ranch to Lizard Creek section with a motorized boat permit.
No camping or fires on the river. Camping on lakeshores is permitted in designated lakeshore campgrounds with a backcountry permit. Fires are only allowed in designated campgrounds with a metal fire ring.
Floating is prohibited within 1,000 ft of the Jackson Lake Dam.
A concession permit is required for all commercial activity in the park.
Report any accident with a collision or injury to a ranger within 24 hours.
Pack out all trash.
Pets

are only allowed on a permitted vessel on Jackson Lake, but not in lakeshore campsites or in the water. Pets are not allowed on the Snake River or any other body of water in the park.
Brochures
Download the following brochures for additional guidelines and permit information:
Floating Brochure

: provides information on floating the Snake River, including river flows, permits required and safety precautions.

Boating Brochure

: provides guidelines for registering boats in the park, launch sites and safety requirements.
Authorized Concessionaires
Boat Rentals
Float Trips
Jackson Lake Kayaking Tours
Jenny Lake Shuttle
Marinas
Scenic Cruises
Additional Grand Teton Information
We have an app for that
Download our new app before you get here! Explore Grand Teton and discover places to visit, find a bite to eat, and a place to stay.


Last updated: December 28, 2022