Get on the Water

Make a Splash
Experience the Tetons from a new perspective! Paddling on the The Snake River or on a clear lake offers stunning views, world-class fishing, and breathtaking wildlife viewing opportunities.

Boating in the park requires planning, permits, and skill. Regardless of experience, recreating on the water poses significant risks. Know the regulations and safety requirements for boating in the park before you go.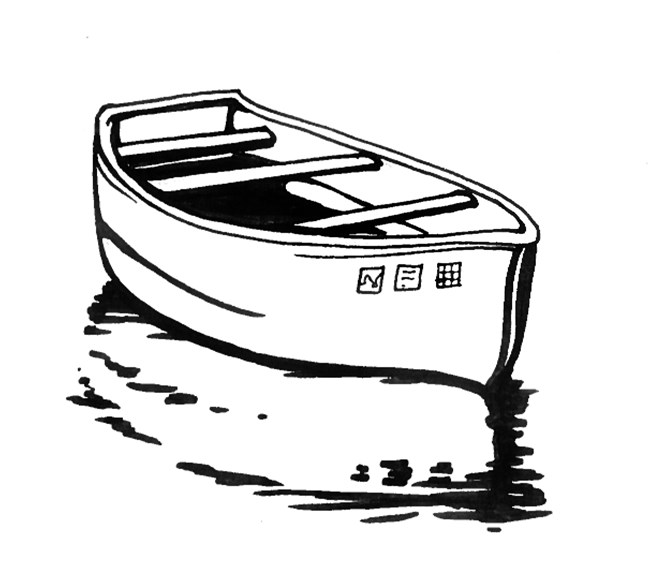 Permits and Decals
Before you go, make sure you have the right permits and decals for your vessel.
Grand Teton Boat Permit
All boats are required to have a Grand Teton Boat Permit prior to launching on any of the park's waters. Permits are required for all motorized and non-motorized boats, including stand-up paddleboards (SUPs) and windsurfing boards. Privately owned vessels must register each year with Grand Teton National Park. Permits may be purchased on Recreation.gov or at the visitor centers in Moose or Colter Bay during summer operations. Boaters can also have their permit mailed directly to them within two weeks.
Grand Teton Boat Permit Fees
Motorized craft $75
Non-motorized craft $25 (including: canoes, kayaks, drift boats, & SUPs)
To fulfill the temporary permit requirements, you must:
Have a valid Wyoming AIS Decal
Have a boat sticker attached to the boat's port-side stern.
Wyoming AIS Decal
All watercraft using Wyoming waters are required to display a Wyoming Aquatic Invasive Species decal. The decal can be purchased online at the Wyoming Game and Fish Department website or from a variety of local vendors. Fees collected for the AIS decal will be used to fund the AIS program and inspections in Wyoming along with Game and Fish generated license sale funds.
Motorized registration and decal, WY resident $10
Motorized registration and decal, non-WY resident, $30
Non-motorized decal, WY resident, $5
Non-motorized deacal, non-WY resident, $15
Note: Non-motorized inflatable watercraft 10 feet or less in length, all solid and inflatable paddleboards regardless of length, and all devices defined as water sport toys are exempt from the Wyoming State AIS Decal requirement.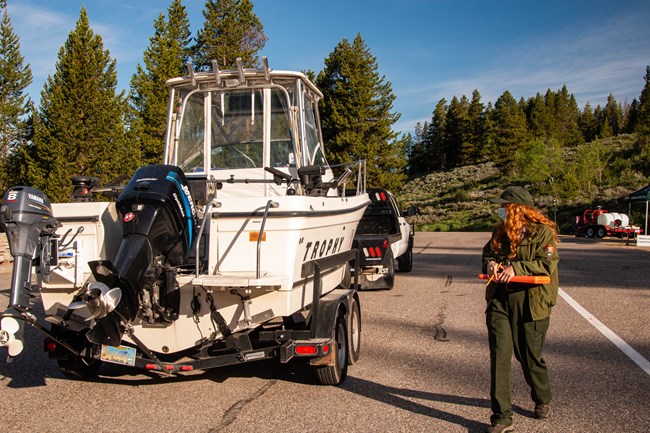 Aquatic Invasive Species
PREVENT THE SPREAD OF PATHOGENS - CLEAN. DRAIN. DRY.
All boats entering Grand Teton National Park are required to stop for an Aquatic Invasive Species (AIS) inspection. By law, boats coming from out of state must be inspected or have valid proof of inspection before they launch on waters in Wyoming, including waters in the park. This includes motorized boats, rafts, drift boats, canoes, kayaks, stand-up paddle boards, and all watercraft 10 feet and longer. Boaters must also purchase an Aquatic Invasive Species (AIS) decal from the Wyoming Game and Fish Department.

Aquatic Invasive Species, such as whirling disease and zebra or quagga mussels, are a serious ecological and economic threat to the Greater Yellowstone Ecosystem. Boats, waders, and anything else that comes in contact with a body of water has the potential to spread non-native plants, pathogens, and other invasive species among water bodies. Make sure to clean, drain, dry, all boating and fishing equipment after use.
Learn more about preventing the spread of AIS.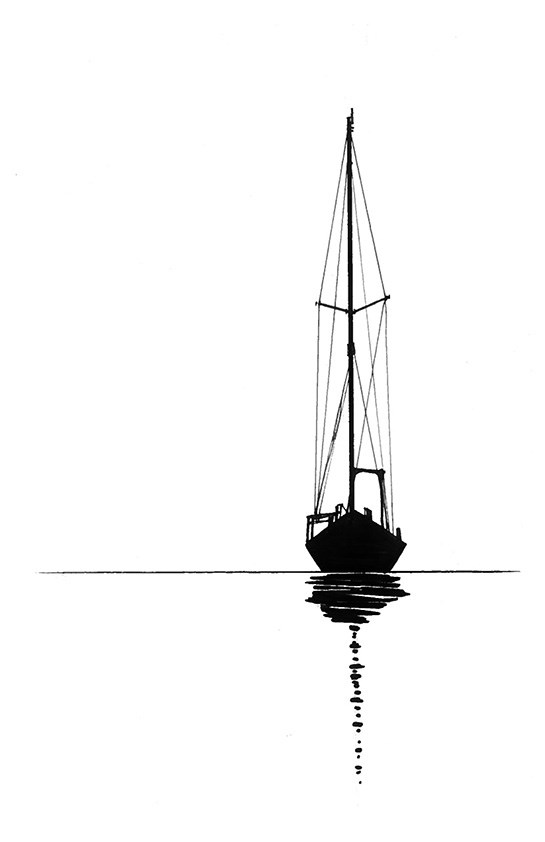 Do You Have What You Need?
You are required by law to carry the necessary safety equipment aboard your watercraft. Safety equipment requirements vary by the class of your boat, which is determined by the boat's length. Review required equipment list by class of boat.
Personal Floatation Devices
All vessels must carry a United States Coast Guard approved personal flotation device (PFD) of the appropriate size for each person on board. PFDs must be accessible and in good working condition. PFDs should be worn while boating. All passengers under 13 years old must wear a PFD.
Lights
Every vessel must use navigation lights when underway from sunset to sunrise.
Fire Extinguisher
All motorized boats must have at least the minimum number of portable fire extinguishers required by the USCG.
Signaling Devices
All motorized boats shall have an efficient sound producing device on board.
Things to Know
Before you boat in Grand Teton, review all regulations including Wyoming State boating regulations.
Boating under the influence of alcohol or drugs is prohibited.
Motors are prohibited on the Snake River.
Innertubes, air mattresses, float tubes, and similar flotation devices are prohibited on the Snake River.
Only human-powered rubber rafts, canoes, drift boats, and kayaks are permitted on the Snake River within the park and parkway. All other waters within the park and parkways are closed to watercraft, including Pacific Creek, Cottonwood Creek, Buffalo Fork, and the Gros Ventre River.
Fires are prohibitted along the Snake River. Fires are allowed only on Jackson Lake below the high water line with a permit. Fires are not allowed along the east shore from Spaulding Bay to Lizard Creek Campground. Extinguish your fires before leaving.
Floating is prohibited within 1,000 ft of the Jackson Lake Dam.
Pack out all trash.
Frequently Asked Questions
Pets are not allowed on the water except for day use within boats on Jackson Lake.
Pets are not allowed on the Snake River or aborad watercraft on the Snake River.
Pets are not allowed on shore away from designated launch areas on Jackson Lake.
Pets are permitted for day use only within boats on Jackson Lake. Overnight campers are not allowed to have pets in lakeshore campsites except at Spalding Bay.
Yes, water skiing and wakeboarding are only allowed on Jackson Lake.
Towing skiers is allowed only from sunrise to sunset.

There must be at least 2 persons in the vessel with the passenger in a position to observe the status of the person or persons being towed. 

Skiers must wear a U.S. Coast Guard approved personal flotation device.

Water skiing is not allowed in channels or within 500 feet of harbors, swimming beaches or mooring areas or within 100 feet of any person swimming or diving.
Report collisions, accidents, fires or other incidents that results in property loss, property damage, personal injury or death to a park ranger immediately. Each operator of involved vessels must report. This report does not relieve the responsibility of reporting boating accidents as may be required by the State and/or the U.S. Coast Guard. Any operator involved in an accident must also provide in writing his name, address, and identification of his vessel to any injured person and/or to the owner of any damaged property.
No, Jet skis and personal watercraft are prohibited on all park waters.
Yes, however, sailboats and windsurfers may only be used on Jackson Lake and require proper permits and decals.
Yes, shore camping is only permitted at designated numbered sites along Jackson and Leigh lakes. You cannot camp along the Snake River.

Camping at numbered lakeshore sites on Jackson Lake is limited to three consecutive nights. Before camping, you will need a backcountry camping permit.

Off shore, anchored vessels are allowed to overnight on Jackson Lake. They are required to follow all Coast Guard regulations. A permit from the park is not required. They are limited to 10 nights between June 1 and Labor Day and not more than 30 nights per year. Visitors are not allowed to anchor a vessel, then spend the night on shore.
All motorized boats are allowed on Jackson Lake. Motorized boats 10 HP or under are allowed on Jenny Lake.
You can take non-motorized watercraft, like kayaks, canoes, and stand up paddleboards, on the Snake River and Jackson, Jenny, Phelps, Emma Matilda, Two Ocean, Taggart, Bradley, Bearpaw, Leigh, and String lakes.
You can park trailers at any of the Snake River landings and launches in the park for day use. There is also trailer parking at various marinas. 

These parking areas are for trailer use only. No vessel may remain on the trailer while parked in these locations. Please park in designated areas only, illegally parked vehicles may be ticketed and/or towed.
Location

Day Parking

Short-Term Parking
(3-night limit)*

Long-Term
Parking

Leek's Marina

Upper parking lot

Upper parking lot

None

Colter Bay

Colter Bay Village
parking lot designated by 
striping and signed for boats & RVs

Colter Bay Visitor Center
parking lot (east side, designated area)

Near Colter Bay Cabin office
for GTLC permit with slip or mooring

Signal Mountain

Boat ramp parking area

Mid-lot parking area

Base of Signal Mtn. Summit Road, on the north side, with Signal Mtn. mooring permit 

Spalding Bay

Designated sites,
parking permit required

None

None
* After 72 hours, the trailer must be removed for 24 hours. Trailers may be parked in short-term parking no more than 30 days during a calendar year.

Spalding Bay Trailer Parking Permit
Because of limited space, only single axle boat trailers are allowed at Spalding Bay. Trailer parking requires a special parking permit. Parking permits are obtained by calling Teton Interagency Dispatch at 307-739-3397.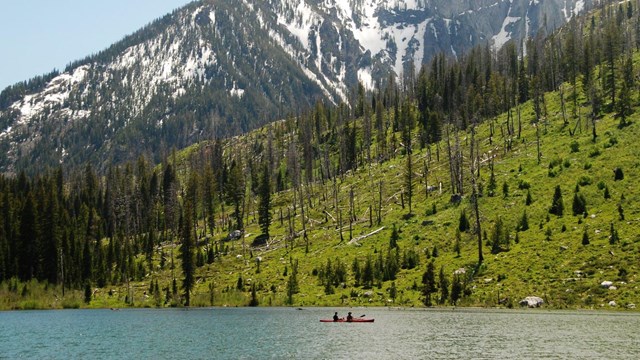 Boat on a Lake
Learn what you need to go boating on one of the many lakes in the park.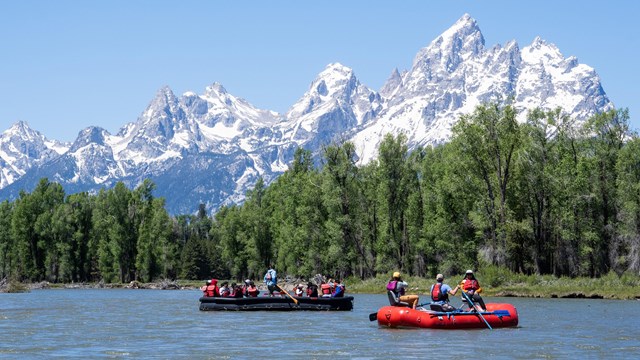 Float the Snake River
Travel through Grand Teton on the Snake River.

Additional Grand Teton Information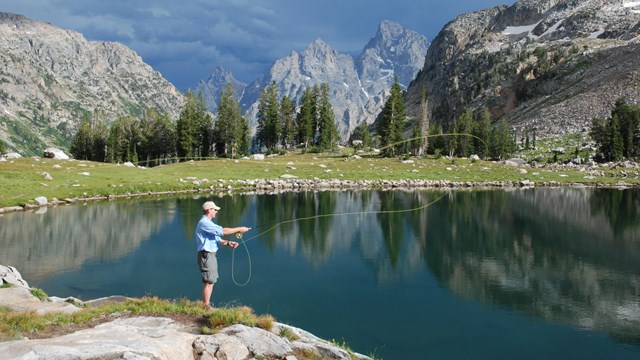 Fishing
Fish for trout within valley and alpine lakes.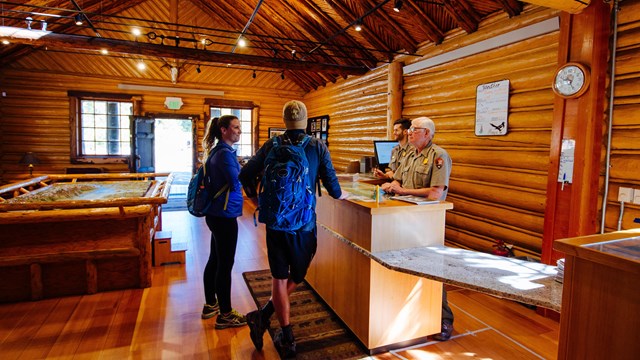 Talk to a Park Ranger
Find a visitor center in Grand Teton.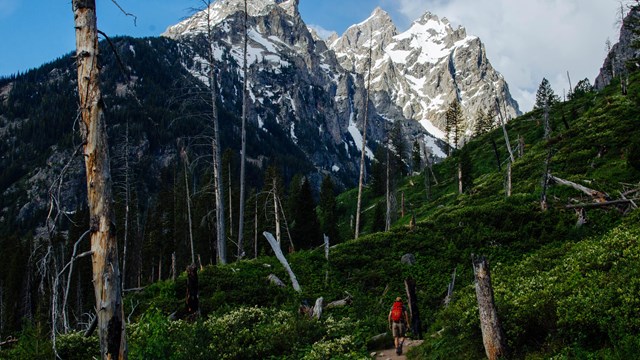 Hike in Grand Teton
Explore hikes throughout Grand Teton National Park.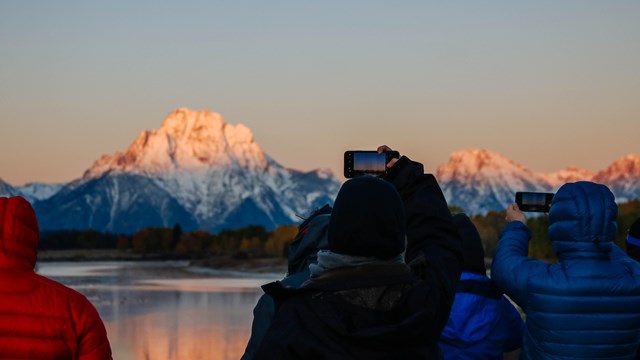 Plan Your Visit
Learn more about Grand Teton and plan your trip here.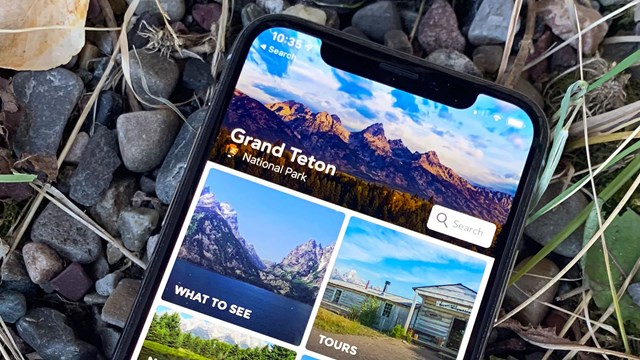 We have an app for that
Download our new app before you get here! Explore Grand Teton and discover places to visit, find a bite to eat, and a place to stay.


Last updated: September 26, 2023