Planning a trip into the backcountry? Careful planning and consideration is required to ensure your safety while traveling Glacier Bay's immense wilderness. Remember,
safety is your responsibly!
Visitor Information Station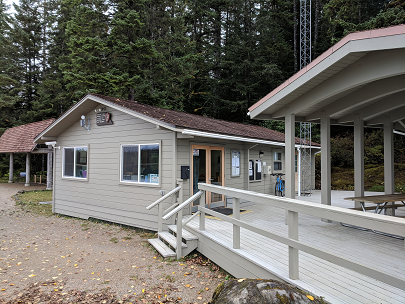 The Visitor Information Station (VIS) serves as Glacier Bay's permit office and information center for backcountry users. Attend an orientation and obtain your permit here. If you have questions about your trip, Rangers can guide you and provide local knowledge for the areas you will be exploring. If you would like to speak with a Ranger before your trip, please give us a call at (907) 697-2627 or e-mail us glba_vis@nps.gov.
Permits
Register for permits at the Visitor Information Station. Camping permits are required for overnight groups in the backcountry and for the
Bartlett Cove Campground
. Permits are free of charge and do not require reservations. At this time, reservations for the campground are not accepted. See
Alsek River
or
Mountaineering
in the Fairweather Range for permitting in those areas.
Backcountry Orientation
All backcountry users are required to attend an annual orientation with a Ranger before obtaining a permit. These orientations cover Leave No Trace, park regulations, and important safety information. Rangers are available to share their experience and local knowledge with you.
Orientations are given during scheduled times at 10:00 am, 3:00 pm, and 6:00 pm. No need to sign up, just show up! If you need an orientation outside of these scheduled times (with a compelling reason) please contact the VIS. We are aware the 2019 sechedule for the Alaska Airlines Jet has an arrival time in Gustavus of 5:35 pm. We will accomindate to the best of our ability folks who will be arriving via the Jet, please come straight away to the Visitor Informatoin Station -- do not delay in town.