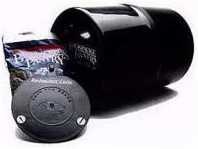 The use of bear-resistant canisters for storage of food, garbage and other scented items was initiated in Glacier Bay National Park in 1991 for the safety and convenience of campers and kayakers. Since that time, the frequency of incidents where bears have damaged property or obtained food has remarkably decreased.
The use of bear-resistant canisters is required in all treeless areas of Glacier Bay (generally the upper half of the bay) and is highly recommended in all areas of the park. All food, garbage, and other scented items (including toiletries, bottled drinks, and canned food) must be placed inside bear resistant food canisters. The National Park Service loans, free of charge, two sizes of bear-resistant canisters to hikers and kayakers who are staying in the backcountry of the park. They will be issued with your permit from the Visitor Information Station at the public dock in Bartlett Cove. If damaged or lost, camper will be charged replacement costs of up to $85.
The canisters are made of PVC (hard plastic), and are lightweight and sturdy. The smaller canister is designed to slip into a camper's backpack. It measures 8" x 12" and weighs 2.8 pounds. With 560 cubic inches of volume it will hold approximately 6 person-days of food. The larger canister, which fits easily into a single kayak, measures 8" x 18" and weighs 5 pounds. With a volume of 839 cubic inches it will hold about 9 person-days of food.
For extended expeditions food drops can be arranged with some pre-planning through the Glacier Bay Lodge and the Spirit of Adventure tour boat.
Plastic liners will be issued with the canisters to help reduce food odors, and because the canisters are not watertight on their own. However, food odors cannot be completely eliminated. Canisters should therefore be stored at least 100 yards downwind of the campsite by wedging between rocks or alder branches well above the high tide line. Canisters should be stored away from obvious bear trails or travel routes. Give some thought to where a canister might roll if a bear does locate it. Canisters should not be used to stabilize cooking stoves, as the heat may melt or warp the canister lids. Canisters are not watertight and do not float.