Camper Dropoffs and Pickups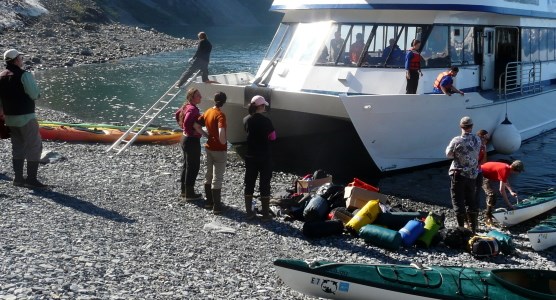 During the summer months, kayakers/campers can arrange with Glacier Bay Lodge to be dropped off and/or picked up by the daily tour boat at two designated drop-off locations in the bay. There are two drop-offs per day, one in the West Arm and one near the entrance to the East Arm.
To minimize human impacts, the specific locations are changed regularly.
Summer 2020 Schedule:
The tour vessel does two scheduled drop-offs each day; East Arm entrance in the morning, West Arm in the afternoon. Check with the Visitor Information Station (907) 697-2627 for approximate pick up/drop-off times. The selected drop-off locations will change mid-July.

The locations and schedule (subject to change) are:
May 23 – July 15

Mt. Wright (East) & Scidmore (West)

July 16 – September 7

Sebree Island (East) & Blue Mouse Cove (West), substituting with Ptarmigan Creek on Tuesdays (West)
Camper Drop-off and Pick-up Maps 2020
Plan your backcountry visit!
Maps depict approximate locations and the approved drop-off/pick-up schedule for the summer of 2019.

Last updated: June 11, 2020