Camper Dropoffs and Pickups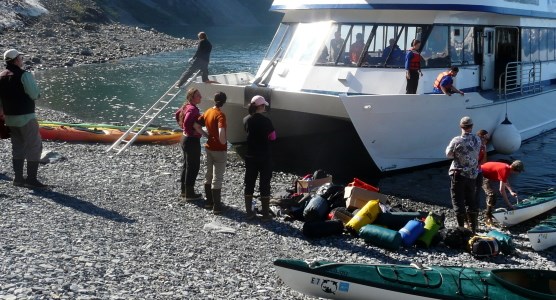 Into the Wild!
During the summer months, kayakers/campers can arrange with Glacier Bay Lodge to be dropped off and/or picked up by the daily tour boat at two designated dropoff locations up bay. There are two primary dropoffs (one in the West Arm and one near the entrance of the East Arm).
To minimize human impacts, the specific locations are changed regularly.
Summer 2019 Schedule:
The tour vessel will have a schedule that includes two dropoffs each day; East Arm in the morning, West Arm in the afternoon. Check with vessel crew for approximate pick up/drop off times. The selected dropoff locations will change mid-July.

The locations and schedule (subject to change) are:
May 25 – July 15

Mt. Wright (East) & Scidmore (West)

July 16 – September 2

Sebree (East) & Blue Mouse (West), substituting with Ptarmigan on Tuesdays (West)
Camper Drop-off and Pick-up Maps 2019
Plan your backcountry visit!
Maps depict approximate locations and the approved drop-off/pick-up schedule for the summer of 2019.
Last updated: July 10, 2019