Basic Information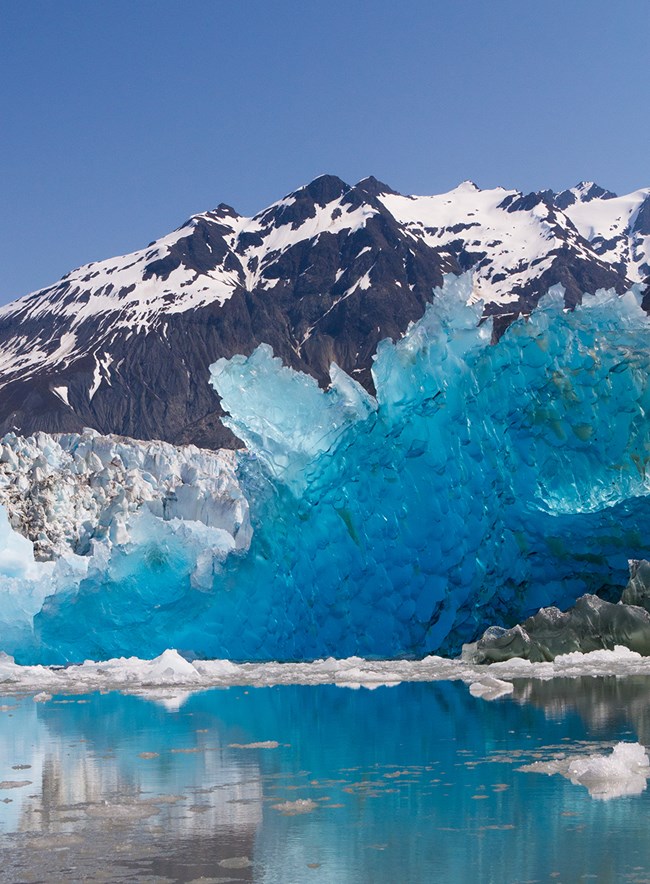 A Land of Dynamic Change
Dramatic change and the ebb and flow of nature occur at every scale: within centuries, seasons, and hours. The tides swell and recede dramatically twice a day, oftentimes by as much as twenty vertical feet. Long days in the summer become markedly brief in the winter, as the earth's axis slants away from the sun. Many species follow this pattern, disappearing from Glacier Bay during the winter, only to return or re-emerge in the spring. The salmon, a sustaining pillar of this ecosystem, return each year to the place of their birth to spawn, die, and dispense valuable proteins and other nutrients. Humpback whales converge on the rich feeding grounds in Glacier Bay in the summer, but in the winter range elsewhere to breed and give birth.
People are also an inseparable part of this continuous cycle of disturbance and accommodation; the Tlingit have been here for centuries, and as the glaciers, rivers, and life have advanced and receded through the homeland, so have the clans and the Tlingit ancestors. Since its exploration by John Muir in 1879, scientists from around the world have been attracted to Glacier Bay's living laboratory of pristine ecosystems dominated by natural successional processes. Visitors congregate in the warmer summer months to witness the calving of tidewater glaciers and contemplate change, resilience, and their connection to this dynamic landscape.
On this page you will find basic information about park amenities and services.
Enjoy your visit to Glacier Bay!
The Visitor Season
The main visitor season is from late-May through early-September with the peak being the month of July. The park is open the rest of the year, but visitor services are very limited.
Weather and Clothing
Summer temperatures average 50° to 60° F (10° to 15° C). Rain is the norm in southeast Alaska. It is best to be prepared to enjoy the park in any kind of weather, especially rain. Suggested clothing includes waterproof boots, rain gear, a hat, gloves, wool or pile layers or a warm coat.
Getting to the Park
There are no roads that lead directly to Glacier Bay. The park's headquarters, Visitor Information Station, Visitor Center, and the Glacier Bay Lodge are located in Bartlett Cove, 10 miles by road from the small town of Gustavus. Gustavus is located about 65 miles northwest of Juneau. Travel options from May through September include scheduled and charter air services, Alaska Marine Highway ferries, cruise ships, tour boats, and charter boats. There are over 50 companies that provide access to the park.
Private Vessels
If you plan on entering Glacier Bay with your own boat during June-August, a free private boat permit is required. The number of permits available is limited each day. Permits may be reserved up to 60 days in advance.
Other Services
In Bartlett Cove, the Glacier Bay Lodge offers lodging, a restaurant, a day tour boat and fuel sales. Lodging, groceries, restaurants and charter boats are also available in Gustavus. Bus and taxi service is available. Check the Visitor Services Directory for all available services in or near the park.
Park Ranger Activities
The National Park Service Visitor Center is located on the second level of the Glacier Bay Lodge. Park rangers are available much of the day to answer your questions. Rangers lead daily walks through the rain forest and show informative films in the auditorium. A ranger program is presented in the auditorium each evening. Children are also encouraged to participate in the Junior Ranger Program. Books, maps and other Glacier Bay materials are sold in the Visitor Center through Alaska Geographic.
Daily Tour Boat
The tour boat operated by the Glacier Bay Lodge travels up the bay on a nine-hour trip to the glaciers and back. A park ranger is on board to share information about the natural and cultural wonders of Glacier Bay.
Day Hiking
Three trails of varying lengths are located at Bartlett Cove. These trails tend to be somewhat muddy and wet, so bring rubber boots (Southeast Alaskan Sneakers). Hiking the shoreline around Bartlett Cove is another fantastic option.
Camping
A multitude of camping experiences awaits you, ranging from a stay in our free walk-in campground at Bartlett Cove to a wilderness experience up in the bay. A daily boat provides a camper drop-off service at designated locations in the bay. Rangers at the Visitor Information Station provide camper orientations, issue backcountry permits and bear-resistant food containers.
Kayaking
Sea kayaking is a popular way to experience the wilderness of Glacier Bay National Park and Preserve. Kayak trips can originate from Bartlett Cove, or the daily tour boat will drop-off kayakers. Making reservations well in advance for a kayak and the daily tour boat is recommended. If you prefer, guided day and overnight kayak trips into the park can be arranged.
Tides
Glacier Bay experiences dramatic tidal changes...up to 25 feet in 6 hours! Knowing the tides during a kayak trip, boating excursion, or shoreline hike can make all the difference in your Glacier Bay adventure!
Click HERE for the local NOAA tide website and see what the tides are "up to" during your stay.
River Rafting
The Alsek River runs through a portion of Glacier Bay National Park and Preserve. Permits are required for private trips on the Tatshenshini/Alsek. If you have any questions, please contact the Park at GLBA_Alsek_Info@nps.gov or Alsek River information phone line at (907)697-2603.
Fishing
Glacier Bay offers sport fishing opportunities for both fresh and saltwater fish. Alaska State fishing regulations apply, and a valid fishing license is required.
Last updated: November 7, 2023