Welcome to the Glacier Team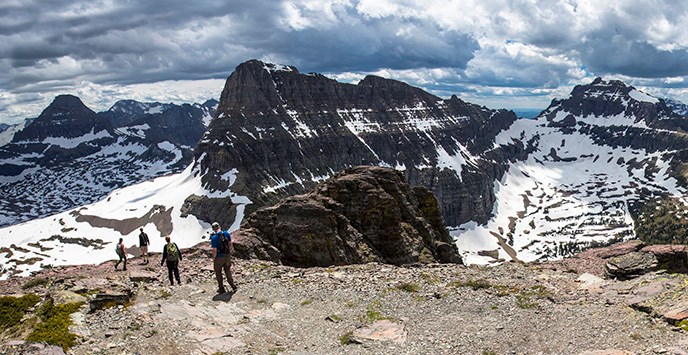 Glacier is an amazing place to spend the summer. People come here to experience the mountains and more often than not, the memories they take home are of the people they work with. Many past Glacier employees look to their summers in the park as some of the best of their lives. Fast friendships develop in the short, intense summer season, and coworkers become family.
People from around the world work here, and many are not familiar with wild mountain landscapes. It is important for everyone to learn how to stay safe outdoors and to help new friends stay safe as well. A serious accident or fatality shakes the entire Glacier National Park family. Have fun and play safe.
Table of Contents
Drowning

Hypothermia

Weather
Hiking and Climbing
Snow and Ice
Hantavirus
Treat Water
Fire and Other Emergencies
Drinking and Drugs

Speeding

Noise Complaints

Pets
Camp Stoves
Food Storage
Leave What You Find
Fireworks
Firearms
Bears

Mountain Lions

Ticks

Bats

Bull Trout

Aquatic Invaders
Free Entrance

Connectivity

Lost and Found

Helpful Page Links

Social Media
---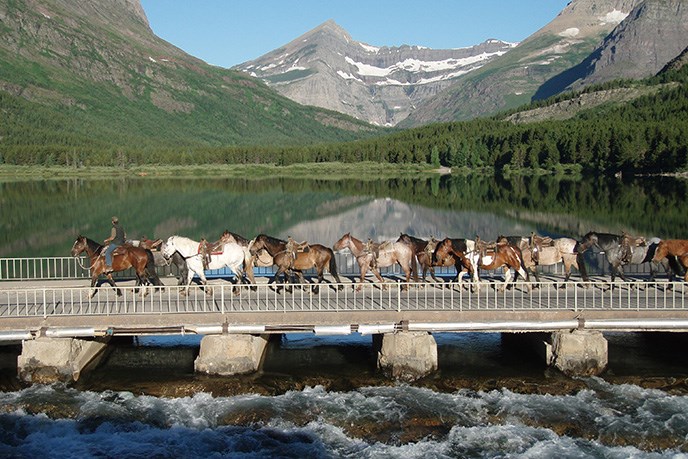 Personal Safety
All new concession and National Park Service employees will be required to attend a National Park Service conducted orientation session. Personal safety is important! Do not put yourself at risk in your work or recreational pursuits. One unsafe act can mean the untimely end to the summer of a lifetime. When exploring the park, prepare for the unexpected. A minor injury or unexpected weather event could prove fatal if you are not prepared. In addition, you may encounter someone else who needs your help. You should take dry clothing, rain gear, headlamp, matches, emergency blanket, cord, knife, whistle, emergency food, water, first aid kit, and signal mirror on each trip. These items are inexpensive, lightweight, and could save your life or someone else's life. Detailed information on these topics is available on our
Safety page
.
Drowning
Water-related accidents are the most common cause of fatalities in Glacier. Use extreme caution near water. Swift, cold glacial streams and rivers, moss-covered rocks, and slippery logs are dangerous. Avoid wading in or fording swift streams. Never walk, play, or climb on slippery rocks and logs, especially around waterfalls. When boating, don't stand up or lean over the side, and always wear a life jacket.
Hypothermia
Freezing temperatures can occur in Glacier's high country any month of the year. If you plan to head for higher elevations, avoid making assumptions based on low elevation weather. Layer with synthetic or wool clothing as a base layer, and eat high-energy foods throughout the day.
Weather
Glacier's summer weather is as varied as its landscape. Even when it's in the 80s and 90s in the daytime, it can cool down into the 40s at night. Prepare for a variety of weather conditions and pack accordingly. You may start the day in a T-shirt and shorts, and need a sweater or parka by evening. Dress in layers and always bring rain gear!
Hiking and Climbing
Climbing accidents are another common cause of fatalities in the park. Historically, employees have accounted for many of the park's annual search and rescues. Analysis shows that the incidents could have easily been avoided or greatly minimized by five simple things:
Never hike or climb alone!

Prepare for the unexpected.

Complete a Day Hike Trip Plan and tell someone your exact route, expected return, and don't deviate from your route.

Don't hike or climb beyond your ability.

Know your route and think about how you can minimize your risk, before you start.
If you are injured and immobile in the wilderness, these five things could make waiting for help a matter of hours instead of days.
Snow and Ice
Snowfields and glaciers can present serious hazards. Snow bridges may conceal deep crevasses on glaciers or hidden cavities under snowfields. These bridges may collapse under the weight of an unsuspecting hiker. Use extreme caution when crossing steep snowfields on trails and in the backcountry.
Hantavirus
Deer mice are possible carriers of Hantavirus. The most likely source of infection is from rodent urine and droppings inhaled as aerosols or dust. Initial symptoms are almost identical to the onset of flu. If you have potentially been exposed and exhibit flu-like symptoms, you should seek medical care immediately.
Treat Water
Do not drink untreated water. It may contain Giardia lamblia, a protozoan that can cause a temporarily debilitating illness. Be prepared to treat water from streams, springs, or lakes by filtering and chlorinating or boiling, or carry all the water that you will need.
Other Emergencies
Call 911. Become familiar with procedures for reporting fires and evacuating buildings and the location of the nearest fire extinguisher. Keep draperies, clothing, stove fuel, etc. well away from outlets and heat sources. In some employee housing, candles and stove fuel are not allowed.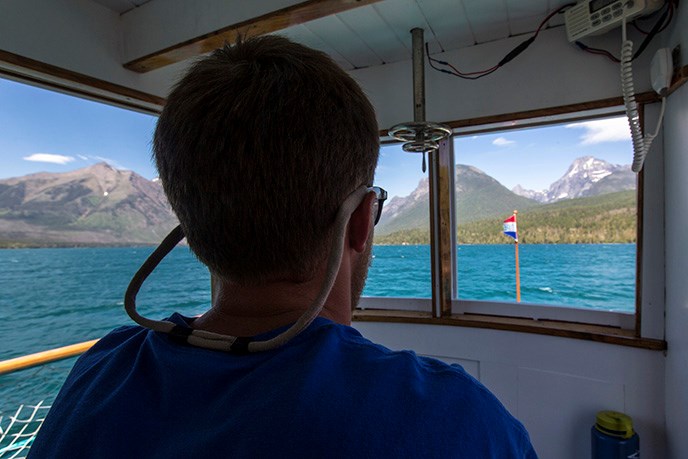 The National Park Service has exclusive law enforcement jurisdiction within Glacier and enforces all laws and regulations. You are responsible for becoming familiar with and adhering to park regulations. As an employee, we expect you to set an example for visitors. Regulations are strictly enforced. Concessioners have entered into a contract to provide visitor services and are regulated by the National Park Service. Be aware that your actions, as employees, reflect on your employer, Glacier National Park, and the National Park Service.
Drinking and Drugs
The minimum drinking age in Montana and Glacier is 21. There is "zero tolerance" for underage drinking, driving under the influence, open containers, drug possession and use, public intoxication, and the sale or distribution of alcohol to minors. The legal blood alcohol limit is .08 (.04 if you hold a CDL). All citations in Glacier are federal offenses.
Speeding
Park roads have posted speed limits. Radar is used and speed limits are strictly enforced. Park roads are narrow and winding, and defensive driving is important due to park wildlife crossing roads and park visitors sight-seeing while driving through the park.
Noise Complaints
Visitors come to a national park expecting peace and quiet. Please respect this and keep noise and music to a minimum. Creating unreasonable noise between 10:00 pm and 6:00 am is prohibited. Check with an area ranger about use of local "employee areas" and obtaining fire permits.
Pets
Pets must be on a leash at all times and must not be left unattended. Pets are prohibited on trails, along lake shores and waterways, in restaurants, visitor centers, and Glacier National Park Lodge's facilities. Kennels are available in nearby communities. Pets are also restricted in most employee housing. Check your employer's policy.
Camp Stoves
Some employers require that stove fuel is stored in specific locations. See your area manager for details.
Food Storage
Food and garbage must not be left outdoors unattended at anytime. All garbage must be disposed of in bear-resistant garbage containers. Do not overfill containers. This prevents lids from latching and may allow animals access. More information can be found on the
Bear Safety page
.
Leave What You Find
It is illegal to take anything from the park, including plants, rocks, antlers, and bones. Do not pick or trample flowers. Cultural resources such as projectile points, archeological sites, and evidence of past human use must be left untouched.
Fireworks
All fireworks are prohibited in the park.
Firearms
The possession of loaded firearms is legal in national parks, although firearms are prohibited in federal facilities. NPS employees and concession employees may not possess firearms while on duty. Some concessioners prohibit, as a term of employment, the possession of firearms on concessioner-managed property, for example in dorms or vehicles. Please check with your employer regarding their policies and check with the
state of Montana
for specifics.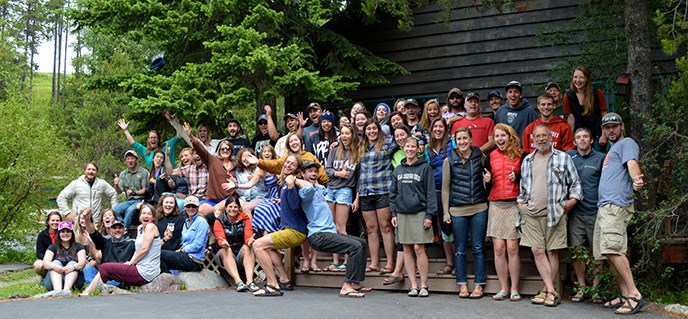 It is illegal to feed or approach wildlife and it is strictly enforced. Keep your distance, especially when photographing animals. If your presence causes them to change their behavior or move, you are too close...back off and set the example for park visitors. Help keep the wildlife wild. Approaching, remaining, viewing or engaging in any activity within 100 yards of bears or wolves, or within 25 yards of any other wildlife is prohibited.
Bears
An icon of wilderness, Glacier is home to large numbers of both black and grizzly bears. The best way to avoid bear encounters is to be proactive. When on the trail make sure to hike in groups, carry bear spray, make noise, secure your food and garbage, and be aware of your surroundings. For detailed information about staying safe in bear country visit our
Bear Safety page
.
Mountain Lions
Never hike alone. Make noise often and keep children close to you at all times. If you do encounter a lion, do not run. Talk calmly, avert your gaze, stand tall, and back away. If an attack seems imminent, stand your ground. Lions may be scared away by being struck with rocks or sticks, or by being kicked or hit.
Ticks
Ticks are most active in spring and early summer. Several serious diseases, like Rocky Mountain Spotted Fever, can be transmitted. Completely remove attached ticks and disinfect the site. If rashes or lesions form around the bite, or if unexplained symptoms occur, consult a physician.
Bats
A new disease called White-nose Syndrome (WNS) has killed over six million bats. First documented in New York in the winter of 2006-2007, WNS has spread rapidly across the eastern and midwestern United States and eastern Canada, and evidence of the fungus that causes WNS has been detected as far south as Mississippi. According to biologists, WNS has resulted in "the most precipitous wildlife decline in the past century in North America." Biologists are very concerned that WNS may spread out west. Losing bats in Glacier would have a large impact on the Park's ecosystems because of the insects bats consume and the food they provide to other wildlife species.
Biologists know the disease is easily spread by bats, but humans may also be responsible. Currently, the only known tool to stop the spread of WNS is to limit the number of people visiting caves. Therefore, to help protect bats here in Glacier, permits are required for all cave entries and must be obtained through a backcountry office. Help stop the spread of WNS by honoring cave closures, educating your friends and coworkers about WNS and following updated disinfection protocols . More information available at:
WhiteNoseSyndrome.org
and
batcon.org
.
Bull Trout
Fishing in Glacier is a favorite activity of many seasonal employees. It is important to understand the fishing regulations and know how to identify Glacier's various fish species. For the most part, waters west of the Continental Divide are catch-and-release only for cutthroat trout and any bull trout caught park wide must be immediately released back into water. Bull trout are listed as Threatened under the Endangered Species Act and can easily be confused with non-native brook trout and lake trout so, "if you don't know, let it go." The park has fish identification brochures available at visitor centers in the country offices to help employees and visitors identify their catch.
Aquatic Invaders
Aquatic invasive species can devastate native aquatic ecosystems. They invade by hitching a ride with unsuspecting boaters and anglers by attaching to their gear. We ask all employees to clean, drain, and dry their boating/fishing equipment before coming to the park, as well as between fishing excursions in and around the park. Felt-soled wading boots are not permitted for use in the park due to the risk of transporting invasive species from one body of water to another in wet felt soles.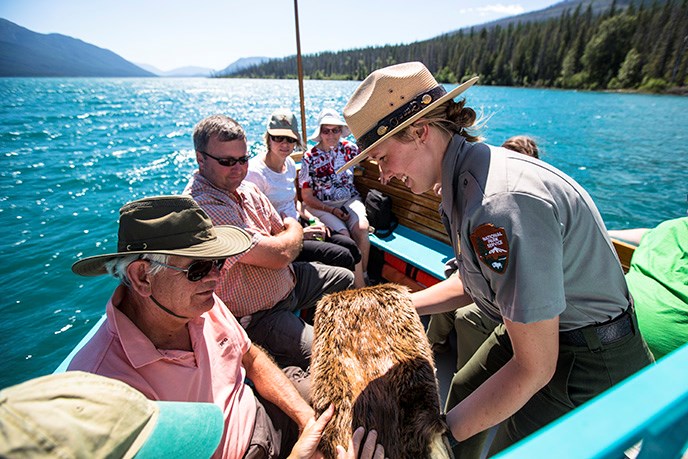 Free Entrance
Employees are allowed free entrance to the park. Glacier National Park Lodge employees must show their company ID at entrance stations. All other concession employees may obtain an entrance sticker from their employer. National Park Service employees can pick up an entrance sticker at check-in. Vehicle registration must be presented in order to obtain the sticker. Stickers are to be placed in the lower left hand corner of your vehicle's windshield. When using the employee bypass lane at the west entrance, wait for the ranger to acknowledge you before you drive on. All other entrances require that you wait in the line.
Connectivity
You will find that most of the park has little or no cell service. Cell phones do not work in most areas. Some concessioners may provide internet access for their employees.
Lost and Found
Report or drop off lost and found items at any visitor center or ranger station, or call 406-888-7820.
Helpful Page Links
Social Media Links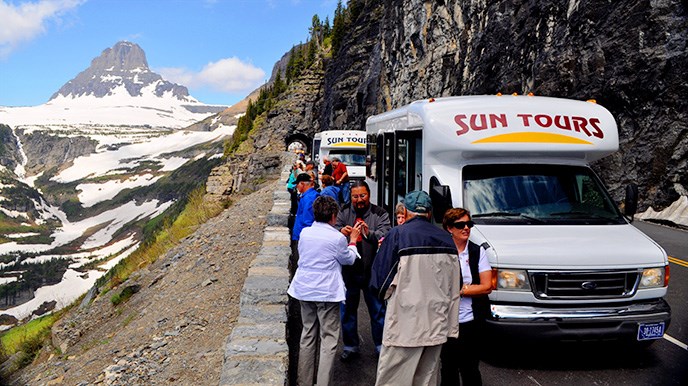 Last updated: June 17, 2016