Directions, Transportation, & Road Conditions
Click road or icon on the map for more information.
This report contains the most recent information available for road, hiker/biker, and entrance closures as well as snowplow status. It may be outdated and inaccurate as our information can change quickly.
Important Travel Warnings:
There is a nightly closure (10 pm to 6 am) on Going-to-the-Sun Road 1.5 miles north of the West Entrance to Sprague Creek for construction work.
There are no fueling stations within Glacier's boundaries.
Parking is limited. During summer, parking lots often fill by early morning.
During extreme congestion, access to whole areas may be temporarily restricted to allow for emergency vehicles.
Glacier's entries and roads all have specific restrictions and season lengths. Please plan accordingly.
The Chief Mountain Border Crossing remains closed. See press release.
Hiker/Biker Closures
Road Crew Closures are in place Monday through Friday, usually 6 am to 4 pm during plowing. Visitors may advance to the Avalanche Hazard Closure when road crews are not working. Avalanche Hazard Closures are in place at all times. Progressive closure locations are determined weekly on Thursdays. Visitors are prohibited from going past the hiker/biker closures. Violators are putting their safety and the safety of our park rangers at risk and could face up to a $5,000 fine and up to 6 months in jail.
Plow Status
Road crews typically work Monday through Friday between 6 am and 4 pm MDT (Crews are moving to five days a week beginning 6/24/22). When crews are delayed at higher elevations, they are typically found at lower elevations clearing rocks, working on guard rails, etc.

This week, the West Side crew plowed through five slides from the weekend starting at the chute above the Triple Arches and through the slopes. They have punched through the Rim Rock area where a rock slide had occured last fall and have made it to Logan Pass. Snow depths in the Rim Rock area were approximately 25' deep and 6' deep through Oberlin Bend. On Monday June 27, the crew expects to start into the Big Drift, begin guard rail installation, and continue with rock clean up.
East Side crews cleared up to No Stump Point and pioneered to the East Tunnel.

Plow crew progress points are available on the map above.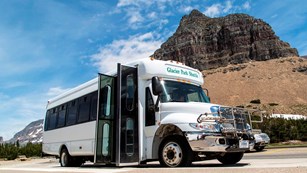 Shuttle Information
Glacier's free shuttles adjust run times for Hiker/Biker Season and the Summer. Click here for more information.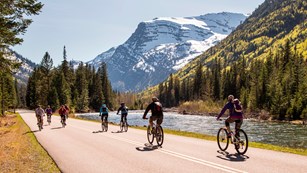 Biking Going-to-the-Sun Road
Learn the rules for biker access on Going-to-the-Sun Road and other opportunities available to cyclists.


Last updated: June 24, 2022