Directions, Transportation, & Road Conditions
Click road or icon on the map for more information.
This report contains the most recent information available for road, hiker/biker, and entrance closures as well as snowplow status. It may be outdated and inaccurate as our information can change quickly.
Important Travel Warnings:
There are no fueling stations within Glacier's boundaries.
Parking is limited. During summer, parking lots often fill by early morning.
During extreme congestion, access to whole areas may be temporarily restricted to allow for emergency vehicles.
Glacier's entries and roads all have specific restrictions and season lengths. Please plan accordingly.
The Chief Mountain Border Crossing remains closed. See press release.
Going-to-the-Sun Road 2022 Fall Season Dates
On October 1, 2022, the west side of Going-to-the-Sun Road closed for the season from the four-way intersection at Apgar to Logan Pass due to the Lake McDonald Utilities Project and road crew operations. On the east side, Going-to-the-Sun Road is scheduled to remain open from St. Mary to Logan Pass until Sunday, October 16 at midnight, unless winter weather forces an earlier closure. Hikers and bikers are not allowed on the Going-to-the-Sun Road at the west side closure. Hiker/biker access is allowed from the east side of the park. Hikers and bikers may travel west of Logan Pass to North McDonald Road when road crews are not in operation. A daily road crew closure will be in place at Logan Pass while crews are working, typically Monday through Thursday.
Vehicle Reservations
From May 27 to September 11, 2022, vehicle reservations are needed to enter Going-to-the-Sun Road corridor at the West Glacier Entrance, Camas Entrance and Rising Sun checkpoint (located 6 miles west of the St. Mary Entrance) from 6 am until 4 pm each day. Reservations for the North Fork area are required between 6 am and 6 pm. Reservations are released at 8 am MDT the day before the effective date on recreation.gov.

Reservations are not required for any other portions of the park (e.g., Many Glacier, Two Medicine, Cut Bank, Walton, Goat Lick, St. Mary or Chief Mountain Highway) and visitors are still subject to the per vehicle entrance pass fee. These areas are congested, and visitors can expect traffic restrictions between 10 am and 2 pm.

Visitors with service reservations along Going-to-the-Sun Road corridor and in the North Fork area of the park do not need a vehicle reservation. Valid service reservations will serve as a vehicle reservation for the day of the service reservation and include lodging, camping, commercial tours, etc.

Visit our vehicle reservations page for additional information.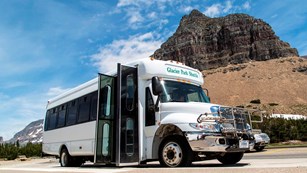 Shuttle Information
Glacier's free shuttles adjust run times for Hiker/Biker Season and the Summer. Click here for more information.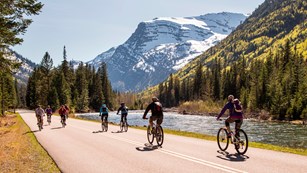 Biking Going-to-the-Sun Road
Learn the rules for biker access on Going-to-the-Sun Road and other opportunities available to cyclists.


Last updated: October 15, 2022