Fees & Passes
Vehicle Reservation System
In 2023, a vehicle reservation is required for four areas of the park: Going-to-the-Sun Road, the North Fork, Two Medicine, and Many Glacier. Each location has unique details and requires a separate reservation. Visit our Vehicle Reservation page for full details.
Entrance Fee by Private Vehicle - 7 day pass
$35.00
(Winter Rate - $25.00, November 1 to April 30)
This is a entrance fee for all persons traveling in a single, private, non-commercial vehicle (car/truck/van). The pass is non-transferable. Visitors can enter the park at any time, if the entrance station is not staffed, a self-registration area is available for purchasing a 7-day park pass.
Entrance Fee by Individual - 7 day pass
$20.00
(Winter Rate - $15.00, November 1 to April 30)
This is a per person entrance fee for a visitor traveling on foot, bicycle, or for individuals traveling together in a vehicle as a non-commercial, organized group. The pass is non-transferable.
Entrance Fee by motorcycle - 7 day pass
$30.00
(Winter Rate - $20.00, November 1 to April 30)
This is a per motorcycle entrance fee. The pass is non-transferable.
---

Buy Your Digital Pass on Recreation.gov
Whether you're planning a single visit or coming back multiple times a year, enjoy the convenience of purchasing a Glacier National Park site-specific digital pass on Recreation.gov before you arrive. You have immediate access to your digital pass and can easily download it on your phone or tablet. Your pass will also be emailed as a PDF and can be printed out for display when you arrive.
Learn more about your pass options, find the right pass for you, and
buy your pass online
.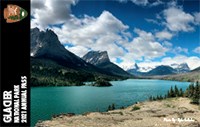 Glacier National Park Annual Pass
$70.00
This pass is valid for one year from the month of entry and admits the purchaser and passengers in a single, private, non-commercial vehicle, or the pass holder and his/her immediate family (spouse, children, parents) when entry is by other means (foot, bicycle) into the park. It is nontransferable, nonrefundable, and does not cover camping fees.
Tour Groups
Commercial Vehicles
Entrance fees are based on the seating capacity of the vehicle (driver not included).
Commercial Sedan (1-6 seats): $25, plus $20 per person, 16 years of age or older
Commercial Van (7-15 seats, regardless of occupancy): $75
Commercial Mini Bus (16-25 seats, regardless of occupancy): $100
Commercial Motor Coach (26 or more seats, regardless of occupancy): $200
Academic Fee Waivers
The Federal Lands Recreation Enhancement Act (FLREA), Public Law 108-447, provides the National Park Service statutory authority to allow "outings conducted for non-commercial educational purposes by schools or bona fide academic institutions" to obtain a waiver of park entrance fees. Commercial enterprises are not eligible for fee waivers, but school groups using a commercial vehicle for transportation only may apply for a fee waiver.
Fee Waiver Guidelines and Application (pdf)
Please fill out the application online, print it, sign and date it, and mail it in to the address listed. For further assistance contact the Special Park Uses Office at 406-888-7857 or 406-888-7832.
---
America the Beautiful Pass Series
The America the Beautiful – The National Parks and Federal Recreational Lands Pass Series is your ticket to more than 2,000 federal recreation sites across the United States.
Passes cover entrance fees at national parks and national wildlife refuges and standard amenity fees (day-use fees) at national forests and grasslands and at lands managed by the Bureau of Land Management, Bureau of Reclamation, and US Army Corps of Engineers.
Passes may be obtained in person at a park entrance gate, purchased online, or via mailed application.
In general, one pass covers the fees listed above for a driver and passengers in a personal vehicle at per-vehicle fee areas or up to four adults at sites that charge per person. Children age 15 or under are admitted free. Some passes provide additional benefits. Check with individual sites for details.
Photo identification will be required to verify ownership.
Passes are non-refundable, non-transferable and cannot be replaced if lost or stolen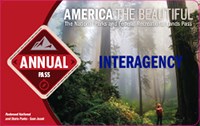 Annual Pass
Cost $80
Valid for one full year from month of purchase (through last day of that month).
Available to everyone.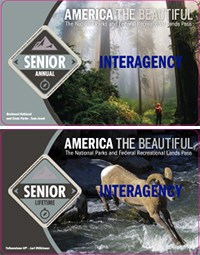 Senior Passes
Cost
$80 for Lifetime Senior Pass
$20 for Annual Senior Pass (valid for one year)
Available for U.S. citizens or permanent residents age 62 or over. Applicants must provide documentation of age and residency or citizenship.
Four Annual Senior Passes may be exchanged for a free Lifetime Senior Pass.
Frequently Asked Questions about the Senior Passes at the USGS Store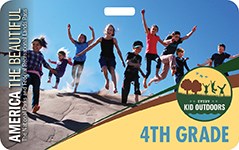 Every Kid Outdoors
Free to U.S. 4th Graders (including home-schooled and free-choice learners 10 years of age)
Valid for the duration of the 2021/2022 4th grade school year (September - August).

Students must have a paper voucher printed from the

Every Kid Outdoors to obtain the Annual 4th Grade Pass. Digital versions of the voucher (such as smart phones or tablets) will not be accepted.

Educators can also be involved!
Frequently Asked Questions about the 4th Grade Pass at the USGS Store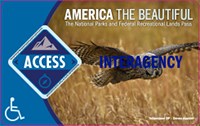 Access Pass
Free
This is a lifetime pass for U.S. citizens or permanent residents with permanent disabilities. Documentation is required to obtain the pass. Acceptable documentation includes: statement by a licensed physician; document issued by Federal agency such as the Veteran's Administration, Social Security Disability Income or Supplemental Security Income; or document issued by a State agency such as a vocational rehabilitation agency.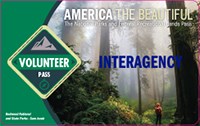 Volunteer Pass
Free
This pass is for volunteers acquiring 250 service hours on a cumulative basis. It provides access to, and use of, Federal recreation sites that charge an Entrance or Standard Amenity Fee for a year, beginning from the date of award.
Contact our Volunteer Coordinator at 406-888-7851 to learn about volunteer opportunities in Glacier or visit volunteer.gov.
Frequently Asked Questions about the Volunteer Pass at the USGS Store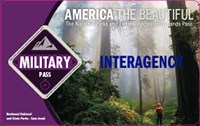 Annual Pass for Military
Free
Available to active duty military personnel and dependents with proper identification (CAC Card or DD Form 1173).
The pass admits the pass owners and any accompanying passengers in a private non-commercial vehicle at per vehicle fee areas, or the pass owner and up to additional 3 adults at sites that charge per person.

The Interagency Annual Military Pass has been expanded to include both veterans and Gold Star Families. On November 11, 2020, agencies began issuing Interagency Military Passes to veterans and Gold Star Families upon request and with proof of eligibility as described below.
The entrance fee waiver does not cover expanded amenity or user fees for activities such as camping, transportation, special recreation permits, reservation fees or special tours.
https://store.usgs.gov/faq - US-Military- for frequently asked questions about the Military Pass.
Who is eligible to gain free entrance as a veteran?
For purposes of this program, a veteran is identified as an individual who has served in the US Armed Forces, including the National Guard and Reserves, and is able to present one of the following forms of identification or the Interagency Military Pass when entering a national park:
Department of Defense Identification Card (CAC Card)
Veteran Health Identification Card (VHIC)
Veteran ID Card
Veterans designation on a state-issued U.S. driver's license or identification card
Who is eligible to gain free access as a member of a Gold Star Family?
Gold Star Families are next of kin of a member of the US Armed Forces who lost his or her life in a "qualifying situation," such as a war, an international terrorist attack, or a military operation outside of the United States while serving with the US Armed Forces. Eligibility requirements are in section 3.2 of Department of Defense Instruction 1348.36.
How does a Gold Star Family gain free access to a national park?
Before visiting a national park site, Gold Star Family members must download and print a voucher to present to park staff. By downloading and signing the voucher, Gold Star Family members are self-certifying that they meet the required criteria as identified in sections 3.2 and 3.3 of Department of Defense Instruction 1348.36.
Download the Gold Star Family Free Access Voucher
Last updated: March 24, 2023