Current Conditions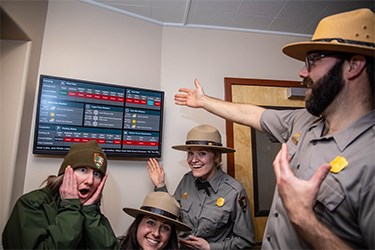 Glacier National Park is introducing a new feature to the website. The
RAD
provides information on campgrounds, weather, parking lot status, and area closures throughout the park, updated every minute. In the summer fill times for campgrounds and parking lots, and times of area closures from the previous day will be highlighted, so visitors can plan for the best times to visit and to understand visitation levels and crowd sizes.
Click on the image on the right to be taken to the live version, which updates approximately every minute.
This site works best in the Chrome web browser.
Road Status and Plowing Information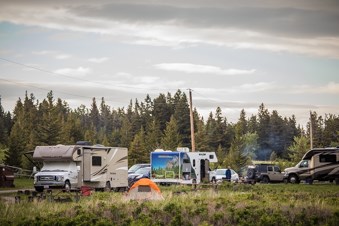 Camping
Check the Camping Status page for up-to-date information, like status and past fill times. More information on the Camping page.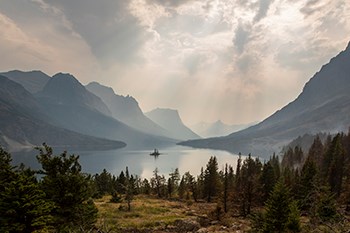 Weather
Weather is always unpredictable but especially so in Glacier. Cold snowy days and warm sunny days are both common any time of year. Temperatures vary with time of day and elevation, so be prepared with layers of clothing.

National Weather Service Recreation Safety Forecast for Glacier National Park
(a clickable map of Glacier National Park weather)

Glacier National Park Forecast
(a text version of the weather forecast for Glacier)

Visit our Weather page for more information.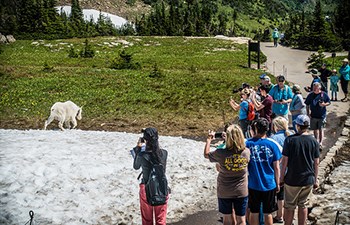 Wildlife
Many animals in Glacier are active year-round. Stay vigilant as you drive park roads. All park visitors should carry bear spray in a readily accessible location, should know how to use it, and should remember required safe wildlife viewing distances. If an animal reacts to your presence you are too close. Please remain at least 100 yards away from bears or wolves, and no closer than 25 yards of any other wildlife.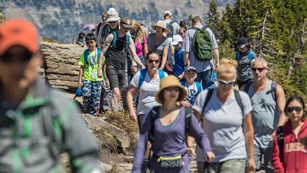 Tips for Dealing with Crowds
May through September is the busiest time of the year in Glacier National Park. Within that, July and August are the busiest of all.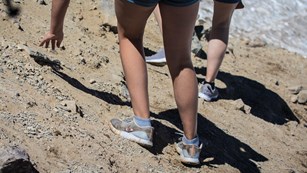 Leave No Trace
Many visitors fall in love with Glacier and then want to know how to reduce their footprint.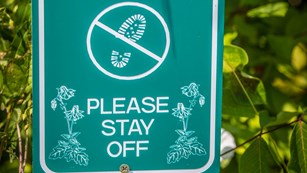 Safety
Water is the number one cause of fatalities in Glacier National Park. Please use extreme caution near water.
Last updated: September 18, 2019