Permits & Reservations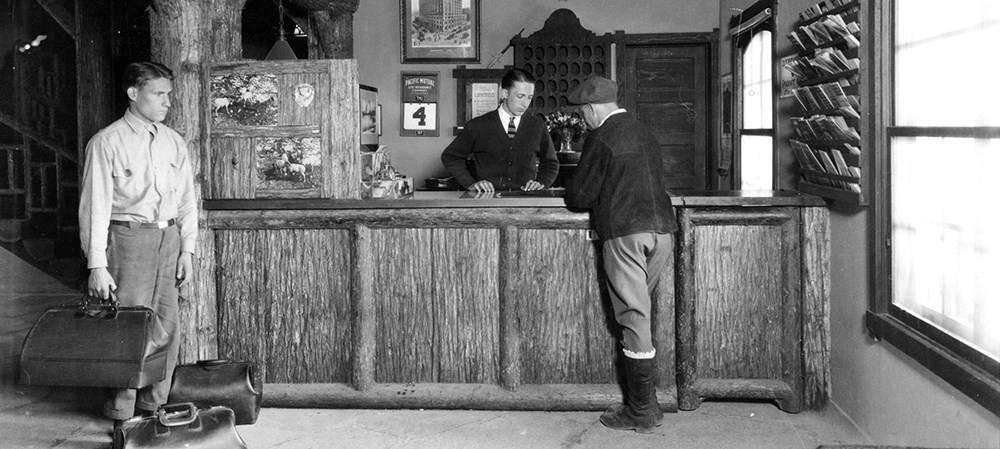 Reservations
Some services and activities in Glacier National Park either require reservations or reservations are recommended.
Lodging
Lodges fill up quickly and reservations are very strongly encouraged. Addresses and phone numbers are found on the Eating and Sleeping page.
Campgrounds
Glacier manages both first-come first-serve campgrounds and reservation-based campgounds. For a complete breakdown and latest information, visit our campground page
Wilderness Camping
A wilderness use permit is required for visitors wishing to camp in the backcountry.

Wilderness use permits may be acquired one of two ways:
Reserving them online in advance.
Obtaining them in person on a first-come first-service basis at one of the Backcountry Ranger Stations.
For complete details and most up-to-date information, visit our Wilderness Camping Page.
Ranger-led Activities
A handful of our ranger-led activities require reservations or tickets due to limited space. Details can be found in the monthly Ranger-led Activity Schedule.

Other Services
Guided Tours, like bus tours, guided hikes, horseback rides, and boat trips are often available without reservations, but if your trip plans are not flexible you should contact the companies providing those services directly and make reservations prior to coming to the park.
Permits
Boating
Aquatic invasive species are a growing concern. Freshwater zebra and quagga mussels have steadily advanced westward, transported on trailered boats. Protecting the waters of the Glacier requires immediate action, both by the parks and by every boater (be they kayaker or sport fisher). Learn about the park's boat inspection and permit program.
Research
Scientists representing academic institutions, government agencies, or private research organizations who are interested in obtaining a research and collection permit should visit the Research Permits page.
Special Use
Glacier National Park is home to many beautiful landscapes and settings that are ideal venues for a variety of special activities such as events, wedding ceremonies, and film and photography projects. Most special events and activities held in the park require a special use permit, issued only after the National Park Service determines that the activities involved will not impair park values and resources. Please note that there are usage limits for the number of people and vehicles for any special activity.
► Special Park Uses Permit Offices have modified operations for the 2022 season due to the COVID-19 global pandemic.
Applicants should be prepared for unanticipated permit changes, and even cancellations, of permits with little notice due to the possibility of unforeseen circumstances surrounding the unprecedented nature of COVID-19, and should plan accordingly. Due to short staffing and volume of permit requests, delayed NPS response time should also be anticipated.

Application packets, which consist of the application, non-refundable application fee, and liability insurance (if needed), must be received at the park a minimum of 20 business days before the requested permit date or your permit request can be denied.

Wedding Permit Restrictions
Glacier National Park has set a limit of a total of 30 people for all wedding ceremonies (please keep in mind that most wedding locations within Glacier NP have a limit of 15 people). Total group size cannot exceed 30 people at any location, including the wedding couple, guests, officiants, and photographers. We appreciate your understanding in our efforts to keep visitors and staff safe.
Weddings
If you are interested in getting married in Glacier National Park please visit our Wedding Permits page.
Filming
Changes to Commercial Filming Permits on Park Land
On January 22, 2021, the US District Court for the District of Columbia issued a decision in Price v. Barr determining the permit and fee requirements applying to commercial filming under 54 USC 100905, 43 CFR Part 5, and 36 CFR Part 5.5 are unconstitutional. In response to the decision, the National Park Service issued interim guidance on February 22, 2021, to manage filming activities. Under the interim guidance, filming activities may require a permit if they would impact park resources or the visitor experience. The National Park Service intends to update regulations addressing filming activities that are consistent with the outcome of Price v. Barr. Once effective, those regulations will replace and supersede the interim guidance.

Those interested in commercial filming activities on land managed by the National Park Service are encouraged to contact the park directly for more information about filming in the park and to discuss how to minimize potential impacts to visitors and sensitive park resources.

Do I need a permit to film?
Under the interim guidance, the National Park Service is not distinguishing between types of filming, such as commercial, non-commercial, or news gathering. Low-impact filming activities will not require a special use permit, but non-low-impact filming activities may require a permit to address their potential impacts on park resources and visitor activities.

Low-Impact Filming
"Low-impact filming' is defined as outdoor filming activities in areas open to the public, except areas managed as wilderness, involving five people or less and equipment that will be carried at all times, except for small tripods used to hold cameras. Those participating in low-impact filming activities do not need a permit and are not required to contact the park in advance. If low-impact filmers have questions about areas where they want to film, they should contact the park directly.

Videographers, filmers, producers, directors, news and other staff associated with filming are reminded that rules and regulations that apply to all park visitors, including park hours and closed areas, still apply to filming activities even if a permit is not required. Check with the park staff for more information on closures, sensitive resources, and other safety tips.

Non-Low-Impact Filming
Filming activities that do not meet the description of low-impact filming require at least ten days advance notice to the National Park Service by contacting the park directly in writing. The park's superintendent will determine whether the filming activities will require a special use permit for filming. Based on the information provided, a permit may be required to:
maintain public health and safety;
protect environmental or scenic values;
protect natural or cultural resources;
allow for equitable allocation or use of facilities; or
avoid conflict among visitor use activities.

Examples of requests that may require a permit include, but are not limited to: entering a sensitive resource area, filming in areas that require tickets to enter, or filming in visitor centers, campgrounds, or other visitor areas. The decision to require a permit rests with the park superintendent based on potential impacts to park resources or the visitor experience.

Contact the park directly if unsure whether or not a filming activity is considered low-impact or may require a permit.

Filming in Wilderness Areas
The National Park Service manages and protects more than 67 million acres of park lands and waters as wilderness areas. These areas have additional laws and policies to preserve their wilderness character for future generations. Filming activities in wilderness areas must follow all applicable laws and regulations that govern wilderness areas in the park, including prohibitions on structures, installations, motor vehicles, mechanical transport, motorized equipment, motorboats, or landing of aircrafts.

Except for casual filming by visitors, special use permits for filming are required for all filming activities in wilderness areas, no matter the group size or equipment used.

Are filmers still required to pay fees to film in parks?
Under the interim guidance issued on January 22, 2021, the National Park Service is not collecting application or location fees, or cost recovery for filming activities.

Permit Information Sheet for Filming and Still Photography
Application for Special Use Permit (filming)
Still Photography
When is a permit needed?
Price v. Barr had no impact on how the National Park Service regulates still photography, so there are no changes in how the National Park Service regulates that activity.

If you are interested in conducting a commercial instructional photography workshop, please visit Commercial Use Permits.

Permit Information Sheet for Filming and Still Photography
Application for Special Use Permit (still photography)
Commercial Operators
Federal regulations prohibit engaging in or soliciting any business in park areas, except in accordance with the provisions of a permit, contract, or other written agreement with the United States. As in other National Park Service areas, commercial visitor services or other commercial activities may be provided only by those holding an authorization from the United States.
In Glacier National Park, concessions contracts have been issued to provide certain visitor services. These services include transportation and tour services, food services, backpacking and day hiking guide services, boat tours and small boat rentals, horseback riding, lodging, and retail sales.
Noncommercial or Nonprofit Groups
Noncommercial or nonprofit groups leading trips into Glacier require a permit. Please complete the application for a Special Use Permit and return with and your $100 non-refundable application fee ($125 for applications received after March 1, 2021), proof of your organization's nonprofit status (such as recognition from the IRS of tax-exempt eligibility) and proof of liability insurance with the additionally insured listed as "United States Government, the Department of the Interior, National Park Service, Glacier National Park, PO Box 128, West Glacier, MT 59936". Mail everything to the following address:
Attn: Special Use Permit Office
Glacier National Park
PO Box 128
West Glacier, MT 59936
With the Special Use Permit, nonprofit groups are charged normal visitor entry fees for a 7 day pass for each vehicle with a capacity of 15 or fewer. More information about other vehicle sizes and pass options is available on our website under Entrance Fees.
Spreading of Ashes
Regarding spreading of ashes in Glacier National Park, we, must abide by the terms outlined in Title 36, "Code of Federal Regulations, Section 2.62(b), which states in part: "the scattering of human ashes from cremation is prohibited, except pursuant to the terms and conditions of a permit, or in designated areas according to conditions which may be established by the Superintendent."
In Glacier National Park, human ashes may be disbursed only in undeveloped areas of the Park; that is, not within 200 feet of any developed location, such as a road, trail, building, parking lot, boat ramp, swimming beach, campground, lake, etc. The ashes must be scattered and not deposited in any type of container. No marker or memorial of any sort may be placed at the site.
Also, please keep in mind that winter-like weather can occur at any time during the year, usually November through April, which may make access to a particular area impossible.
When you are ready to disburse of the ashes, send in a special use permit application and a letter will be sent to you which will serve as the official permit required by the citation referenced above and the instructions regarding location and notification will serve as the terms and conditions required by the citation. This letter or a copy thereof must be in the possession of at least one member of the party present when human ashes are scattered in the park.
Last updated: January 10, 2022