Ranger-led Activities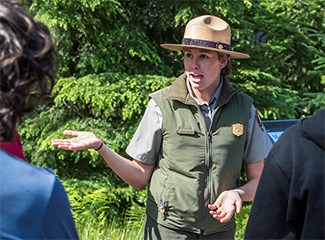 Join us in Summer!
Our scheduled activities include a variety of ranger-led programs, from easy walks and evening talks, to all-day hikes, boat tours and Native America Speaks programs.

PDF versions of the schedule for June, July, August, and September are available online.

Schedules are made available about one week before the start of each month. Programs start mid-June and generally conclude at the end of September.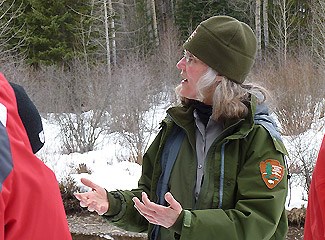 Join Us in Winter!
In lieu of hiking boots, strap on snowshoes and join a ranger for a two-hour snowshoe in the Apgar area. Take an intimate look at the park while searching for signs of wildlife, discovering plants and animals, and enjoying the solitude of winter during this unique experience.
Winter Snowshoe Walk
Winter snowshoe trips are offered on weekends between January 11 and March 15, 2020, at 10 am and 2 pm. Meet at the Apgar Visitor Center.
Not recommended for children under age 6.
Participants should be prepared for a variety of winter conditions by wearing appropriate clothing, dressing in layers, and bringing water and snacks.
Participants may use their own snowshoes or rent snowshoes for $2.00 at the Apgar Visitor Center Bookstore beginning 30 minutes prior to the program.
Snowshoe rental is on a first come, first served basis, as availability is limited.
Snowshoe rentals are also available in neighboring communities.
Park entrance fees are required. The Winter rate is $25.00 per car.
Planning
Children are welcome on interpretive activities, but should always be accompanied by an adult.
Cost
Most programs are free of charge. Boat trips that include a ranger-guided hike and some of the Native America Speaks programs have a cost associated with them. Our Ranger-led Activities Schedule includes details on pricing.
Reservations
You do not need a reservation on most of our Ranger-led activities, however, there are a few cases when advance planning would be prudent because of limited space:
The hikes associated with a boat tour tend to fill up quickly, so you should contact Glacier Park Boat Co. for a reservation or visit one of their ticket offices.
You should make reservations for the International Peace Park hike as it has a space limit of 35 people. You can pre-register at the St. Mary Visitor Center (406-732-7750) or the Waterton Lakes Visitor Centre in Waterton (403-859-5133). You can add your name to that list at any of the visitor centers. There is a fee for the return boat trip back to Canada. In 2019, the International Peace Park Hike does not involved the boat. The hike will begin in Waterton Lakes National Park and hike to the international boundary and back.
Tickets for the Blackfeet Singers and Dancers go on sale the Monday before the performance date at the St. Mary Visitor Center Bookstore. Auditorium seating is limited.
Make reservations, in person at Apgar Visitor Center, up to three days in advance for Creatures in the Creek children's program.
Admission by ticket only to special Logan Pass Star Parties. Pick up a ticket (one per vehicle) at Apgar or St. Mary Visitor Center bookstores beginning the day before the event. Donations are appreciated.
What to Bring Hiking
Sturdy foot gear is a must for all but the very easiest of hikes. Everyone should have good boots, with strong support, to help prevent ankle injuries.
Bring water with you! The mountains can get very hot in the summer. Surface water in the park may be unsafe to drink.
Mosquitoes and flies can be bothersome. Come prepared with repellent to meet some of Glacier's smaller wildlife species.
A day of hiking can expose you to more sun and UV rays than normal. Wear a hat and sunscreen. It will help keep you cool and prevent a sunburned scalp!
Weather can change quickly. Come prepared with rain gear for summer showers.
Bring something to eat while you are in the backcountry. If you are on an all-day hike or a hike over the noon hour, you'll get mighty hungry without lunch. Remember, if you pack it in, pack it out.
Come prepared to have a great time!
Last updated: December 30, 2019