Ranger-led Activities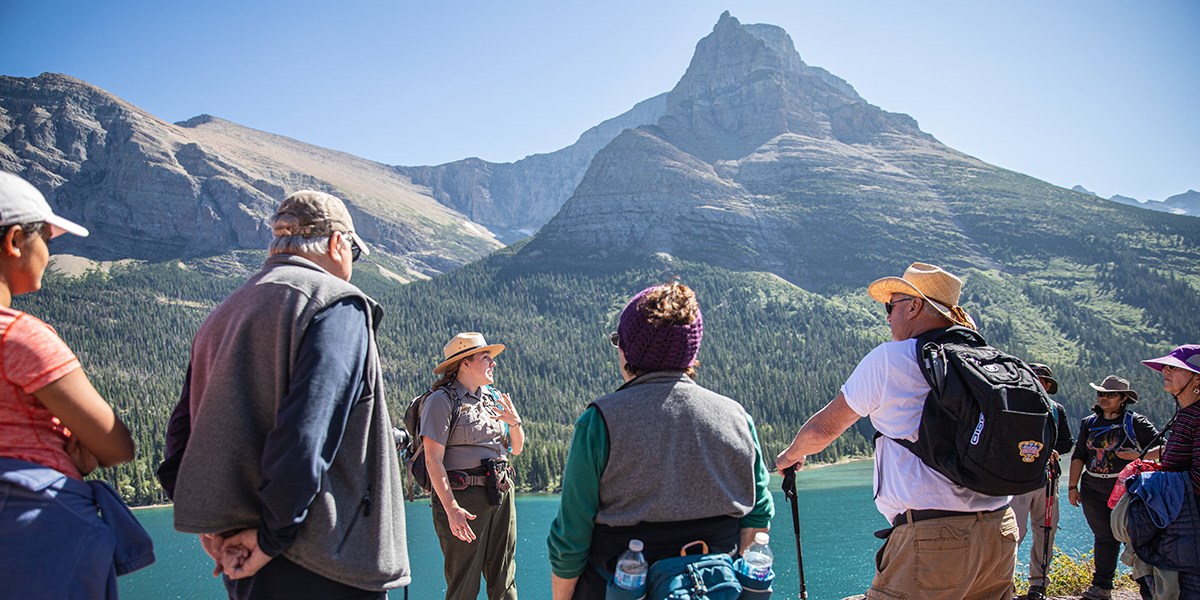 Ranger-led activity offerings will be limited in 2021. Updated information will be posted here as it becomes available. The information below is what we have typically offered prior to 2020.
Planning
Children are welcome at interpretive activities but should always be accompanied by an adult.

Ranger programs can be popular during the busy summer season, so plan to be at the trailhead or designated meeting location at least ten minutes prior to the start time.
Cost
Most programs are free of charge. Boat trips that include a ranger-guided hike and some of the Native America Speaks programs have a cost associated with them. Our ranger-led activities schedule includes details on any pricing.
Reservations
Visitors do not need a reservation for most ranger-led activities, but there are a few cases when advanced planning would be prudent because of limited space:
Hikes associated with a boat tour tend to fill up quickly, so you should contact Glacier Park Boat Co. for a reservation or visit one of their ticket offices.
The International Peace Park hike has a space limit of 35 people. Visitors can pre-register at the St. Mary Visitor Center (406-732-7750) or the Waterton Lakes Visitor Centre in Waterton (403-859-5133). There is a fee for the return boat trip back to Canada. Not being offered in 2021.
Make reservations, in person at the Apgar Visitor Center, up to three days in advance for the Creatures in the Creek children's program. Not being offered in 2021.
Admission is by ticket only to our infrequent Logan Pass Star Parties. Pick up a ticket (one per vehicle) at the Apgar or St. Mary Visitor Center bookstores beginning the day before the event. Not being offered in 2021.
What to Bring Hiking
Sturdy foot gear is a must for all but the easiest of hikes.
Bring plenty of water, as surface water in the park may be unsafe to drink.
Pack a first aid kit to care for your own minor injuries or medical needs.
Insect repellent is helpful when meeting some of Glacier's smaller wildlife species.
Wear a hat and sunscreen, as a day of hiking can expose you to much more sun than usual.
Come prepared with rain gear for summer showers, as Glacier's weather can change very quickly.
Pack a lunch for an all-day hike or a hike over the noon hour, and bring snacks for other times of day. Remember, if you pack it in, pack it out.
Come prepared to have a great time!
Last updated: November 8, 2021