Camping in Glacier National Park
Choose a Campground
Camping in Glacier National Park is a great way to experience this spectacular place. There are 13 front country campgrounds, and each campground varies in use. Whether you wish to tent-camp, camp with an RV or other vehicle, one or more of the park campgrounds should suit your interest.
Wilderness Camping
in Glacier.
Reservations
Many campgrounds are available by reservation and can be booked on Recreation.gov. It is recommended you book the site before arriving to the park. Cell service is unreliable and inconsistent throughout the park.
Reserving a site is highly recommended as the park offers only a few first-come, first-served campgrounds.
Campsites are reservable on a rolling basis, typically 6 months in advance from the date you want to book your stay. Notification: Reservations for the 2024 peak season will not begin until early January due to programmatic changes.
Camping Information
Most campgrounds are available by reservation only and must be booked on Recreation.gov. A few, smaller campgrounds are strictly first-come, first-served and do not require reservations.
NEW in 2023 – Avalanche, Two Medicine, and Many Glacier Campgrounds will require advance reservations. Check Recreation.gov for availability.
Camping fees vary between $10 and $23 dollars per night during the summer season, and refunds are not available.
Reservations for campsites at Apgar, Fish Creek, Sprague Creek, Avalanche, St. Mary, Many Glacier, and Two Medicine Campgrounds are made through Recreation.gov.
Other campgrounds within the park are operated on a first-come, first-served basis. Instructions for securing a first-come, first-served campsite are available at the entrances of the respective campground. Want to receive live updates when campgrounds fill? Sign up for Glacier National Park Notifications and be the first to know. Text GNPCGS to 333111 to sign up.
A limited number of sites at Apgar, Fish Creek, Sprague Creek, Avalanche, Rising Sun, St. Mary, Many Glacier, and Two Medicine Campgrounds are set aside for those arriving by bicycle or on foot. Sites may be shared with a total capacity of up to 8 people per physical site.
Apgar, Fish Creek, Sprague Creek, and Avalanche Campgrounds require advance reservations on Recreation.gov for hiker/biker sites. When booking online reservations, please note that each reservation is only good for two people. If you have more people in your group, you will need to make additional reservations. Advance reservations for these sites have a one-day booking window. For example, if you are arriving on July 1, you can book your site on June 30.
At Two Medicine, St. Mary, and Many Glacier Campgrounds, sites are shared and are first-come, first-served, with a capacity of 8 people per site. Note: Two Medicine, St. Mary, and Many Glacier campsites require payment through Recreation.gov using their scan & pay system. Reservations do not need to be made in advance, but you must download the Recreation.gov app and have an account before arriving. Rising Sun Campground is also first-come, first-served but does NOT require the use of the Recreation.gov scan & pay system.
Prices for all hiker/biker sites range from $5 to $8 per person. Motorcyclists must use regular unoccupied campsites. Hiker/biker sites are for non-motorized campers only. If hiker/bicyclist sites are full or campers do not want to share a site, they must use regular unoccupied campsites which require a reservation through Recreation.gov.
Camping is permitted only in designated campgrounds.
Utility hook-ups are not provided, and connection to water, sewer, or electrical outlets is prohibited.
Between July 1 and Labor Day, camping in the park is limited to 14 days, either in a single period or combined separate periods.
Between Labor Day and June 30, camping in the park is limited to 30 days, either in a single period or combined separate periods.
Campsite capacity is limited to eight people and two vehicles, where space is available. A maximum of two tents per site is permitted.
Group sites for 9-24 campers are available at Apgar, Many Glacier, St. Mary, and Two Medicine. Check with a park ranger or campground host prior to using.
Sites may not be left unattended for over 24 hours.
Check out time is noon. If staying another night, re-register by 11:30 am.
Secure your valuables in a locked vehicle out of sight.
Campground speed limits are 10 mph.
Bicyclists are responsible for complying with all traffic regulations and are permitted only on roadways.
All food, lawfully taken fish, garbage, and equipment used to cook, serve, or store food must be kept sealed in a vehicle, sealed in a camping unit that is constructed of solid, non-pliable material, suspended from any NPS-designated food hanging device, secured in any NPS-designated storage locker, secured in an Interagency Grizzly Bear Committee (IGBC) approved bear resistant container, or secured in a structure or dwelling at all times, except when these items are being transported, consumed, or prepared for consumption.

Do not burn waste in fire rings or leave litter around your camp. Garbage must be properly stored at all times. Use bear-proof trash cans.

Violation of food storage regulations may result in a $75 fine and/or confiscation of improperly stored items.
Quiet hours are from 10 pm to 6 am. Noise must be kept to a low level that does not disturb other campers.Generator use in campgrounds is permitted only during the following times: 8 am–10 am, noon–2 pm, or 5 pm–7 pm.

Generator use is prohibited AT ALL TIMES in the following campground areas:
Fish Creek, C Loop
Many Glacier, sites 48-59, 71, and 88-102
Rising Sun, sites 49-84
Sprague Creek, all sites
St. Mary, A Loop
Two Medicine, sites 1-36
Cutbank Campground, all sites
Unreasonable idling of motor vehicles is also prohibited.
All areas are closed to pets except developed areas, front-country campsites, picnic areas, along roads, and in vessels on lakes where motorized watercraft are permitted. Pets must be secured on a leash no longer than six feet, under physical restraint, or caged at all times. Do not leave pets unattended. Owners must pick up after their pets and dispose of waste in a trash receptacle, and they must not allow pets to make noise that is unreasonable.
Firewood is available for purchase at most camp stores. Gathering or cutting firewood in the park is unlawful, except in the following areas:
Along the Inside North Fork Road from Dutch Creek to Kintla Lake

Along the Bowman Lake Road

In the immediate vicinity of backcountry campgrounds allowing wood fires

In the areas listed above, only dead wood on the ground may be collected. Fires must be kept inside fire grates and attended all times. Be sure your fire is dead out when leaving for any reason.
Fireworks are prohibited in National Parks, including Glacier.
Using campground faucets to wash dishes or clothing, to clean fish, to prepare food, or to bathe is prohibited. All wastewater, including water from showers and dishwashing, must be contained and disposed of in utility sinks or at RV dump stations. Do not leave wastewater unattended. Recreational vehicles must use drain hoses at dump stations.

Fee showers are available at the Rising Sun and Swiftcurrent Motor Inns and private campgrounds adjacent to the park. Showers are available for registered campers only at the Fish Creek, Apgar, and St. Mary Campgrounds.
Bears, mountain lions, and other wild animals can be dangerous! Maintain 25 yards (23 meters) distance from all animals and 100 yards (91 meters) from bears and wolves. See the park's
Safety
page for more information.
Closely supervise children whenever they're outdoors, even in developed areas. Unattended pets may attract a lion and result in the loss of your pet.
Feeding wildlife is prohibited. In their pursuit of their usual food sources, animals will be attracted to improperly stored food. Allowing wildlife to obtain human food or trash is harmful to the animal, disrupts natural behaviors, and can create dangerous situations for both wildlife and humans. Follow the food storage regulations listed above, and always maintain a clean camp. Violation of park regulations will result in the issuance of a citation (fine).
Report all bear and mountain lion sightings or encounters to the nearest ranger, campground host, or visitor center, or by calling (406) 888-7800.
Ranger and
Native America Speaks
evening programs are offered throughout the summer and cover a variety of topics. Generally, programs start at 7:30 PM or later and last around 45 minutes. More information can be found on our
Ranger-led Activities
page. The following campgrounds have program amphitheaters:
Apgar
Fish Creek
Rising Sun
St. Mary (Loop C)
Two Medicine (Loop B, site 40)
Many Glacier
Additionally, programs are held at St. Mary Visitor Center Auditorium (nearest campgrounds: St. Mary and Rising Sun).
When campgrounds are open in primitive status, there are special considerations regarding water and sanitation. No potable water sources or dump station facilities are provided. Lake water or melted snow obtained for drinking or food preparation should be boiled (at least one minute) or treated using an approved filtration system.
Comfort stations are closed; campers should use the campground's vault toilets. Washing dishes or discarding wastewater near campsites or water sources is prohibited. Filter food scraps (pack out as garbage) from dish water and scatter water on the ground at least 100 feet (30.5 meters) away from campsites, lakes, and streams.
Interested in hiking to a remote campsite? Learn more about
Wilderness Camping
in Glacier.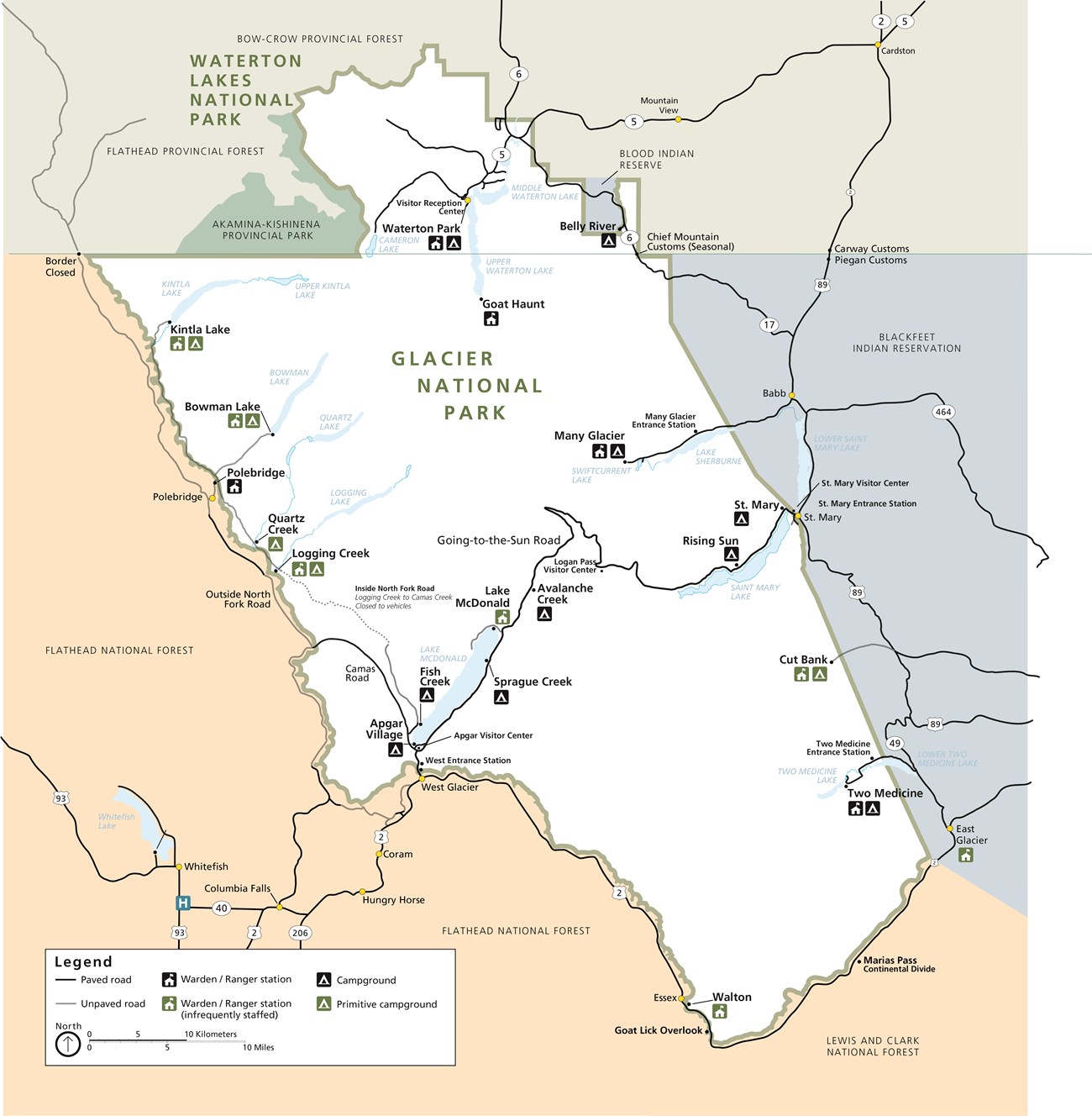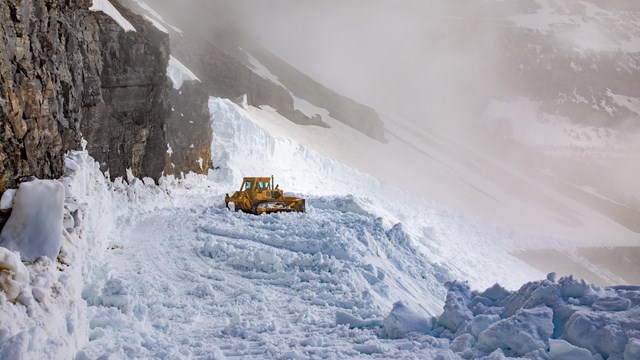 Is Going-to-the-Sun Road Open?
Conditions are constantly changing. Check here for updates on which roads are open or closed.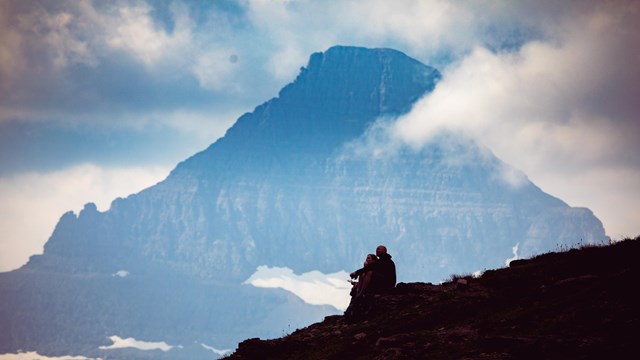 How Crowded is Glacier?
Glacier is extremely busy during the summer.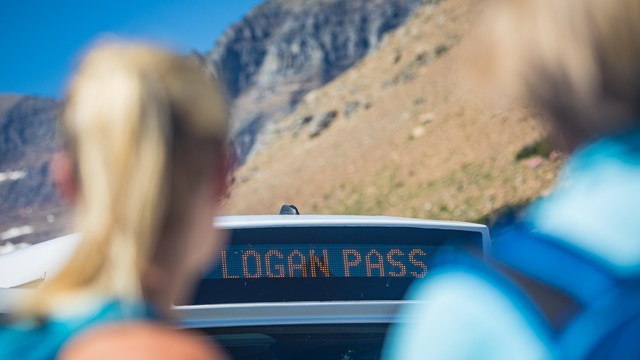 How does the free shuttle work?
The shuttle can move you along Going-to-the-Sun Road but requires flexibility.


Last updated: November 16, 2023