Native America Speaks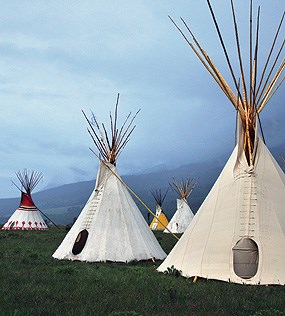 Each summer Blackfeet, Salish, Kootenai, and Pend d'Oreille tribal members share knowledge of their history and culture as part of the Native America Speaks program. This program began in 1982 and is the longest running indigenous speaker series in the National Park Service. Native America Speaks programs are offered at park campgrounds and historic lodges, in the St. Mary Visitor Center, and in locations throughout the Blackfeet Nation. In addition, cultural presentations are offered at the 1913 Ranger Station, Apgar Plaza, and Logan Pass star parties. To learn more about the program, view this short film made in 2019 that chronicles the history of the program through the voices of the presenters.
Program Highlights
Native America Speaks evening programs and cultural presentations provide opportunities for local tribal members to share their rich history and culture through singing, storytelling, presentations, and hands-on learning. In addition to programs offered in the park, Native America Speaks presentations are also offered on the Blackfeet Nation at several locations including the Museum of the Plains Indian, the Heritage Center, and Chewing Black Bones Campground. Recordings of several presentations from 2019 are also available: Vernon Finley, Don Fish, Tony Incashola, Darnell Rides At The Door, Treyace Yellow Owl, Ernie Heavy Runner, and Mariah Gladstone.

The Blackfeet Singers and Dancers provide insight into contemporary and traditional Blackfeet history and culture through narration and fancy, jingle, traditional, and grass dance demonstrations.

All Native America Speaks programs are made possible through a generous donation from the Glacier National Park Conservancy.
Summer 2021 Schedule of Programs and Events:
June Programs
June 12, Sat., 11:00 am - Termaine Edmo & Danielle Antelope - Cultural Presentation, 1913 Ranger Station, St. Mary
June 20, Sun., 8:00 pm - Jack Gladstone - Evening Program, Many Glacier Campground Amphitheater
June 21, Mon., 8:00 pm - Rose Bear Don't Walk - Evening Program, Apgar Campground Amphitheater
June 22, Tues., 8:00 pm - Robert Hall - Evening Program, Many Glacier Campground Amphitheater
June 23, Wed., 8:00 pm - Ernie Heavy Runner - Evening Program, Two Medicine Campground Amphitheater
June 24, Thurs., 8:00 pm - Edwin "Sooney" Little Plume Sr. - Evening Program, Chewing Black Bones Campground Amphitheater, Babb
June 25, Fri., 8:00 pm - Darnell Rides At The Door - Evening Program, Rising Sun Picnic Area
June 25, Fri., 8:00 pm - Jack Gladstone - Evening Program, Apgar Campground Amphitheater
June 26, Sat., 8:00 pm - Robert Hall - Evening Program, Two Medicine Camgpround Amphitheater
June 27, Sun., 8:00 pm - Jack Gladstone - Evening Program, Many Glacier Campground Amphitheater
June 28, Mon., 8:00 pm - Mariah Gladstone - Evening Program, Apgar Campground Amphitheater
June 29, Tues., 8:00 pm - Darnell Rides At The Door - Evening Program, Many Glacier Campground Amphitheater
June 30, Wed., 7:00 pm - Blackfeet Singers and Dancers - Cultural Presentation, Rising Sun Picnic Area Amphitheater
June 30, Wed., 8:00 pm - Danielle Antelope - Evening Program, Two Medicine Campground Amphitheater
July Programs
July 1, Thurs., 8:00 pm - Mariah Gladstone - Evening Program, Chewing Black Bones Campground Amphitheater, Babb
July 2, Fri., 8:00 pm - Iron Shield Creative - Evening Program, Rising Sun Picnic Area
July 3, Sat., 8:00 pm - Ernie Heavy Runner - Evening Program, Two Medicine Campground Amphitheater
July 4, Sun., 8:00 pm - Jack Gladstone - Evening Program, Many Glacier Campground Amphitheater
July 5, Mon., 8:00 pm - Tony Incashola - Evening Program, Apgar Campground Amphitheater
July 6, Tues.,1:00 pm - Ernie Heavy Runner - Cultural Presentation, Heritage Center, Browning
July 6, Tues., 8:00 pm - Helen Dayle Carlson - Evening Program, Many Glacier Campground Amphitheater
July 7, Wed., 8:00 pm - Alicia & Taos Yellow Owl - Evening Program, Two Medicine Campground Amphitheater
July 8, Thurs., 11:00 am - Iron Shield Creative - Cultural Presentation, Two Medicine South Shore Trail
July 8, Thurs., 8:00 pm - Joseph Running Crane, Evening Program, Chewing Black Bones Campground Amphitheater, Babb
July 9, Fri., 8:00 pm - Joseph Running Crane - Evening Program, Rising Sun Picnic Area
July 10, Sat., 11:00 am - Darnell & Smokey Rides At The Door - Cultural Presentation, 1913 Ranger Station, St. Mary
July 10, Sat., 8:00 pm - Joseph Running Crane - Evening Program, Two Medicine Campground Amphitheater
July 11, Sun., 8:00 pm - Jack Gladstone - Evening Program, Many Glacier Campground Amphitheater
July 12, Mon., 8:00 pm - Genevieve Huitt - Evening Program, Apgar Campground Amphitheater
July 13 , Tues., 8:00 pm - Mariah Gladstone - Evening Program, Many Glacier Campground Amphitheater
July 14, Wed., 8:00 pm - Darnell Rides At The Door - Evening Program, Two Medicine Campground Amphitheater
July 15, Thurs., 8:00 pm - Ernie Heavy Runner - Evening Program, Chewing Black Bones Campground Amphitheater, Babb
July 16, Fri., 8:00 pm - Danielle Antelope - Evening Program, Rising Sun Picnic Area
July 17, Sat., 8:00 pm - Termaine Edmo - Evening Program, Two Medicine Campground Amphitheater
July 18, Sun., 8:00 pm - Jack Gladstone - Evening Program, Many Glacier Campground Amphitheater
July 19, Mon., 8:00 pm - Frank Finley - Evening Program, Apgar Campground Amphitheater
July 20, Tues., 8:00 pm - Treyace Yellow Owl - Evening Program, Many Glacier Campground Amphitheater
July 21, Wed., 8:00 pm - Mariah Gladstone - Evening Program, Two Medicine Camgpround Amphitheater
July 22, Thurs., 8:00 pm - Edwin "Sooney" Little Plume Sr. - Evening Program, Chewing Black Bones Campground Amphitheater, Babb
July 23, Fri., 9:00 pm - Jack Gladsone - Evening Program, Fish Creek Campground Amphitheater
July 23, Fri., 8:00 pm - Ernie Heavy Runner - Evening Program, Rising Sun Picnic Area
July 24, Sat., 8:00 pm - Iron Shield Creative - Evening Program, Two Medicine Campground Amphitheater
July 25, Sun., 8:00 pm - Jack Gladstone - Evening Program, Many Glacier Campground Amphitheater
July 26, Mon., 8:00 pm - Vernon Finley - Evening Program, Apgar Campground Amphitheater
July 27, Tues., 8:00 pm - Mariah Gladstone - Evening Program, Many Glacier Campground Amphitheater
July 28, Wed., 7:00 pm - Blackfeet Singers and Dancers - Cultural Presentation, Rising Sun Picnic Area
July 28, Wed., 8:00 pm - Ernie Heavy Runner - Evening Program, Two Medicine Campground Amphitheater
June 29, Thurs., 8:00 pm - Treyace Yellow Owl - Evening Program, Chewing Black Bones Campground Amphitheater, Babb
July 30, Fri., 8:00 pm - Jack Gladstone - Evening Program, Rising Sun Picnic Area Amphitheater
July 31, Sat., 6:00 pm - Iron Shield Creative - Evening Program, Lone Pine State Park, Kalispell
July 31, Sat., 8:00 pm - Don Fish - Evening Program, Two Medicine Campground Amphitheater
August Programs
Aug. 1, Sun., 7:30 pm - Jack Gladstone - Evening Program, Many Glacier Campground Amphitheater
Aug. 2, Mon., 7:30 pm - Tony Incashola Sr. - Evening Program, Apgar Campground Amphitheater
Aug. 3, Tues., 7:30 pm - Ernie Heavy Runner - Evening Program, Many Glacier Campground Amphitheater
Aug. 4, Wed., 7:30 pm - Treyace Yellow Owl - Evening Program, Two Medicine Campground Amphitheater
Aug. 5, Thurs., 7:30 pm - Danielle Antelope - Evening Program, Chewing Black Bones Campground Amphitheater, Babb
Aug. 6, Fri., 7:00 pm - Robert Hall - Evening Program, Rising Sun Picnic Area
Aug. 7, Sat., 7:30 pm - Darnell Rides At The Door - Evening Program, Two Medicine Campground Amphitheater
Aug. 8, Sun., 7:30 pm - Jack Gladstone - Evening Program, Many Glacier Campground Amphitheater
Aug. 9, Mon., 7:30 pm - Genevieve Huitt - Evening Program, Apgar Campground Amphitheater
Aug. 10, Tues., 1:00 pm - Ernie Heavy Runner - Cultural Presentation, Heritage Center, Browning
Aug. 10, Tues., 7:30 pm - Darnell Rides At The Door - Evening Program, Many Glacier Campground Amphitheater
Aug. 11, Wed., 7:30 pm - Helen Dayle Carlson - Evening Program, Two Medicine Campground Amphitheater
Aug. 12, Thurs., 1:00 pm - Jack Gladstone - Cultural Presentation, Museum of the Plains Indian, Browning
Aug. 12, Thurs., 7:30 pm - Joseph Running Crane - Evening Program, Chewing Black Bones Campground Amphitheater, Babb
Aug. 13, Fri., 7:00 pm - Joseph Running Crane - Evening Program, Rising Sun Picnic Area
Aug. 14, Sat., 11:00 am - Mariah Gladstone - Cultural Presentation, 1913 Ranger Station, St. Mary
Aug. 14, Sat., 7:30 pm - Joseph Running Crane - Evening Program, Two Medicine Campground Amphitheater
Aug. 15, Sun., 7:30 pm - Jack Gladstone - Evening Program, Many Glacier Campground Amphitheater
Aug. 16, Mon., 7:30 pm - Frank Finley - Evening Program, Apgar Campground Amphitheater
Aug. 17, Tues., 7:30 pm - Treyace Yellow Owl - Evening Program, Many Glacier Campground Amphitheater
Aug. 18, Wed., 7:00 pm - Blackfeet Singers and Dancers - Cultural Presentation, Rising Sun Picnic Area Amphitheater
Aug. 18 , Wed., 7:30 pm - Robert Hall - Evening Program, Two Medicine Campground Amphitheater
Aug. 19, Thurs., 7:30 pm - Ernie Heavy Runner - Evening Program, Chewing Black Bones Campground Amphitheater, Babb
Aug. 20, Fri., 7:00 pm - Smokey Rides At The Door - Evening Program, Rising Sun Picnic Area
Aug. 21, Sat., 7:30 pm - Don Fish - Evening Program, Two Medicine Campground Amphitheater
Aug. 22, Sun, 7:30 pm - Jack Gladstone - Evening Program, Many Glacier Campground Amphitheater
Aug. 23, Mon., 7:30 pm - Jack Gladstone - Evening Program, Apgar Campground Amphitheater
Aug. 24, Tues., 7:30 pm - Alicia and Taos Yellow Owl - Evening Program, Many Glacier Campground Amphitheater
Aug. 25, Wed., 7:30 pm - Mariah Gladstone - Evening Program, Two Medicine Campground Amphitheater
Aug. 26, Thurs., 1:00 pm - Termaine Edmo - Cultural Presentation, Museum of the Plains Indian, Browning
Aug. 26, Thurs., 7:30 pm - Mariah Gladstone - Evening Program, Chewing Black Bones Campground Amphitheater, Babb
Aug. 27, Fri., 7:00 pm - Robert Hall - Evening Program, Rising Sun Picnic Area
Aug. 27, Fri., 7:30 pm - Jack Gladstone - Evening Program, Apgar Campground Amphitheater
Aug. 28, Sat., 7:30 pm - Termaine Edmo - Evening Program, Two Medicine Campground Amphitheater
Aug. 29, Sun., 7:30 pm - Jack Gladstone - Evening Program, Many Glacier Campground Amphitheater
Aug. 30, Mon., 7:30 pm - Tony Incashola Sr. - Evening Program, Apgar Campground Amphitheater
Aug. 31, Tues., 7:30 pm - Robert Hall - Evening Program, Many Glacier Campground Amphitheater
September Programs
Sept. 1, Wed., 7:30 pm - Ernie Heavy Runner - Evening Program, Two Medicine Campground Amphitheater
Sept. 2, Thurs., 7:30 pm - Darnell Rides At The Door - Evening Program, Chewing Black Bones Campground Amphitheater, Babb
Sept 3, Fri., 7:00 pm - Treyace Yellow Owl - Evening Program, Rising Sun Picnic Area
Sept. 4, Sat., 7:30 pm - Termaine Edmo - Evening Program, Two Medicine Campground Amphitheater
Sept. 5, Sun., 7:30 pm - Jack Gladstone - Evening Program, Many Glacier Campground Amphitheater
Sept. 6, Mon., 7:30 pm - Genevieve Huitt - Evening Program, Apgar Campground Amphitheater
Sept. 7, Tues., 7:30 pm - Edwin "Sooney" Little Plume Sr. - Evening Program, Chewing Black Bones Campground Amphitheater, Babb
Sept. 9, Thurs., 1:00 pm - Darnell Rides At The Door - Cultural Presentation, Museum of the Plains Indian, Browning
Sept. 23, Thurs., 1:00 pm - Ernie Heavy Runner - Cultural Presentation, Museum of the Plains Indian, Browning
Last updated: August 24, 2021