Visiting in Winter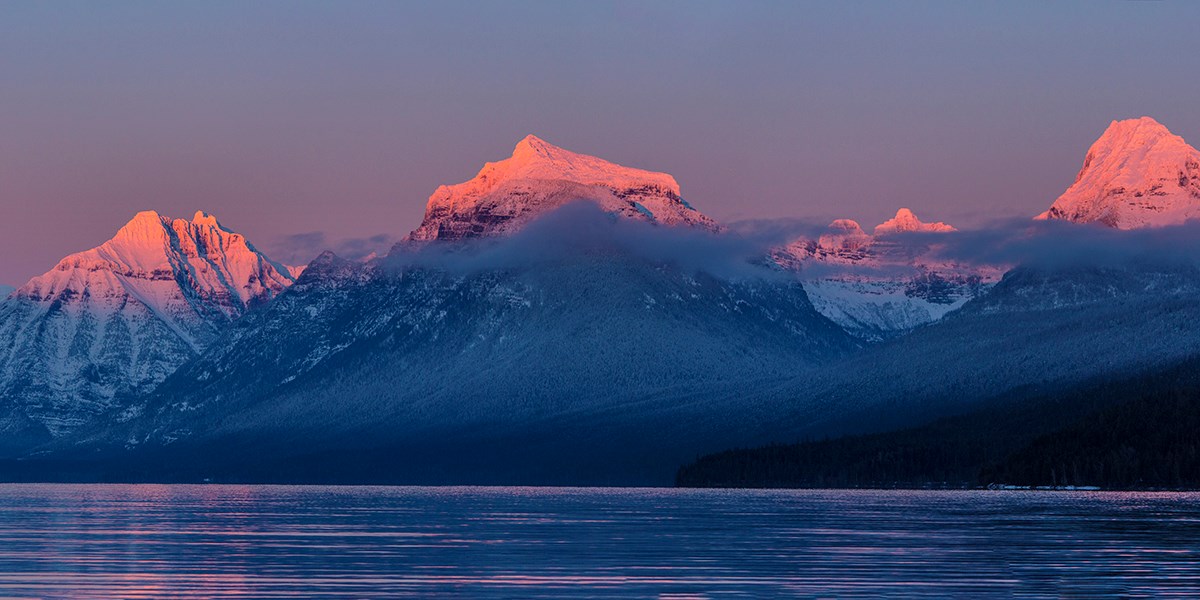 What Roads are Open this Time of Year?
During the late-fall and winter, weather forces most roads in the park to close. The Going-to-the-Sun Road from West Glacier to Lake McDonald Lodge is plowed and open year-round, weather permitting. This route provides excellent views of Lake McDonald and the mountains to the east. Please note: during the 2022-2023 winter season, this section of the road will be closed due to a construction project.
Visitor Centers and Restrooms
The Apgar and Logan Pass Visitor Centers are closed. Informational exhibits will be available at Park Headquarters and the Apgar Visitor Center.

Restrooms at the Apgar Visitor Center will be open throughout the winter.
Skiing and Snowshoeing
Due to staffing shortages, the park is not offering guided showshoe trips this winter. However, several trails in the Apgar Village area are available for winter skiing and snowshoeing and may be viewed on the Cross Country Skiing and Snowshoeing page of the park website. The unplowed section of the Going-to-the-Sun Road, beyond Lake McDonald Lodge, is also a popular winter ski and snowshoe route. Winter recreation brochures and maps are available at Park Headquarters and the Apgar Visitor Center.
Wildlife Viewing
During the winter white-tailed deer are the most frequently seen large mammals. Several species of birds winter in the park as well. Waterfowl may be observed on Lake McDonald and Ravens will likely make an appearance. Please do not approach or feed wildlife, and observe them with binoculars, spotting scopes, or long telephotos lenses.
Camping
Frontcountry Camping
Loop "B" of the Apgar Campground is available for primitive camping. The campground has a vault toilet. There is no running water. Availability is first-come, first-served.

Backcountry Camping
A permit is required for backcountry camping. Permits may be obtained, in-person, up to 24 hours in advance at the Apgar Backcountry Permit office.
Food and Lodging
The campstore in Apgar Village may be open and provides snacks and drinks. There are full-service grocery stores outside the park in Hungry Horse and Columbia Falls.

Lodging is not available in the park this time of year. The State of Montana maintains a tourism website that may be helpful in finding accommodations outside the park. Check out the visitmt.com website for more information.
Drinking Water
A water bottle filling station is located at the Apgar Visitor Center located approximately two miles north of the West Entrance.
Additional Information
Information needed to plan a visit to the park at any time of the year is available on the park website.
Near park entrances visitors can take advantage of updated information on the Travelers' Information Station at 1610 AM.
Information is also available at 406-888-7800.
Last updated: December 7, 2022