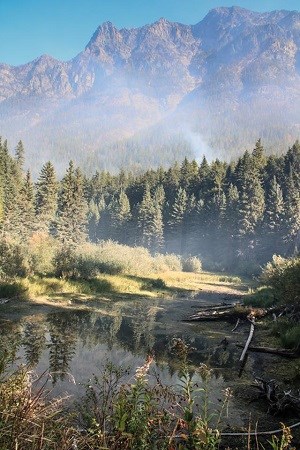 Glacier National Park and Local Fire Information
News and Information
Glacier Fire Information line: 406-551-6295
Sprague Fire
The Sprague Fire was reported the evening of August 10th and is located on the east side of Lake McDonald. Because of its location and threat to structures, fire crews immediately began suppression actions. Hot and dry weather conditions and strong winds caused intense fire behavior and rapid growth of the fire. Crews and aircraft were used to slow the fire's growth and to protect many structures on the north end of Lake McDonald. Cooler and wetter weather arrived September 9 and helped slow growth of the fire. A sprinkler system was installed along the trails between the Sperry Trailhead and Johns Lake to moisten fuels above the trail. This was to help firefighters hold the fire if it spread that far. Fire activity is now minimal with creeping and smoldering in downed logs. Crews have removed all excess equipment from the fire and is being prepared to return to the regional fire cache. Crews will continue to monitor fire activity from the road and trails. Smoke is likely to be visible until the fire is covered by snow.
Adair Peak Fire
The Adair Peak Fire was reported the evening of August 12th and is located south of Logging Lake. A few smokes are visible from the west edge of the fire and may be visible until snowfall. Fire personnel will continue monitoring the fire.
Elder Creek Fire
Located on the US-Canada border in the North Fork area of the park. There has been minimal growth since 9/23/17. Smoke may be visible until snow falls. Aerial reconnaissance will be utilized as needed to monitor the fire.
Flathead County Office of Emergency Services
Our interagency source for local fire information including Glacier National Park. This includes fires that are not large enough to be listed on Inciweb. Fire fact sheets are posted daily on this Facebook page throughout the fire season.
Press Releases
Park information briefs
Flathead National Forest
Alerts and notices from our national forest neighbor
Waterton Lakes National Park of Canada
Parks Canada handled the Kenow Fire that had major impact on Waterton Lakes National Park.
Alerts, Closures, and Images within Glacier
National Fire Information
Inciweb
Our interagency source for information on fire incidents across the nation. In the top right corner of the homepage, there is a drop down menu where you can select the state or incident of interest.
Other Related Links