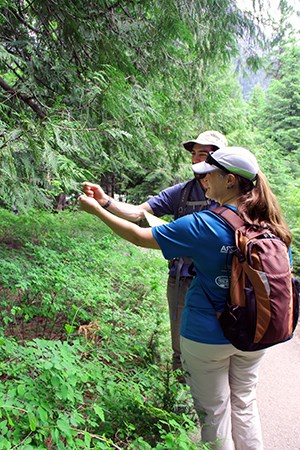 In addition to the Scheduling and Guidelines page, the following suggestions and reminders will help you plan your field trip to Glacier National Park:
Safety is a number one priority for a field trip! See our Safety page for more on water, wildlife, and other safety information.
The weather can change quickly no matter what time of the year it is, so be sure to remind students and chaperones to be prepared. Bring extra warm layers, rain clothes, hats and gloves, etc.
Chaperones are an important part of taking students on a successful field trip. On our Scheduling and Guidelines page, you'll find a reminder of chaperone responsibilities.
Most areas in the park will not have cell phone coverage, so please take this into account when planning your trip. Remember to have a planned meeting place and time if your group will be arriving in multiple vehicles.
Take into account driving times and available bathrooms when planning your trip. This will allow you to prepare a realistic schedule for the day.
Leave No Trace ethics are a crucial part of enjoying national parks.

Remember to pack out all of your trash and properly store any food in buses or private vehicles when you are not eating it.
Please keep groups in a single-file line on trails in order to avoid resource damage.
Remind students that they are not allowed to take anything from the park. Rocks, plants, pine cones, and everything else should stay where they found it for the next visitors to enjoy.
Wildlife should be viewed from a distance, so as not to disturb it in its natural habitat.