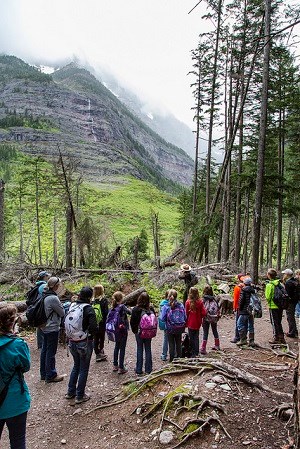 Scheduling A Field Trip
Ranger Guided Program availability is first-come, first-served. Programs fill quickly. Group size is generally limited to 45 students plus at least 5 adults, but may be fewer on days when ranger staffing or space is limited. Group size is kept small enough for everyone's enjoyment and educational value, usually about 15 students per ranger.
Due to increasing demands for programs, schools will be restricted to one ranger-led program per class per year to allow more children to participate.
Educators are also encouraged to bring students to the park on their own. Please see our self-guided page for information about applying for an academic fee waiver, safety, and tips for visiting the park with school groups.
Reservation Form
To complete the field trip reservation form you will need to provide:
a contact phone number and an email address
group size and grade
school name and address
date you are interested in coming. Please have three date options and let us know in the comment section if you are flexible with dates.
field trip program you are interested in
When you have this information ready, complete and submit this field trip reservation form.
If you have questions, you can contact Glacier's Education Specialist, via email or 406-888-5837. If you need to cancel or re-schedule, please let us know as soon as possible.
Travel Grants
After applying for a field trip, you may want to apply for a travel grant. Travel grants are available for schools with restricted transportation budgets thanks to donations to the Glacier National Park Conservancy. There is also a Montana public lands grant for fourth grade classes.