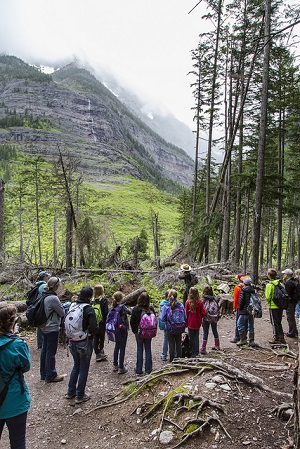 Scheduling A Field Trip
Ranger Guided Program availability is first-come, first-served. Programs fill quickly. Group size is generally limited to 45 students plus at least 5 adults, but may be fewer on days when ranger staffing or space is limited. Group size is kept small enough for everyone's enjoyment and educational value, usually about 15 students per ranger.
To complete the program reservation form you will need to provide:
a contact phone number and an email address
group size and grade
school name and address
date you are interested in coming. It's a good idea to have alternate trip dates in case your first choice is taken. You can list these in the "comment" section.
field trip program you are interested in
To arrange a park visit, please complete and submit the field trip reservation form. If you have questions, you can contact Glacier's Education Specialist, via email or 406-888-5837. If you need to cancel or re-schedule, please let us know as soon as possible.