Hiking the Trails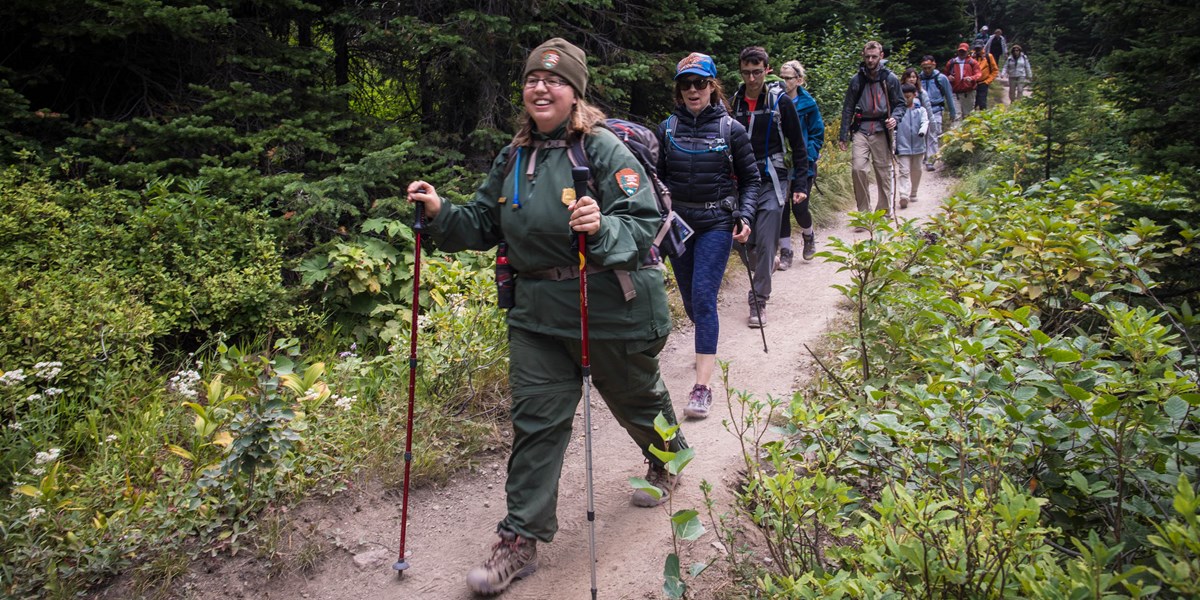 Over half of the visitors to Glacier National Park report taking a hike. With over 700 miles of trail providing outstanding opportunities for both short hikes and extended backpacking trips, there is something for everyone.

Hikers need to assume individual responsibility for planning their trips, staying safe, and reducing their impact on the park. Plan ahead before visiting the park and check out our Leave No Trace page to learn more.
Day Hike Planning
Good day hikes are plentiful. There is a lot of great information, like lists of hikes (including distances and elevation gain), in the links below to the individual area maps. Remember, you should not expect any cell phone reception within the backcountry, so discuss plans ahead of time.
Visitor center staff will be happy to assist you with your choices and explain popular trails in park. Check the Ranger-led Activity Guide to find out when you can join a ranger on trail.
H
ike Smart
In the backcountry, little mistakes can quickly become big emergencies. Follow our advice to stay safe and be prepared.
Hike as a group to reduce the likelihood of negative wildlife encounters.
Do not let members of your group get ahead or behind. Separated parties count for more than 75% of our search and rescue incidents.
Do not count on having cell service if you need help.
Help may be hours or days away. Prepare to care for yourself.
Tell someone precisely where you're going, when you'll be back, what route you're taking, where your car is parked, what the license plate number is, and what you'll be wearing. This information shrinks our response time exponentially in the event of an emergency.
Stop at a visitor center, ranger station, or check the website for trail and weather conditions before you go.
Familiarize yourself with hazards so you will have fun and stay safe.
What to Bring Hiking
Sturdy footwear is a must.
Bring plenty of water. The mountains can get very hot in the summer. Surface water in the park may be unsafe to drink.
Carry bear spray and know how to use it.
Mosquito and bug repellent
Sunscreen and a hat to prevent sunburn. A day of hiking can expose you to more sun and UV rays than normal.
Bring rain gear and layers for warmth. Weather can change quickly.
Snacks or a lunch to eat on the trail. Remember, if you pack it in, pack it out.
Trail Status
Currently these links are not working. We hope to return them soon.
Detailed reports on trail status are available on our Trail Status page. Trails, backcountry campgrounds, and other areas of the park that have closures, or are posted for safety reasons, are listed on our Trail and Area Closure page. The reports are updated each morning or anytime new information is obtained.
A rule of thumb, earlier in the summer, lower elevation trails and trails near the boundary of Glacier National Park are snow free. By mid to late July, trails in the higher elevations, over mountain passes and on the Continental Divide are snow free.
Day Trip Plan
If you are taking a day hike, please consider completing the voluntary Day Trip Plan (pdf) form and leaving it with the front desk of your hotel or a traveling companion that is not hiking with you. This voluntary form can help you plan your trip and could be a valuable tool for search and rescue efforts if needed.
Completion of this form does not mean a search will be initiated for you if you do not return. However, if you are reported overdue from a hike, this document would help search personnel concentrate search efforts along your intended route saving critical time and possibly reducing risks to those that go looking for you.
If you are staying inside the park, you are welcome to leave a copy of this form with your hotel's front desk. All forms will be destroyed 30 days after the date completed. Again, this form is not intended to imply that our hotel concessioner or the National Park Service will be monitoring your return and does not mean a search will be initiated. If a search is initiated because others reported you overdue, the National Park Service will check with the hotels to see if a Day Trip Plan (pdf) was filed and use it to help focus their search efforts. Plan well and enjoy your hike!
Nature Trails
There are trails for all hiking abilities. Some self-guided walks interpret trailside features with signs. The Trail of the Cedars, Forest and Fire, Hidden Lake, Running Eagle Falls, and Swiftcurrent Nature Trails encourage hikers to experience Glacier National Park at their own pace.
The Trail of the Cedars and Running Eagle Falls trails are wheelchair accessible.
Additional Planning Resources
We have flickr photo albums of some popular hikes.
Visitor center bookstores carry a complete line of trail guides, topographic maps and field guides to aid the hiker. Publications are also available by mail. Visit the Glacier National Park Conservancy online store.
Overnight Trips
Hikers planning to camp overnight in Glacier's backcountry must stop at the Agpar Backcountry Office, St. Mary Visitor Center, or other ranger station to obtain a backcountry permit. Visit our Backcountry Camping page for in-depth information about backcountry camping.
Guided Hikes
Hiking alone is not recommended and there are opportunites to join groups if you would like.
Check the Ranger-led Activities page for information on joining a hike with a park ranger.
Glacier Guides offers guided half day, full day, overnight hikes and chalet hikes. Porter services to deliver your gear to backcountry campsites are available. Equipment rental in West Glacier is available. See the Guided Hiking page for contact information to schedule a trip.
Some boat tours in Many Glacier an Two Medicine offer optional guided hikes conducted by either park rangers or Glacier Park Boat Co. employees.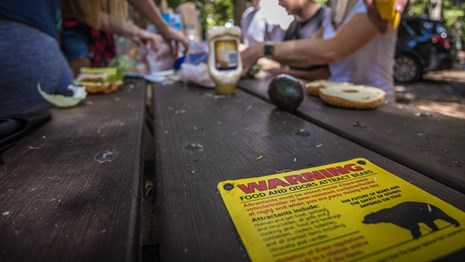 Leave No Trace
Many people fall in love with Glacier and then want to learn how to reduce their impact.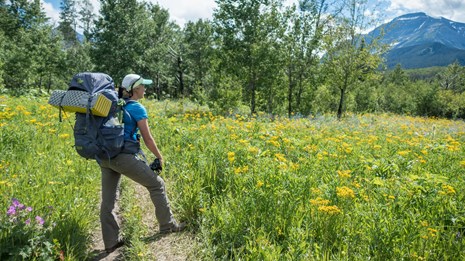 Wilderness Camping
Glacier's backcountry camping program is designed to minimize resource impacts while providing positive visitor experiences.
Last updated: August 25, 2021