Frequently Asked Questions
If you cannot find the information you are looking for on the page below, please feel free to contact the park.

Frequently Asked Plan Your Visit Questions
The cost is free for both the visitor center and fort exhibits.
If you plan on participating in a permitted activity on park grounds, you may have to pay a fee or apply for a permit before your arrival. Some activities include large rallies and gatherings, photo and video opportunities for profit, weddings, etc. Please look through the 
National Park Service Permit Applications and Guidelines
 or call the park at (315) 338-7730 for more information.
Park hours vary throughout the year. The fort grounds are normally closed between late December and early April. Hours for the grounds in others seasons vary. Please visit the park 
Operation Hours & Seasons
 page for the most up to date information.
It generally takes 30-45 minutes to explore the park visitor center and 30-60 minutes to explore the historic fort. However, there are many monuments, museums, and trails adjacent to park trails that are also worth the visit. Visit the
Things to Do
page or ask a park ranger for recommendations. 
It is highly recommeded that visitors download the
National Park Service app
and take advantage of the many self-guided and walking tours available on it. There is also a park cell phone tour that can be accessed by dialing 1-315-271-2059. 
Low/No Vision
Many of the park resources can be touched and held. There are braille and text reader accessible versions of the park brochure available through the link below. There are also assistive listening devices that can be made available upon request for viewing park films.

Hard of Hearing/Deaf
All park films are open captioned. There are also assistive listening devices that can be made available upon request for viewing park films.

Mobility
Much of the fort is rebuilt to its original form; the park and its staff happily can make accommodations. The Willett Center is much newer and is fully accessible.

Service Animals
Service animals are welcome at Fort Stanwix National Monument.
Please keep in mind that some living history demonstrations, like cannon firing or musket firing demonstrations that take place in the reconstructed fort, can be stressful and scary for our animal companions.

Please check the park Accessibility page for more indepth information about available resources. 
You can find all that information on the following link to the 
For Teachers
 page. All educational field trips are free unless otherwise noted.
You can find all that information on the following link to the Group Tours page. All programs are free unless otherwise noted.
The park offers numerous different opportunities for service work for individual scouts, as well as entire troops, and other youth groups. Educational field trips can be booked by any troop or council leader for groups ages 5+.
All educational field trips are free unless otherwise noted. To review all options please look through the following 
Girl Scout
 and 
Scouts BSA
 park pages.
Fort Stanwix provides a Junior Ranger Activity Booklet free of charge to children of ALL ages. You could also choose to try the program from home if you are unable to visit the park. Just visit the 
Fort Stanwix Junior Ranger page
 for more information about how to participate!
Pets are allowed inside the fort proper as long as they are leashed and under control. They are not however, allowed in any of the enclosed buildings. Please be aware that some areas are much different than your pet may be used to and it is important to watch their reactions for their and all visitors' safety. 
ALL SERVICE ANIMALS ARE PERMITTED.
Please click this link for more animal/pet information.
The park provides no concessionaires, but people are welcome to bring their meals to picnic on the park lawn or at the picnic tables outside the visitor center. There are also numerous eateries in Rome on all the main routes into the city. They vary from fast food, to bistros, to sit down restaurants, local and chain. Many are a few blocks walking distance from the park on different side streets.
Please visit the 
Rome, NY Chamber of Commerce
 webpage, for complete listings of what is available.
There are several hotels, motels, and other inns that are available to stay at within a 20 mile radius. Please visit the 
Rome, NY Chamber of Commerce
 webpage, for complete listings of what is available.
There are no camp facilities at the park. However there are several facilities within an hours distance or less, both private and state run.
Please visit the 
Rome NY Chamber of Commerce
 webpage and the 
New York State Parks
 webpage for complete listings.
There are no overnight facilities for the visiting public at the park. Overnights do occur, however, on specific occasion. If you are planning a special event and would like to obtain a 
Special Use Permit
, please call the park at 315-338-7730. Or, if you are part of a living history, scouting, or 4-H group wanting to participate in one of 
Fort Stanwix's Special Events
, please contact the park 
VIP Coordinator
 for more information.
Frequently Asked History Questions
August 21, 1935 when the 
Wagner-Sisson (Fort Stanwix) Act
 was signed by President Franklin D. Roosevelt. 
However, it remained largely unrecognized until the 
late 1960s
 when a local push was made to make it more noticed on a national scale in preparation for the nation's 200th birthday. 
Fort Stanwix was the fort's name under the British; for Gen. John Stanwix. When the Americans rebuilt it they named it after 
Gen. Phillip Schuyler
. However, there were several other Fort Schuylers in New York at that time, so the name never really stuck due to the confusion.
To protect the 
Oneida Carrying Place
, a trail 6 miles long between the Mohawk River and Wood Creek. This is part of the larger New York water way system, the only natural break in the Appalachian Mountain chain.
Tories were an 18th century political party that remained loyal to the British Crown throughout the American revolution, loyalist is common language for any American British subjects that remained loyal to the British. Rebels and patriots, likewise, are common terms for American British subjects who joined the fight against the Crown.

However, many people considered themselves "patriots" and "loyalists" no matter what side they choose. To make matters more confusing, those weren't the only common terms for the various sides of the fight. In countries like Canada, where many of the "loyalists" ended up after the war was over, those fighting with the Americans were called "whigs." 
The French and Indian (or Seven Years War) from 1758-1763, and American Revolutionary War, from 1776-1781. In other portions of the world, including Canada, this war is known as the Seven Years War.
Generally, the British and Six Nations Confederacy Tribes in the 13 Colonies fought against the French and Great Lakes Natives from Canada.
The 
Six Nations Confederacy
, or Haudenosaunee Tribes, are the Mohawk, Oneida, Onondaga, Cayuga, and Seneca make up the original Five Nations. In 1714 the Tuscarora were admitted on Oneida land as a sixth.
"Iroquois" is the French term for the Six Nations. "Haudenosaunee" is the term they use in their own language. It means "People of the Long House."

Since the French were never direct allies with them, and they are most directly referred to in British and American accounts as the "Six/Five Nations" (referring to the number of tribes in the confederacy), it is most appropriate to call them by one of those two terms and not "Iroquois."
The 
Six Nations 
split into many factions based on whether they thought the British or Americans would best support their interests after the war. More can be learned by visiting the park 
History & Culture
 pages.
It is not certain which 
flag flew over Fort Stanwix
 during the 
Siege of 1777
. All that is known is from several accounts: it was made of blue, white, and red stripes, and it was flown "on behalf of These United States" and in defiance of the British, by the officers and soldiers inside the fort.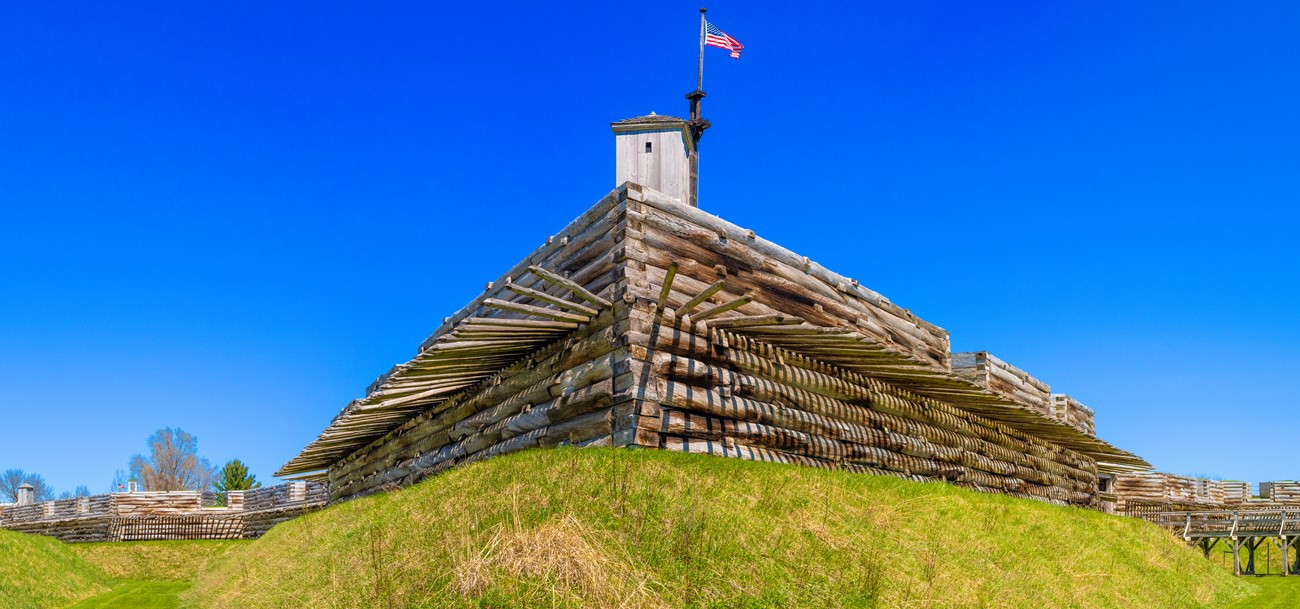 Last updated: December 7, 2023