Things To Do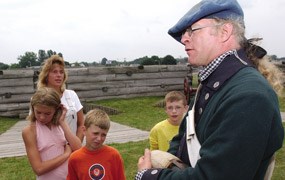 Getting Around
Visitors are encouraged to start their experience of Fort Stanwix National Monument at the Willett Center, across the street from the city parking facilities on James Street. For those touring the area by bicycle, a bicycle rack can be found at the entrance.
Once inside the visitor center, visitors receive an orientation from the ranger on duty. The Monument has 3 short trails that encircle the fort. One of the trails follows a portion of the Oneida Carrying Place. The other two trails interpret the events of the siege of 1777.
Join a ranger led program and gain a greater understanding of the events that happened here. Check with the ranger on duty in the Willett Center for times and locations of all programs offered that day.
Visitors have an opportunity to discover their own bridges to the past in the museum area. Other activities in the fort include living history programs. All visitors are welcome to join to our special events and experience 18th century military life.
For more details about about accessibility within the park, be sure to visit: https://www.nps.gov/fost/planyourvisit/accessibility.htm


Last updated: May 14, 2019