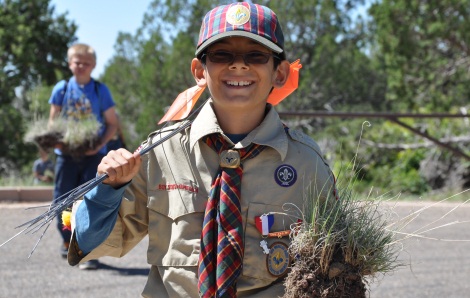 The Resource Stewardship Scout Ranger program invites Boy and Cub Scouts to participate in educational and/or volunteer service projects at national park sites to spark their awareness of the national parks and to provide Scouts with the opportunity to explore the national parks and learn more about protecting our natural and cultural resources. Scouts are awarded certificates and/or patches for participating in the program.
How to Earn a Certificate and/or Patch
Scouts can earn a certificate or patch by participating in:
organized educational programs
volunteer service projects
To earn a troop certificate, troops must participate for a minimum of five hours at one or more national park sites.
To earn a patch, scouts must participate for a minimum of ten hours at one or more national park sites.
Qualifying organized educational programs:
Ranger guided interpretive tours
Junior Ranger programs
Environmental education programs
Any other official NPS education program
Qualifying volunteer service projects:
Any organized project that helps and enhances the natural and/or cultural resources of a park unit and is identified by the park as an appropriate volunteer opportunity.
How to Get Started

1. Choose a National Park Service Site.
Visit
https://www.nps.gov/findapark/index.htm
. Choose a national park, a monument, or any of 407 sites protected by the National Park Service. Explore nature, learn the history and read the stories to discover why it is important to preserve your park.
2. Imagine yourself in a National Park.
Brainstorm activities that you might want to experience at a national park. Consider working outside with a geologist or inside identifying fossils. Maybe wildfire restoration, building a bridge or a night sky project interests you.
3. Contact the park and make a plan.
Call the park (the phone number is on the park's website under Contact Us).
Identify yourself as a Scout. Ask if there is someone who works with the Scout Ranger Program or a volunteer coordinator. Express your ideas to the coordinator. Together, plan a project to help the park and fulfill your goals.
4. Have Fun!
Once all the logistics are set up, go and have fun with the Scout Ranger Program! Feel free to keep track of your participation in the program by using the downloadable Scout Ranger Resource Stewardship Program
Activity Log!
You can also download a
certficate
upon completing the Scout Ranger requirments. The certificate is based on the honor system, as the certificate should only be downloaded after completing the Scout Ranger program.
Please click
here
to download the Eagle Scout Award Certificate of Recognition. (Use of the certificate is based on the honor system, as the certificate should only be downloaded after advancing to Eagle Scout rank.