Marjory Stoneman Douglas Wilderness

Fully encompassed within Everglades National Park, the Marjory Stoneman Douglas Wilderness is the largest unit of the National Wilderness Preservation System east of the Rocky Mountains. Established in 1934, Everglades National Park was considered wilderness 30 years before the Wilderness Act of 1964 was signed into law, and 44 years prior to official wilderness designation (1978).
"This area 'shall be permanently reserved as a wilderness, and no development of the project or plan for the entertainment of visitors shall be undertaken which will interfere with the preservation intact of the unique flora and fauna and the essential primitive natural conditions now prevailing in this area.'" (16 U.S.C. sec. 410c)

There are two kinds of wilderness inside the National Park Service system. Approximately 1.3 million acres or 86% of Everglades is designated wilderness. This includes most submerged marine lands over which motorboats may operate. Designated wilderness has the highest level of protection offered by the Federal government. An additional 167,000 acres or 11% is eligible wilderness. According to National Park Service Wilderness Management Policies, eligible wilderness is managed as designated until it is either officially designated, or removed from consideration, both of which require an Act of Congress. Thus, almost 1.46 million acres or 97% of Everglades National Park is protected as wilderness.

The Wilderness Act of 1964 highlights five qualities of wilderness character, described below. As part of a national effort to monitor wilderness character, park staff created a Wilderness Character Narrative as a qualitative, affirming, and holistic description of what is unique and special about the Marjory Stoneman Douglas Wilderness. The narrative captures qualities that are essential to the park, but difficult to measure, and serves as a guide for park staff in protecting Everglades' wilderness character. This character is what attracts scientists, artists, and visitors from around the world to experience our unique land. These efforts help us fulfill our mission of preserving these lands, and all park lands in the US, for future generations. Understanding the qualities specific to each unique wilderness area can help protect wilderness across the National Wilderness Preservation System.

"In character, [the Marjory Stoneman Douglas Wilderness] harks back to a primordial time full of mystery and intrigue. It is a wet, hot, and humid environment teeming with mosquitoes, hazardous wildlife, and poisonous plants, and is both unforgiving and inhospitable. There is no debating these facts; however, if given the chance, visitors will find that this area is also wondrous, enchanting, and beautiful.

The importance of the Marjory Stoneman Douglas Wilderness is reflected in its designations as an International Biosphere Reserve, a World Heritage Site, and a Ramsar Wetland of International Importance. This combination of distinctions is unmatched anywhere else in the United States."

Features of Wilderness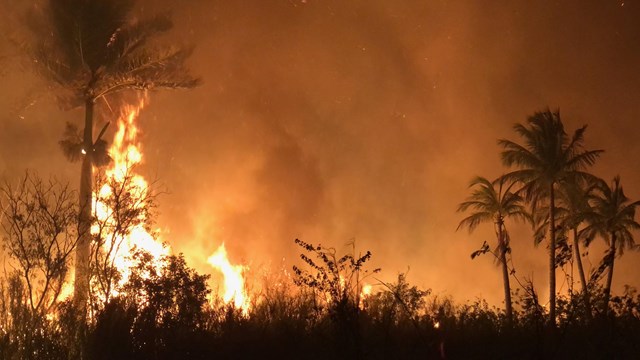 Untrammeled
Wilderness is essentially unhindered by the intentional actions of modern human control or manipulation.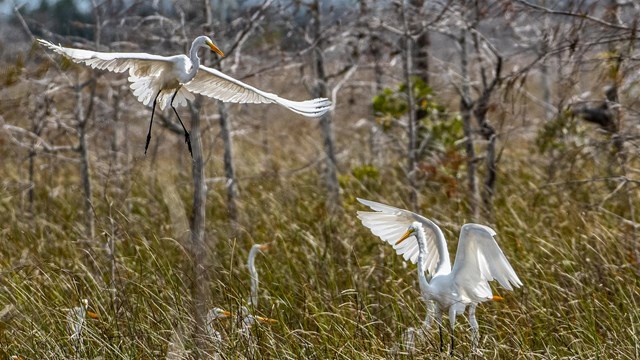 Natural
Wilderness maintains ecological systems that are substantially free from the effects of modern civilization.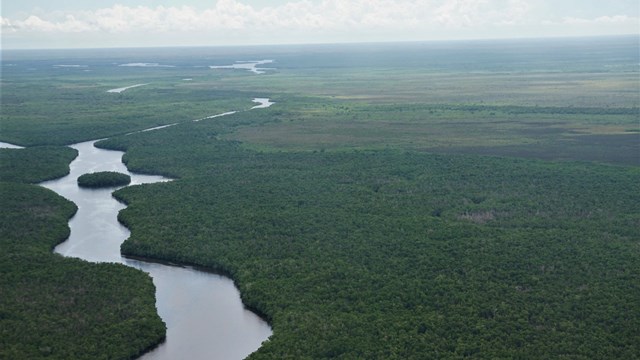 Undeveloped
Wilderness is primarily without permanent improvement or modern human occupation.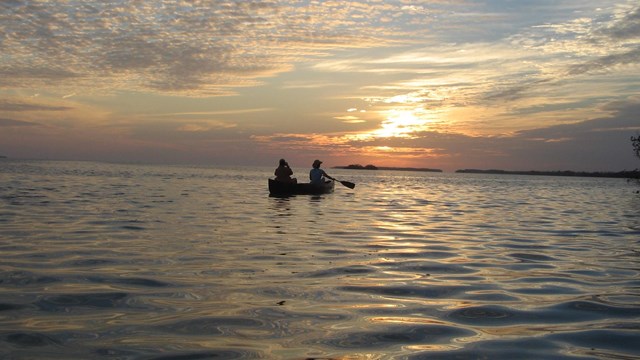 Solitude or Primitive Recreation
Wilderness provides outstanding opportunities for solitude or primitive and unconfined types of recreation.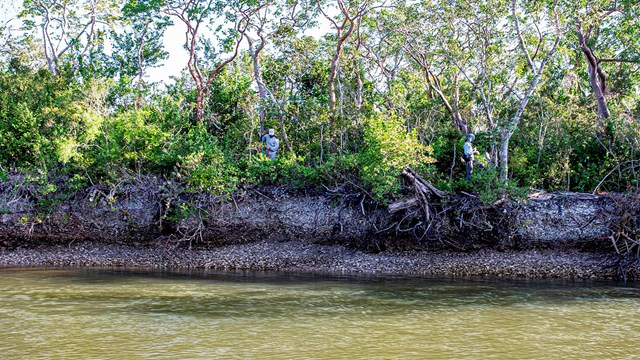 Other Features of Value
Wilderness may also contain other features of scientific, educational, scenic, or historical value.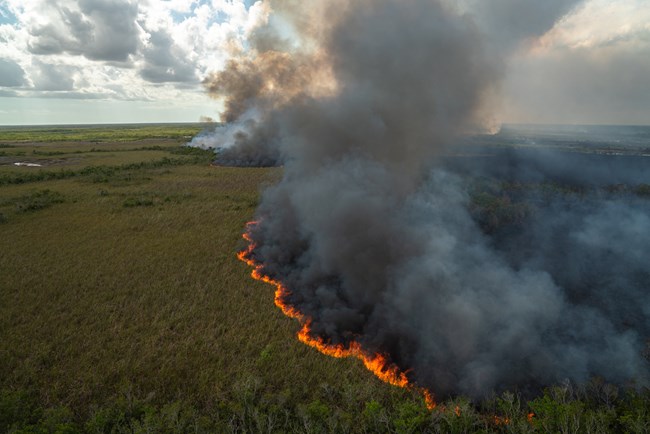 Untrammeled
To the casual observer, this land may "appear to have been affected primarily by the forces of nature." However, Everglades has a long history of landscape level control and manipulation dating to before the Park's establishment. Canals were dug to divert water, lands were cultivated, and fires were suppressed. Today, active restoration and manipulative management practices are necessary to counteract the effects of those past actions in order to preserve the natural features for which Everglades National Park was established. However, park managers strive to restrict these manipulations to only those that are necessary.
"Despite efforts to tame the land, biophysical processes remain the predominant features of the landscape. The cycle of life here continues mostly unfettered. The fascinating and diverse wildlife, including fish, birds, and all other forms, are free to roam and forage unimpeded by human-caused restrictions. Likewise, most natural creeks and rivers openly flow through estuarine areas to the sea without impedance from artificial plugs or dams. Wildfires, which clear and rejuvenate the landscape, are generally allowed to burn unsuppressed and contribute to the natural cycle of succession. Perennial dynamic forces—violent storms, flood and drought, fire, and coastal wave action—continue to shape the region, and do so freely."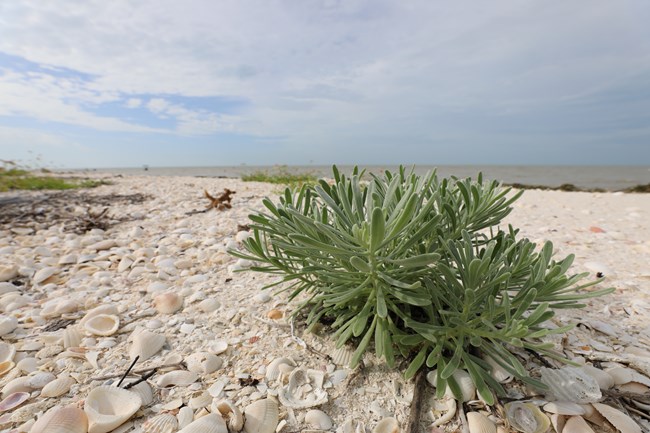 Natural
"The Marjory Stoneman Douglas Wilderness is a subtle place where earth, water and sky blend in a low green landscape, where mere inches of elevation produce substantial changes in vegetation, and where a great wealth of birds and other wildlife find refuge."
From the sawgrass prairies to pine rocklands to mangrove forests to open marine waters, Everglades is home to many diverse ecosystems, each with their own unique features and associated plants and wildlife, including a variety of threatened and endangered species. While we attempt to keep this land "free from the effects of modern civilization," persistent threats jeopardize this environment, including the presence of invasive species, historical suppression of fire, an altered hydrologic regime, as well as climate change and sea-level rise. Park management are constantly combating these threats to preserve the natural qualities of the wilderness.
"The importance of this environment cannot be denied, but it is extremely dynamic by nature and not intended to be frozen as a static landscape. However, this dynamism, including the striking contrasts of land and sea, fresh water and salt water, excess rainfall and drought, fire and the absence of fire, stormy weather and calm weather, has created an environment both fascinating and beautiful."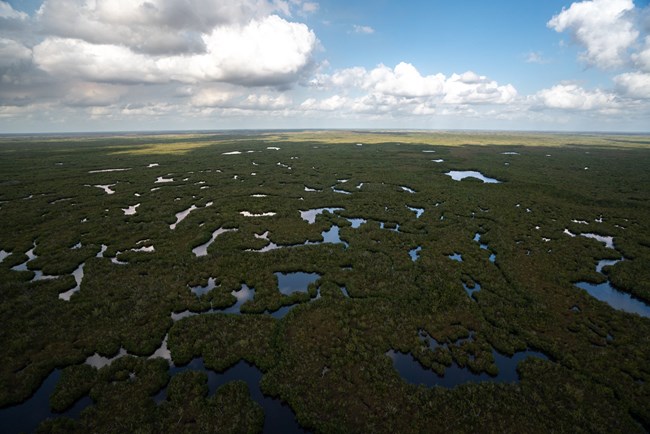 Undeveloped
"When compared to adjacent lands to the east, there is a stark contrast between the wilderness boundary and the sprawling urbanization and development that saturates the area. This contrast makes the undeveloped landscape that much more apparent to the casual observer. Sweeping views across the Everglades are mostly unobstructed by human development and allow spectacular sights of the region's unique flora and fauna. The southern part of the park is dotted with remote keys, few of which have experienced modern development. The interior reaches of the wilderness are mostly inaccessible, deterring the desire and feasibility of any form of modern improvement."
Park managers are faced with the challenge of balancing the desire to answer scientific questions about the wilderness with their mandate of preserving its wilderness character. While most of the wilderness lacks human development, such as installations and structures, these features are oftentimes necessary to support scientific data collection. Data collected from scientific installations is generally the best indicator for the condition of the natural quality as well as to determine success of the ongoing restoration effort. Additionally, due to the large expanse of the wilderness, the use of helicopters and airboats are often necessary to access many scientific monitoring locations.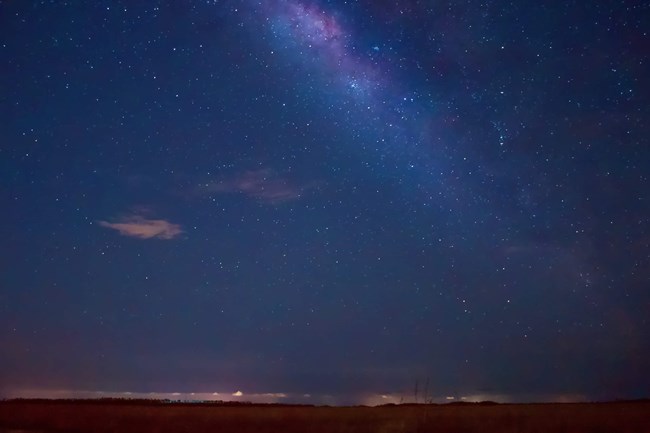 Solitude or Primitive and Unconfined Recreation
Adjacent to the sprawling Miami metropolis and within hours of many other municipalities, people travel from around the globe to recreate in the Marjory Stoneman Douglas Wilderness and to experience the variety of opportunities it has to offer. Visitors may paddle, hike, or "slog" along any of the designated trails within the park, or, after proper preparation and consideration of safety measures, explore the wilderness bound only by the challenges of the wilderness environment itself. Visitors may also participate in such activities as wilderness camping, bird watching, wildlife viewing, and world-class fishing. While motorboats are permitted to operate in the marine environment, their presence can influence the wilderness setting. Park management works to provide opportunities for paddlers away from motorboat use areas to limit conflicts and provide for the best wilderness experience possible.
"Visitors to this wilderness can experience solitude, a deep connection with nature, discovery, revitalization, freedom from the pressures of society, and personal challenge and self-reliance…[it] provides settings that allow the burdens of everyday life to fade away. Visitors can return home with a refreshed spirit and a greater appreciation of the majesty and beauty of this wilderness."
Interested in embarking on your own trip into the Marjory Stoneman Douglas Wilderness? Learn more about camping and paddling in the wilderness.
Interested in other ways to experience the Marjory Stoneman Douglas Wilderness? Learn about other activities offered by the park and park partners.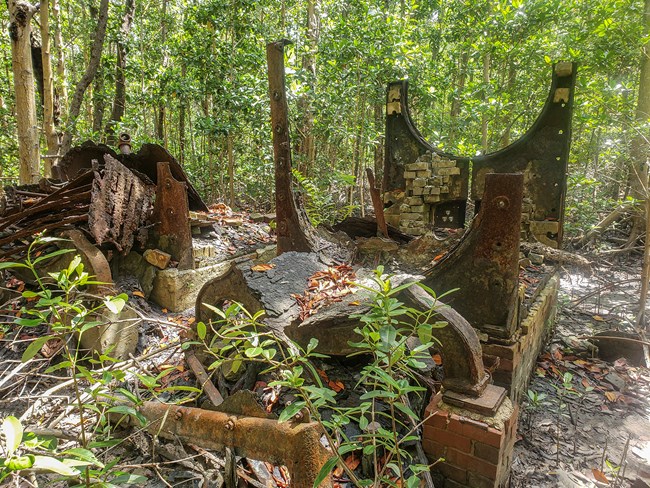 Other Features of Value
The Marjory Stoneman Douglas Wilderness has other notable features of value, particularly cultural and historical features that significantly contribute to the setting of the wilderness and understanding of the area's wilderness character. American Indians have a rich history in the area, and we work to acknowledge, understand, and honor their traditions and sacred places within the wilderness. We also work to preserve the archaeological heritage of many historic and prehistoric features throughout the wilderness.
"American Indians have interacted with and shaped this landscape for more than 5,000 years. The earliest known human occupation within this area took place on interior tree islands and hardwood hammocks…. In the Ten Thousand Islands region,…human-constructed landscape elements support numerous plant and animal habitats that would not exist in their current numbers and locations without the agency of American Indians."
Learn More About Wilderness
Last updated: April 24, 2021