Wilderness Camping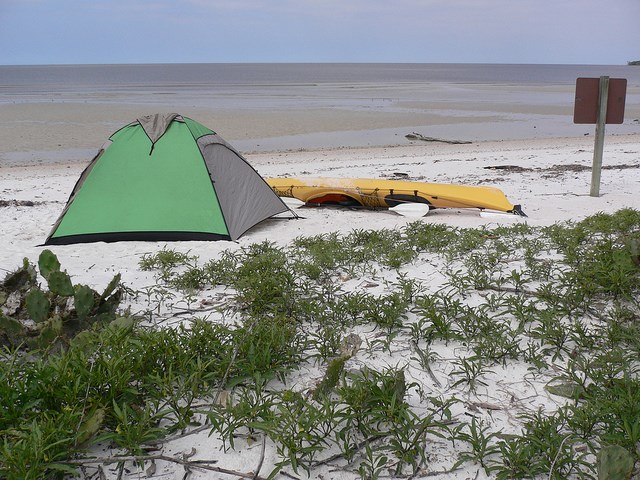 Experience Camping in the Wilderness
Permits are required for ALL wilderness camping year-round. Campers can obtain permits at the Flamingo and Gulf Coast Visitor Centers daily. Campers must register in person no more than one day in advance of the trip start date. Permit fees apply.

During the summer season (mid-April through mid-November) permits are free, but still required. Follow the instructions at the 24-hour self-registration stations at either the Flamingo or Gulf Coast Visitor Centers.

Practice Leave No Trace principles, including "pack-it-in, pack-it-out." Plan to bring all your needed supplies and leave with all belongings including waste. Be aware that many sites do not have restrooms and those that do are not always serviced regularly. Feeding wildlife anywhere in the park is prohibited. If wildlife associate humans with food, they may exhibit more assertive behaviors.

Reminder: Most wilderness campsites are only accessible by water.
Updates on Wilderness Campsites
Broad Creek and "The Nightmare" between the Broad River Chickee and Harney River Chickee are passable. Watson River Chickee is now open. Roberts River Chickee is closed indefinitely for repairs. Hazard cleanup and repairs are ongoing in the backcountry. Please use caution when navigating in park waters as there are underwater hazards and missing or damaged navigational markers. Check conditions at the Flamingo or Gulf Coast Visitor Centers before departing for your trip.
Best Times to Camp
Winter is the best season to go. Summers are hot, muggy, and mosquitoes are plentiful. Review our Wilderness Trip Planner page to help you plan your backcountry adventure!
Call either the Gulf Coast (239-695-3311) or the Flamingo (239-695-2945) Visitor Centers for detailed information to help with your trip planning.
Reservations
Reservations are not accepted for any wilderness campsite.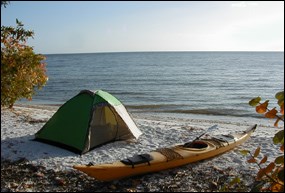 Fees and Permits
A wilderness permit is required for all wilderness campsites and permits must be obtained no more than 24 hours in advance.

During the winter season (mid-November through mid-April) wilderness permits must be obtained in person at the Gulf Coast Visitor Center or at the Flamingo Visitor Center between the hours of 8:00 AM - 4:30 PM. A permit processing fee of $15 will be charged as well as a $2 per person, per day camping fee. Fees are subject to change.

During the summer season (mid-April through mid-November) permits are free but are still required. They are available 24 hours, 7 days per week. Follow self-registration instructions at either the Gulf Coast or Flamingo visitor centers.

Wilderness users originating from the Florida Keys can also obtain permits by phone for North Nest Key, Little Rabbit Key, Johnson Key, Shark Point Chickee and Cape Sable. Call the Flamingo Visitor Center at (239) 695-2945, no more than 24 hours prior to the start of your trip. You may call (239) 695-3311 for these sites if no one is available at Flamingo during the summer.

Note: No camping in Everglades National Park for more than a total of 30 days in a calendar year and no more than 14 consecutive days during the period from November 1 through April 30.


A few tips on getting wilderness permits:
For sites where only one or two campers are allowed, people should arrive at the ranger station a day in advance to secure permits on busy weekends. If you seek a permit for the day you arrive, plan to be flexible and have alternative sites in mind.
There are a high number of permits allowed for beach camping along Cape Sable, so it's generally possible to obtain a permit for these on the morning of your departure.


Last updated: October 27, 2020