Canoe and Kayak Trails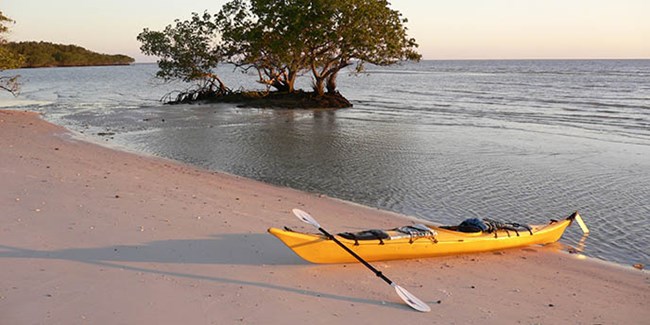 Paddling through Everglades
Everglades National Park offers many paddling opportunities to explore the natural beauty of this park through freshwater marsh, mangrove forests, and the open waters of Florida Bay.





Plan Ahead
Canoe and kayak trips range from a few hours to several days depending on length and complexity of the trail.
You can bring your own canoe or kayak and launch from several locations around the park or rentals are available in the park. Alternatively you could hire a permitted guide who will outfit your trip and lead your adventure. A list of permitted guides can be found at this link.
Day Canoe & Kayak Trips
Flamingo's Canoe Trails:
These trails (located 38 miles south of the main park entrance in homestead) range from beginner to advanced and can be accessed from launch areas in the Flamingo Marina or along the main park road as you approach Flamingo.
Gulf Coast Paddling:
This area of the park is on Florida's west coast, accessible through Everglades City. Launching areas include the public, non-motorized launch at the Gulf Coast Visitor Center grounds or along the road as you head towards Chokoloskee. Private ramps are also available in Everglades City and Chokoloskee for a fee.
Wilderness Canoe & Kayak Trips
Canoe and Kayak Rental Information
Flamingo Canoe or Kayak Rentals
Gulf Coast Canoe or Kayak Rentals
Last updated: August 7, 2020