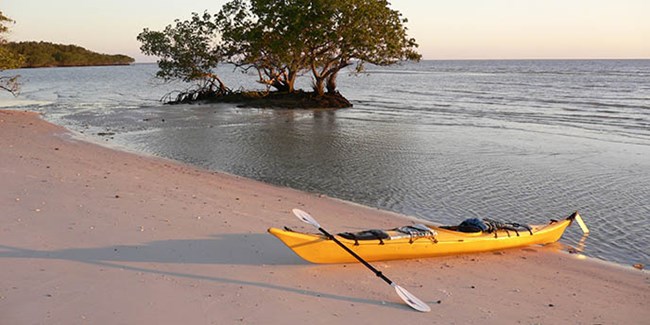 Everglades National Park offers many paddling opportunities to explore the natural beauty of this park through freshwater marsh, mangrove forests, and the open waters of Florida Bay!
Canoe and kayak trips range from a few hours to several days depending on length and complexity of the trail.
You can bring your own canoe or kayak and launch from several locations around the park or rentals are available at the Flamingo Marina or Gulf Coast Visitor Center. Alternatively you could hire a permitted guide who will outfit your trip and lead your adventure. A list of permitted guides can be found at this link.
Canoe and Kayak Rental Information
Follow the links below to learn about water trails and areas to launch within the park.
Backcountry Canoe & Kayak Trips
For multi-day trips, go to Backcountry Camping

in Florida Bay and the 10,000 Islands or along the 99 mile wilderness waterway require careful planning, but are well worth the experience.
Day Canoe & Kayak Trips
Flamingo's Canoe Trails

:

These trails (located 38 miles south of the main park entrance in homestead) range from beginner to advanced and can be accessed from launch areas in the Flamingo Marina or along the main park road as you approach Flamingo.
Nine Mile Pond: This is a favorite canoe/kayak location easily accessible off the main park road just before you enter the Flamingo district of the park.
Hell's Bay - This is a favorite of those wanting to paddle through the mangroves - a bit buggy during the summer season - otherwise a challenging trail but quite popular. Also accessible off the main park road south of the Homestead Entrance.
Gulf Coast Paddling Guide - This area of the park is on Florida's west coast, accessible through Everglades City.