Threatened and Endangered Species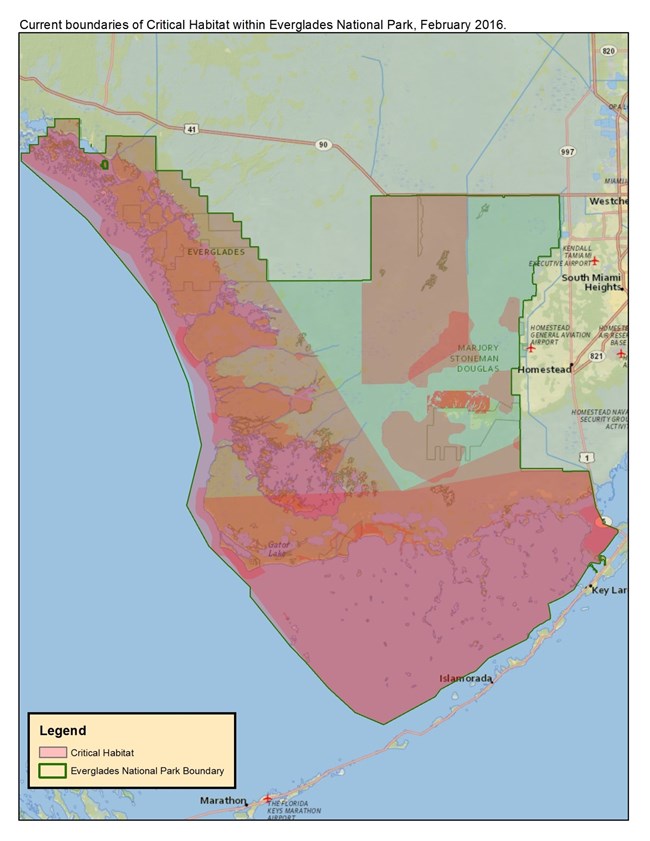 Federally Listed Species and Critical Habitat in Everglades National Park
Thirty-nine native Florida species that may occur in Everglades National Park (EVER) are federally listed as threatened or endangered, or are candidates for listing under the Endangered Species Act of 1973 (ESA) (Table 1). These species include plants (8), invertebrates (6), fish (3), reptiles (9), birds (10), and mammals (3). Seven of these species are currently considered to be extirpated (no longer present) from the park. Two of these listed species, the Cape Sable seaside sparrow and the Florida leafwing butterfly only occur within Everglades National Park and the immediately adjacent lands.

Approximately 180 plant and animal species that occur in EVER are also listed by the State of Florida as threatened, endangered, species of special concern, or commercially exploited (view state-listed animals).
Critical habitat is a legally designated area that is considered to be essential to the conservation of the federally listed species for which it is designated. Not all listed species have associated critical habitat. Critical habitat is currently designated or proposed for 10 of the 39 species that occur in the park, but well more than half of the park is currently designated as critical habitat for one or more listed species (Fig. 1).

Under the Endangered Species Act, Federal agencies are required to consider potential impacts of their actions on listed species and critical habitat (including proposed). Consultation with either the U.S. Fish and Wildlife Service (for terrestrial/freshwater species), or the National Marine Fisheries Service (for marine species) is required if any action may affect listed species or critical habitat, and we routinely conduct consultation with both agencies. Additionally, all federal agencies are supposed to use their authorities to advance the purposes of the Endangered Species Act, which are to improve protections for listed species. Everglades National Park conducts and participates in several such programs, ranging from participation in Everglades Restoration activities, to conducting status surveys for listed species and implementing habitat management in key areas.
Table 1. Federally Listed Species and Designated Critical Habitat in Everglades National Park

Common Name

Scientific Name

Taxonomic group

Federal Status*

Critical Habitat in Park

Cape Sable seaside sparrow

Ammodramus maritimus mirabilis

Birds

E

Yes

Red knot

Calidris canutus ssp. rufa

Birds

T

No

Ivory-billed woodpecker

Campephilus principalis

Birds

E

No

Piping plover

Charadrius melodus

Birds

T

Yes

Kirtland's warbler

Dendroica kirtlandii

Birds

E

No

Wood stork

Mycteria americana

Birds

E

No

Red cockaded
woodpecker

Picoides borealis

Birds

E

No

Everglade snail kite

Rostrhamus sociabilis plumbeus

Birds

E

Yes

Roseate tern

Sterna dougallii dougallii

Birds

T

No

Bachman's warbler

Vermivora bachmanii

Birds

E

No

Smalltooth sawfish

Pristis pectinata

Fish

E

Yes

Largetooth sawfish

Pristis pristis

Fish

E

No

Nassau grouper

Epinephelus striatus

Fish

E

No

Florida leafwing butterfly

Anaea troglodyta floridalis

Invertebrates

E

Yes

Miami-blue butterfly

Cyclargus thomasi bethunebakeri

Invertebrates

E

No

Stock island tree snail

Orthalicus reses

Invertebrates

T

No

Bartram's scrub hairstreak

Strymon acis bartrami

Invertebrates

E

Yes

Ceraunus blue butterfly

Hemiargus ceraunus antibubastus

Invertebrates

T-SA

No

Cassius blue butterfly

Leptotes cassius theonus

Invertebrates

T-SA

No

Florida bonneted bat

Eumops floridanus

Mammals

E

No

Florida panther

Puma concolor coryi

Mammals

E

No

West Indian manatee

Trichecus manatus

Mammals

T

Yes

Blodgett's silverbush

Argythamnia blodgettii

Plants

T

No

Pineland sandmat

Chamaesyce deltoidea ssp. pinetorum

Plants

T

No

Garber's sandmat

Chamaesyce garberi

Plants

T

No

Cape Sable thoroughwort

Chromolaena frustrata

Plants

E

Yes

Florida prairieclover

Dalea carthagenensis var. floridana

Plants

E

No

Twospike crabgrass

Digitaria pauciflora

Plants

T

No

Everglades bully

Sideroxylon reclinatum ssp. austrofloridense

Plants

T

No

Florida bristle fern

Trichomanes floridanum ssp. punctatum

Plants

E

No

American alligator

Alligator mississippiensis

Reptiles

T-SA

No

American crocodile

Crocodylus acutus

Reptiles

T

Yes

Gopher tortoise

Gopherus polyphemus

Reptiles

C

No

Eastern indigo snake

Drymarchon corais cooperi

Reptiles

T

No

Loggerhead sea turtle

Caretta caretta (northwest Atlantic DPS)

Reptiles

T

Yes

Green sea turtle

Chelonia mydas

Reptiles

E

No

Leatherback sea turtle

Dermochelys coriacea

Reptiles

E

No

Hawksbill sea turtle

Eretmochelys imbricata

Reptiles

E

No

Kemp's ridley sea turtle

Lepidochelys kempii

Reptiles

E

No
Federal Status - E=endangered T=threatened C=candidate PE=proposed endangered PT=Proposed threatened T-SA=Threatened due to similarity of appearance. Red highlighting = no recent records in the Park


For additional information on species status, please visit the following pages:
Last updated: April 12, 2021