News Release
Cuyahoga Valley National Park seeks volunteers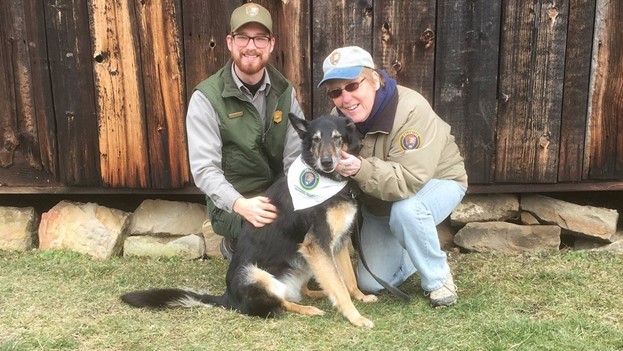 News Release Date:
January 13, 2023
Contact: Pamela Barnes, 440-241-5857
BRECKSVILLE, Ohio – Cuyahoga Valley National Park (CVNP) is hosting a volunteer open house on Sunday, January 29 from 1-4 pm at Happy Days Lodge, located at 500 W. Streetsboro Road (Route 303), Peninsula, OH 44264.

Attendees can find out more about the following open opportunities:
Actor: Assist in presenting programs on Cuyahoga Valley's history. Attendance is required at rehearsals and the productions. 
Citizen Science: Work with park staff to monitor and survey numerous native plant and animal species throughout CVNP.
Community Engagement: Work with park staff in communities surrounding CVNP, with a focus on Cleveland and Akron neighborhoods. Duties include staffing booths and assisting with the presentation of programs that highlight the resources of CVNP.
Cuyahoga Valley Scenic Railroad: Be a part of the iconic events on the railroad. Opportunities exist for train crew: Trainmen, Concessionaires, Servers; Platform Attendants and Guest Ambassadors, Education Program Assistants, Maintenance and Mechanical support. 
Cycling School: Facilitate a biking experience for youth from the Cleveland and Akron areas. Assist with fitting bikes and helmets to youth, accompanying youth on a bike ride along the Ohio & Erie Towpath Trail, and ensuring safety.
Environmental Education Center: Seeking volunteers interested in youth environmental education programming. Assist with junior ranger events and outdoor education programs.
First Ladies National Historic Site: Greet and engage with visitors of the site. Assist with historical interpretation.
Gardner/Landscaper: Tend to the Conservancy's donor garden and keep landscaping at various Conservancy and NPS buildings clean and cared for.
Get Up, Get Out, and Go: Work with park staff to provide recreational opportunities in the park for community groups. Activities include hiking, field games, biking, fishing, and more.
Habitat Restoration: Assist with invasive plant management at park selected sites. Work includes seed collection of native plants under supervision, planting natives, and working in the park greenhouse.
James A. Garfield Historic Site: Greet and engage with visitors of the site. Assist with historical interpretation.  
Park Promoter: Promote CVNP and the Conservancy for CVNP at special events including park concerts and various other community events in Akron and Cleveland. Greet guests, answer questions, engage in conversations about the national park, and invite guests to become more involved.
Paw Patrol:

 

Provide an opportunity for park visitors to learn more about CVNP and the opportunities that canine companions can have along the trails. Through sharing personal experiences, dog-related rules and regulations and general orientation and information, Paw Patrol helps provide a unique visitor experience and an opportunity to contact a well-behaved and trained canine volunteer and their owner.
Rail Rover: Present informal interpretation aboard Cuyahoga Valley Scenic Railroad on regularly scheduled runs. Distribute literature, share animal pelts, and answer questions about the national park.
Special Events Team: Assist with Cuyahoga Valley National Park Concert Series, Conservancy for CVNP programming, and other special events. Help with directing traffic flow in the parking lot, taking tickets, and answering visitor questions.
Trail Maintenance: Assist in building, maintaining and improving the bike, hike, and horse trails in CVNP using hand tools and power equipment.
Trail Mix Art Gallery Attendant: Guide visitors through the gallery and answer questions about the artist and art that is on display.
Trail Mix Shop Greeter: Assist retail staff in the operation of stores by providing excellent customer service, greeting visitors, and providing park information/orientation. 
Visitor Center Assistant - Boston Mill, Canal Exploration Center, Hunt House: Assist rangers with the operation of the visitor center. Greet  visitors, provide information/orientation and complete bookstore sales. Most work will be performed indoors in historic structures.
Wildlife Watcher: Rove at the Wildlife Watcher station and on park trails. Provide informal interpretation about the park resources and general visitor information such as directions.
Contact the volunteer office at volunteer@forcvnp.org or (440) 717-3846, or visit our Volunteers-In-Parks (VIP) page for more information regarding these opportunities.

About the Volunteers-in-Parks (VIP) Program CVNP's VIP program is co-managed by the National Park Service and the Conservancy for Cuyahoga Valley National Park. Together, they accomplish park goals through mutually beneficial volunteer experiences and engage people in the park, building a community of park stewards. Currently, more than 5,000 VIPs donate more than 100,000 hours to provide the highest level of quality services to park visitors and to help protect America's heritage. To join these volunteers in making a difference at CVNP, contact the volunteer office at volunteer@forcvnp.org, (440) 717-3846, or visit www.conservancyforcvnp.org. Many opportunities are available, and training is provided.

CVNP encompasses over 33,000 acres along the Cuyahoga River between Cleveland and Akron, Ohio. Managed by the National Park Service, CVNP combines cultural, historical, recreational, and natural resources in one setting. For more information, visit us at www.nps.gov/cuva on Facebook ,Twitter, or Instagram, or call 440-717-3890.
-NPS-
Last updated: January 18, 2023