Pets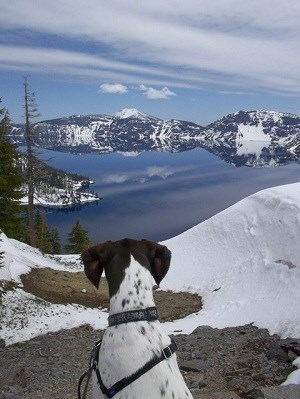 Pets are welcome at Crater Lake National Park, but only in certain areas.

Pets on leash are allowed on paved roads and in parking lots, and up to 50 feet away from paved areas. One great place to walk your dog is along the 1/4-mile paved promenade at Rim Village, where you (and your dog) can get fine views of the lake. You can also walk your dog through the campground at Mazama Village.

Leashes must be no more than 6 feet in length, and only one pet per hiker is allowed. Solid waste must be picked up immediately and disposed of properly (in a trash can or toilet).

Pets are also allowed on a few of the park's hiking trails, although none of these trails have a view of the lake:

- The Godfrey Glen Trail
- The Lady of the Woods Trail
- The Grayback Drive
- The Pacific Crest Trail (the official PCT, not the "alternate" PCT along the rim of the lake)

Pets are not allowed on other park trails or off-trail. They are also not allowed inside park buildings, including Crater Lake Lodge and The Cabins at Mazama Village. Service animals are exempt from these regulations. Service dogs are allowed on park trails and also on boat tours.

You may leave your pet, unattended, inside your vehicle (provided that the conditions inside your vehicle do not pose a threat to the animal's health). You may not leave your pet unattended outside your vehicle, tied to a tree or car. There are no kenneling services in the park. The closest kennels are one hour away in Klamath Falls.
Last updated: January 5, 2021