Scenic Rim Drive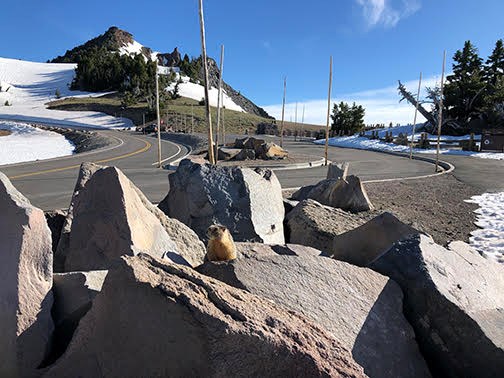 The historic Rim Drive includes 33-miles (53-km) of lake views, panoramic vistas, forests and meadows. The contours of the road were designed to compliment the natural landscape, and disappear from view as you look across the lake from any point.
Along the way there are 30
overlooks
with ample car parking, which provide opportunities to stop for views of the lake and caldera. Rim Drive provides access to five picnic areas, hikes of various difficulty, geologic formations and several waterfalls.
What to Know
Traffic goes both directions on Rim Drive.
Speed limit is 35mph or less
Rim Drive is often shared with bicyclists.
It is narrow, winding, and does not have shoulders.
Access Rim Drive from the north at North Junction, and from Rim Village or Steel Visitor Center. Allow two-hours (including sight-seeing stops) to circumnavigate the lake by car or motorcycle, and longer if you are driving a larger vehicle or
towing
—scroll down for more information. The full loop of Rim Drive (East and West) is typically open from July through October. Partial closures may occur throughout the summer depending on snow removal, rock fall, and special events such as
Ride the Rim
. Changes in road status are found on the
Alerts and Conditions
page.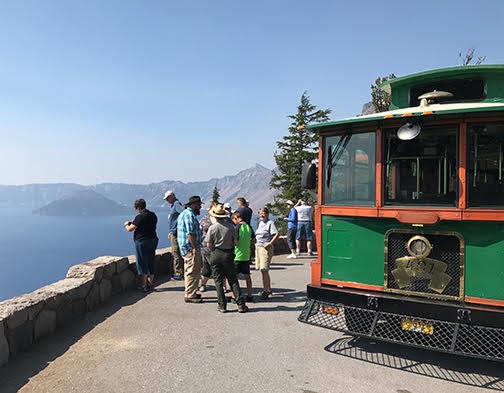 Rim Drive by Trolley
Another way to experience Rim Drive and avoid navigating traffic on your own, is to board a trolley at Rim Village. An experienced trolley captain drives the 33 winding miles around the lake. A park ranger narrates stories about park history and the landscape. Each trolley tour lasts two hours with a minimum of five stops along the way at significant overlooks.

More information is available under Things to Do. Details about trolley tours, including fees and reservations, are available on the concessioner's website, Crater Lake Trolley.
To Tow or Not to Tow
Large recreational vehicles, buses, and vehicles with a tow, are permitted on Rim Drive, but could have difficulty navigating the drive due to these circumstances, especially during high visitation.
Rim Drive is a narrow and winding historic road.
There are tight curves and no shoulders
Severe drop-offs are present on East and West Rim
Abrupt changes in pavement may be present.
Turnabouts are not available.
Fallen rocks sometimes obstruct the road.
Most historic overlooks only accommodate a few car-sized vehicles.

Where to Unhitch or Park
There are RV parking lanes at Rim Village but these are occupied early in the day.

Consider unhitching before driving to the rim. From the south, there is a large parking area at Mazama Village. If this lot is full, there are several long pullouts on the drive between the entrance station and Rim Village where vehicles may be unhitched, locked, and left while visiting the park. Driving north on the North Entrance Road, unhitch in the PCT parking lot if the lot is empty. Beyond the PCT juncture, there are four long pullouts. For easy parking and turn around drive eight miles from the entrance station to the intersection with East Rim Drive. Turn left onto East Rim Drive and in a 1/2 mile or less there is a large spacious pullout on the left.

There are only two large vehicle parking spaces at Steel Visitor Center and unhitching is not permitted. This is a good turnaround point for large vehicles.

Unhitching before approaching Cleetwood Cove is highly advised. There are no designated parking spaces for large vehicles and the turning radius in the parking lot is tight. There may be access for a few large vehicles to park alongside the road in advance of the trailhead.

Unhitch outside the park near the entrance at one of the Oregon Sno-parks. Coming from the west (Medford) is Thousand Springs Sno Park,

6 miles east of OR 230 on OR 62. From the

south (Klamath Falls) is Annie Creek Sno Park

5.5 miles north of Fort Klamath on OR 62.

May through October there is no fee to leave your vehicle at any of the Sno-parks, and you can camp overnight.
From Rim Road to Rim Drive
In 1913, men with horses plowed part of Rim Road, the earliest route around the lake. Crews with hand tools graded other segments, and steam shovels removed boulders. By 1919 park visitors were driving around the lake on a rough, dusty and sometimes-dangerous twelve-foot wide road.

During the 1920's cars got bigger and faster, meanwhile park visitation increased. It became difficult to pass oncoming vehicles without pulling over, or to drive at a steady speed along tight curves and steep grades. Without road barriers, drivers pulled over wherever they could, unintentionally damaging native plants.

In 1931, "designing with nature" was the motivating motto for creating a safer and scenic road circling the lake. Rim Road was widened, paved and renamed Rim Drive. With the addition of speed limits and more-capacity parking areas, Rim Drive continues to protect the landscape and preserve the natural integrity of the surrounding views.
Last updated: June 22, 2022