Scenic Rim Drive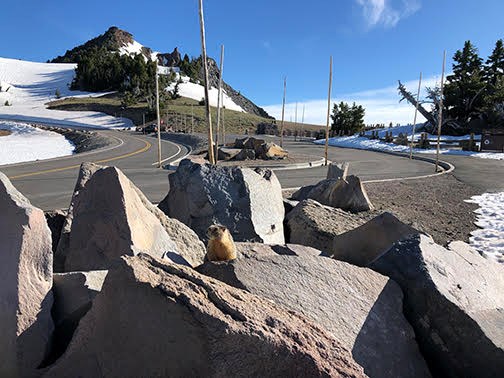 The historic Rim Drive includes 33 miles (53 km) of lake views, panoramic vistas, forests and meadows. The contours of the road were designed to compliment the natural landscape, and disappear from view as you look across the lake from any point.
Along the way there are 30
overlooks
with ample car parking, which provide opportunities to stop for views of the lake and caldera. Rim Drive provides access to five picnic areas, hikes of various difficulty, geologic formations and several waterfalls.
Navigating Rim Drive
Allow a minimum of two hours (including sight-seeing stops) to circumnavigate the lake by car or motorcycle, and longer if you are driving a larger vehicle or
towing
.
Traffic goes both directions on Rim Drive.
Speed limit is 35 mph or less
Rim Drive is often shared with bicyclists.
It is narrow, winding, and does not have shoulders.
The safety link to the right offers tips and recommendations regarding road, weather, and personal safety while traveling around the rim. Another provides specific information for anyone driving an RV or towing. 
An alternative to navigating Rim Drive traffic on your own is to board a trolley at Rim Village. Details about trolley tours, including fees and reservations, are available on the concessioner's website, Crater Lake Trolley.
CLOSURES
With an average snowfall of 41 ft (13.5 m) each year, West and East Rim Drives and North Entrance Road close to automobiles on November 1, or with the first heavy snowfall. The roads reopen in stages beginning in May (depending on snowfall) with West Rim Drive, then North Entrance Road, and finally East Rim Drive. Additionally,
East Rim Drive is closed to motor vehicles on the second and third Saturdays of September for a special event, Ride the Rim.
Partial closures of Rim Drive may occur throughout the summer depending on snow removal, rock fall or other unforeseen circumstances.
Changes in road status are found on the Alerts and Conditions page.
History: From Rim Road to Rim Drive
In 1913, men with horses plowed part of Rim Road, the earliest route around the lake. Crews with hand tools graded other segments, and steam shovels removed boulders. By 1919 park visitors were driving around the lake on a rough, dusty and sometimes-dangerous twelve-foot wide road.

During the 1920's cars got bigger and faster, meanwhile park visitation increased. It became difficult to pass oncoming vehicles without pulling over, or to drive at a steady speed along tight curves and steep grades. Without road barriers, drivers pulled over wherever they could, unintentionally damaging native plants.

In 1931, "designing with nature" was the motivating motto for creating a safer and scenic road circling the lake. Rim Road was widened, paved and renamed Rim Drive. With the addition of speed limits and more-capacity parking areas, Rim Drive continues to protect the landscape and preserve the natural integrity of the surrounding views.
Last updated: August 16, 2023