Backcountry Camping
Getting Started!
Formed by the collapse of an ancient volcano 7,700 years ago, Crater Lake sits high upon the crest of the Cascade Mountain Range. This rugged volcanic landscape is home to many extremes and provides immense possibilities for backcountry wilderness experience.
Crater Lake National Park has over 90 miles of hiking trails that are accessible in the summer months, providing visitors a great way to discover the park. The park receives an average of 43 feet of snow each year, making the winter months challenging. However, if you're prepared, the parks winter trails and unplowed roads provide skiers and snowshoers with access to open slopes, dense forests, and breathtaking views, making Crater Lake ideal for both day-trippers and backcountry visitors.

Come prepared to hike at elevations in changing weather patterns. Park elevations range from around 4,500 feet to almost 9,000 feet above sea level, and depending on the time of year, weather conditions can fo from Sunny and clear to heavy snow in jus a few hours. If you're new to backcountry camping and travel, seek the proper training and advice of an experienced friend or park ranger. Always tell a friend your plans and remember safety is your responsibility.
Backcountry Camping Permits
A Backcountry Camping Permit is required for all over night trips in the backcountry. The free permit is only valid for the dates, locations, and party size specified. Permits are not required for day hiking; however, day hikers must observe all
backcountry regulations
.
All Backcountry Camping Permits must be obtained in person, during business hours, from one of two following locations at Park Headquarters. They are not available over the phone, or more than 1 day in advance.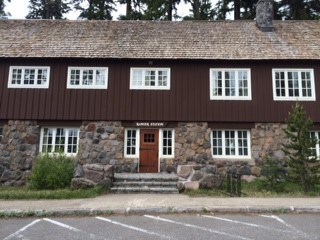 Canfield Ranger Station
June-September: Monday-Sunday, 8 am to 5 pm
October-May: Thursday-Sunday, 8 am to 4:00 pm
Steel Visitor Center
mid- April to mid-May: open daily, 9 am to 5 pm
mid-November to mid-April: open daily, 10 am to 4 pm
Permits are issued free of charge, but you must have a valid park entrance pass ($15 summer/ $10 winter) for the entire length of your trip.
For more information about Backcountry Camping Permits, contact the Backcountry Office by phone at (541) 594-3060 or by
email.
Group Size
Groups larger than 8 people, who wish to travel together, must obtain a
special use permit
at least four to six weeks in advance.
Bicycles, Pets, Horses, and ATVs
Bicycles, pets, and horses are allowed in the park, but only on a few, specific trails. Call (541) 594-3060 for more information. ATVs and other motorized vehicles are not allowed on the park's trails, or off-trails.
Last updated: November 18, 2018