Rim Village Walking Tour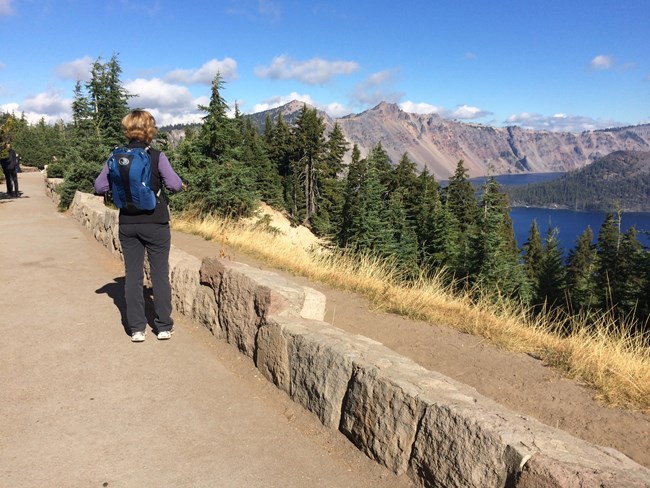 Treat yourself to a self-guided walk
Rim village is an historic district listed in 1997 on the National Register of Historic Places. A native stone parapet wall, with three observation bays outlines the Rim Village Promenade. It skirts the edge of the caldera rim for one third of a mile, and serves as a dog-friendly pedestrian guide through the village.
Nature inspired and art influenced the architectural design of Rim Village. Rustic-style features were created with native stone and logs. Walkways follow natural plantings. Drinking fountains shaped from native boulders once highlighted the promenade—only one remains in working order today.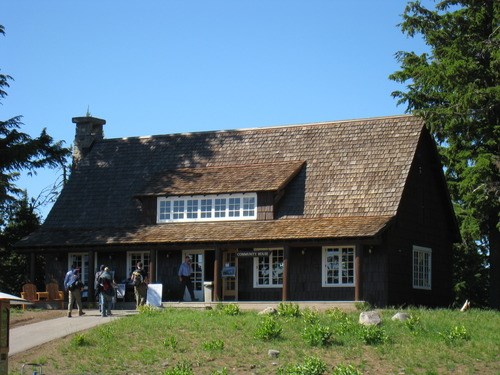 Begin the walking tour
at Kiser Studio, which today is the Rim Visitor Center and the Crater Lake Natural History Association Bookstore. Even though this is in the middle of the promenade, Rangers are available to offer information and insight to the history of Rim Village, and get you started in a direction.


A few points of interest
along the self-guided tour are listed below but don't miss the restrooms, Rim Village Cafe and Gift Shop, or the picnic area which was the first campground in the park.
Fred Kiser built the Kiser Studio in 1921 and expanded it in 1926. His studio offered visitors hand-colored post cards of photographs that he took of Crater Lake.
The Sinnot Memorial Overlook opened in 1931. It was designed as a "trailside" museum. The Sinnot Memorial offers visitors an opportunity to simultaneously learn about the geology of Crater Lake and experience its beauty. Allow time to explore the exhibits, attend a daily ranger program, and contemplate the words on the Sinnot Memorial dedication plaque.
The Community House, built in1924, served as a venue for evening entertainment and ranger programs as the campground and lodge became increasingly popular.
Rim Campground was the first official campground in the park. Poor design and overuse required two periods of reconstruction before it was re-designated as a picnic area in 1975.
Crater Lake Lodge opened in 1915 with annexes added later. Most of the materials used to re-build the current lodge in 1994 are modern. However, the stone masonry and wood frame construction retain the essence and character of the original structure.
Mather Observation Bay honors Stephen T. Mather, the first Director of the National Park Service, who served from 1917 to 1929. His vision and dedication remain the cornerstone of NPS.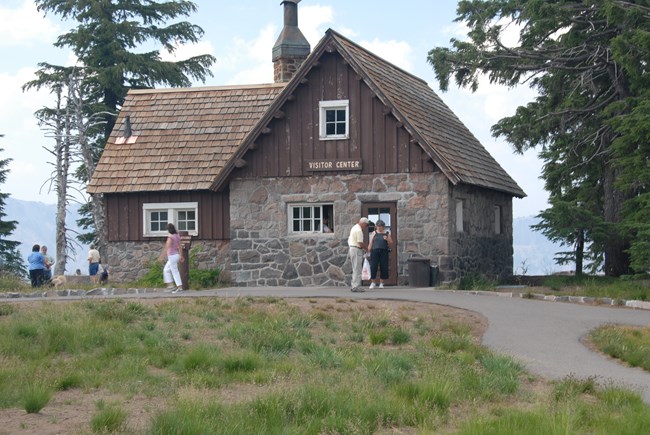 Rim Village was designed to concentrate visitor services in one place, and enhance the visitor experience as described in this article titled:
Rim Village Cultural Landscape
.
Rim Village Historic District Resgistration Form
is a detailed description of the promenade, buildings, native vegetation, and facts which led to the nomination and acceptance of the area into the Natioal Register of Historic Places.
Search
NPGallery
for historic photos.
Last updated: April 25, 2022