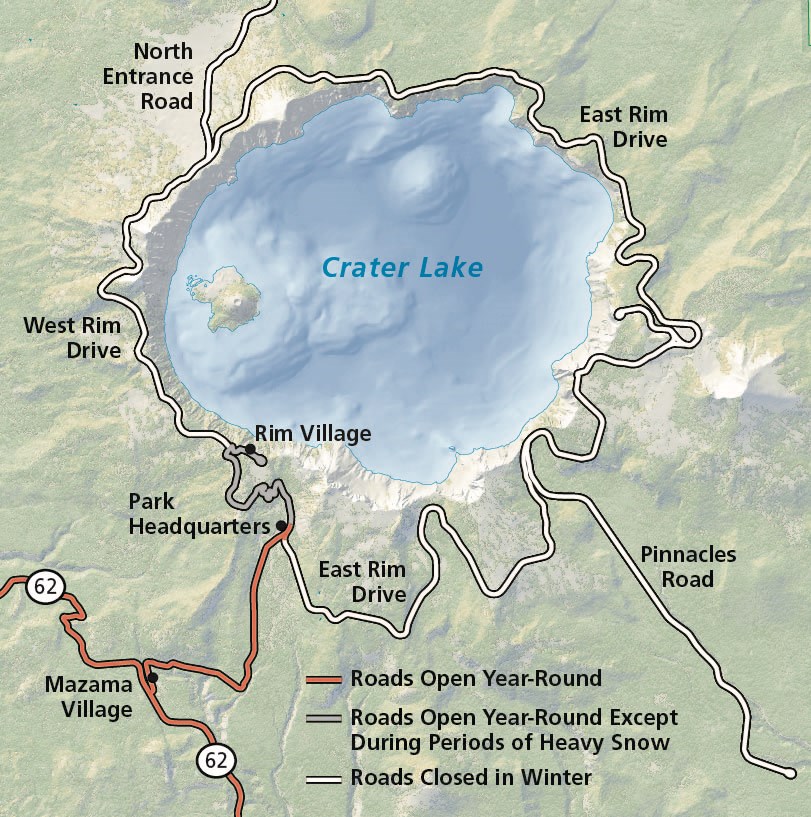 Roads
The park is open 24 hours a day. Winter road closures, however, are now in effect. The North Entrance Road, Rim Drive, and Pinnacles Road are closed to cars for the winter.

Highway 62 is open year-round. You can enter the park through the West Entrance or South Entrance. The 4-mile from Highway 62 to Park Headquarters is also open year-round.

The 3-mile road from Park Headquarters to Rim Village is open most of the winter, but it may be closed for days or weeks at a time during periods of heavy snow.

Park roads can be snow-packed and icy this time of year. Drive slowly, be alert for plows, and carry chains or have traction tires installed on your vehicle. Watch our 4-minute winter driving safety video to learn more.

Weather & Visibility
When skies are clear, excellent views of Crater Lake can be enjoyed at Rim Village. During storms, however, the lake is often obscured by clouds. In November, the lake is completely invisible about 40% of the time. To find out if it's visible right now, view our webcam at Rim Village.

The National Weather Service provides the most accurate weather forecast for the park. For current weather observations (temperature, wind speed, and snow depth at Park Headquarters), visit the website that hosts our weather station data.

Facilities
The Visitor Center at Park Headquarters is open daily 10 am-4 pm (except on December 25).
The Rim Village Cafe & Gift Shop is open daily 10 am-4 pm (except on November 23, December 25, and when the road to Rim Village is closed).
The Rim Village restrooms are open 24 hours (except when the road to Rim Village is closed).

There are no lodges, campgrounds, or gas stations open in the park this time of year. Visit our publications page to download a list of accommodations outside the park. Camping in pullouts and parking lots is prohibited.

Trails
The park's hiking trails are all buried under snow. Snowshoes or cross-country skis are recommended for exploring beyond the plowed roads. For information on the park's winter trail system, download our winter/spring visitor guide. Visit our publications page for information on ski and snowshoe rentals.