Alerts & Conditions
Most roads, trails, and facilities are currently open. However, a few closures and restrictions are in effect.

Roads
All park roads are currently open 24 hours a day.

Boat Tours
Boat tours on Crater Lake will be ending early this year due to a lack of concession staffing. The final day for boat tours will be Tuesday, September 3.

Weather & Visibility
During storms, the lake is sometimes hidden by clouds. In August and early September, the lake is typically invisible about 5% of the time. To find out if it's visible right now, view our webcam at Rim Village. The National Weather Service provides the most accurate weather forecast for the park.

Facilities
Most facilities are fully open. Camping in the park, however, is currently somewhat limited. One loop of Mazama Campground is closed for a hazard tree removal proejct. Visit our publications page to download a list of lodging and camping options outside the park. Camping in pullouts and parking lots is prohibited.

Four backcountry campsites are currently closed. The Dutton Creek and Red Cone campsites are closed because of standing dead trees that could pose a hazard to campers. The Lightning Springs and Bybee Creek campsites are closed because of mountain lion activity. If you have questions about backcountry camping, please call the Backcountry Office at 541-594-3060.

Hiking Trails
The Godfrey Glen Trail is closed due to a damaged bridge. Part of the Castle Crest Trail is closed for the same reason. And a small section of the Discovery Point Trail near Rim Village is closed for construction.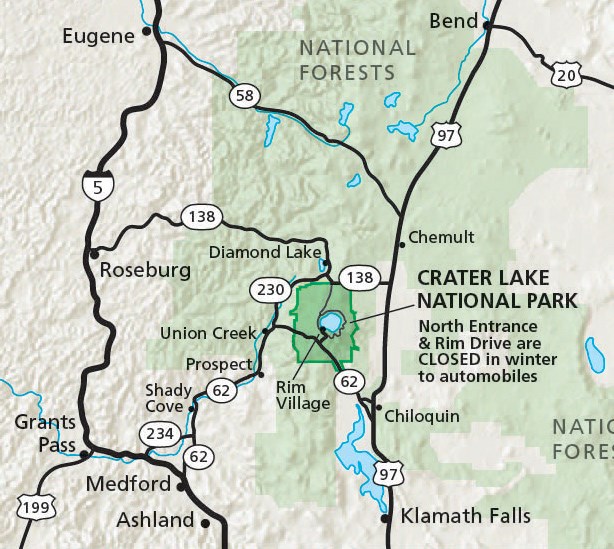 Last updated: August 24, 2019