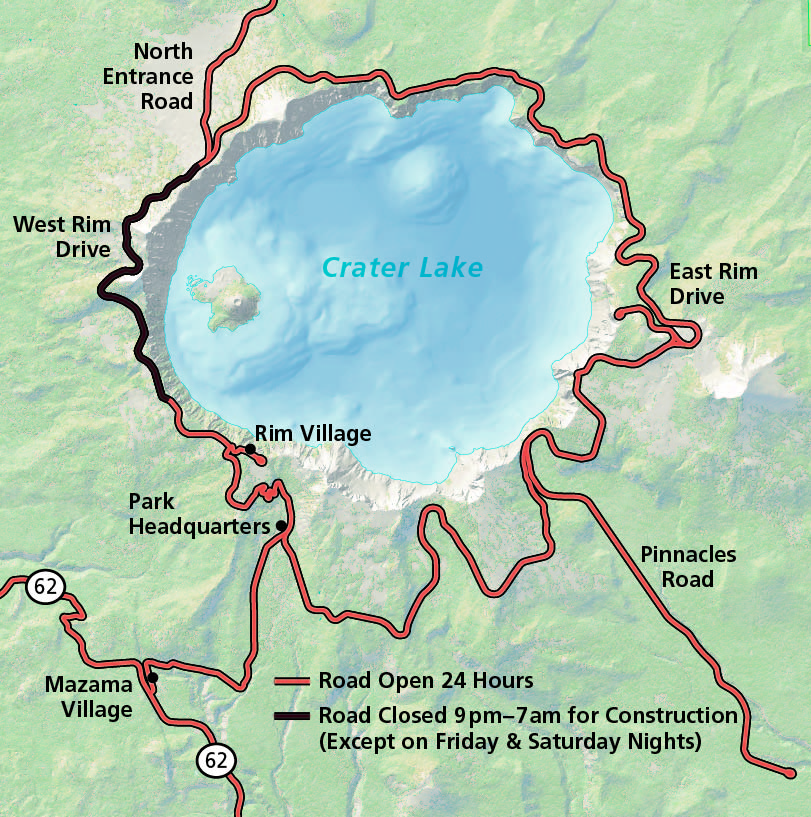 Some roads, trails, and facilities are currently closed.

Roads
Much of the West Rim Drive is currently unpaved and under construction. During the day, expect delays of up to 30 minutes. At night, the road is completely closed between 9 pm and 7 am, except on Friday and Saturday nights. Motorists can take the East Rim Drive instead.

Trails
Some hiking trails are still partly covered by snow. A few are officially closed; others are open, but may be hard to follow. The Watchman Peak Trail is officially closed. It is expected to open in early August. The top third of the Garfield Peak Trail is also closed, probably until early August. And the Annie Creek Trail is closed, likely for the summer. One of the footbridges across Annie Creek is missing.

Facilities
Lost Creek Campground is currently closed. We do not know when it will open for the season. When it does open, there will be no water or flush toilets this year. Campers will need to bring their own water, and use portapotties. The park's main campground, Mazama Campground, is fully open.

Boat Tours
One of the park's tour boats is currently out of service. It was damaged over the winter and is being repaired. As a result, the 9:45 am and 12:45 pm Wizard Island tours are not running. The six standard tours and two Wizard Island shuttles are running as scheduled.

Other roads, trails, and facilities can close temporarily during storms. For example, snow on July 10, 2016 cancelled all boat tours for the day. Before visiting, be sure to check the weather forecast.

Weather & Visibility
The National Weather Service provides the most accurate weather forecast for the park. To find out if the lake is visible right now, view our webcam at Rim Village. For current weather observations (temperature, wind speed, and snow depth at Park Headquarters), visit the website that hosts our weather station data.

.