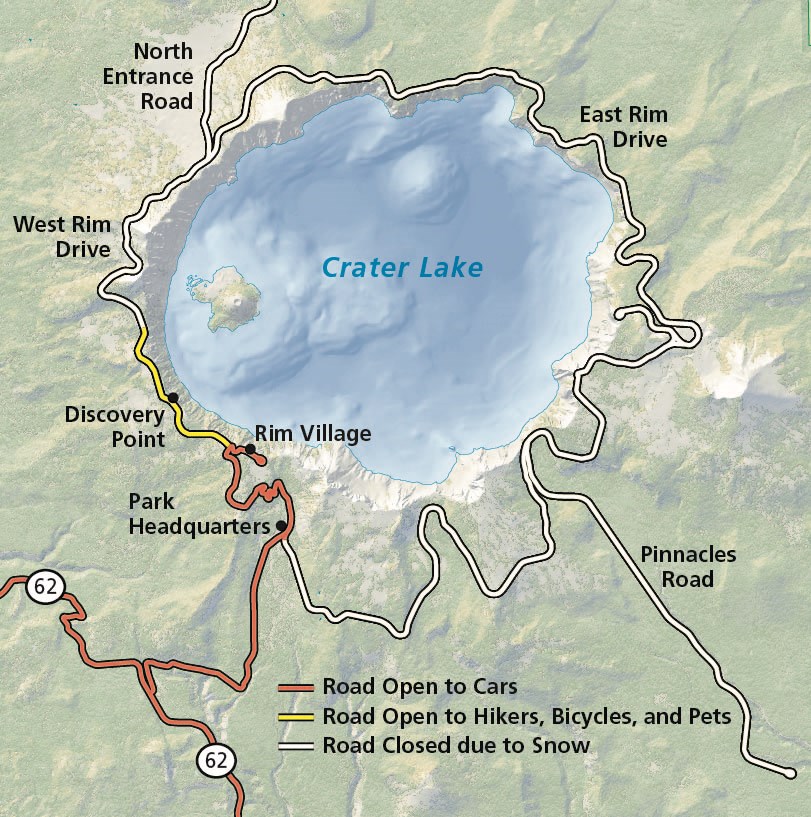 Roads
The park is open 24 hours a day. Winter road closures, however, are still in effect. The North Entrance Road, Rim Drive, and Pinnacles Road are closed to cars due to snow.

Highway 62 is open year-round. You can enter the park through the West Entrance or South Entrance. The 7-mile road from Highway 62 to Rim Village is also open year-round, but the last 3 miles are sometimes closed temporarily during periods of heavy snow.

Park roads can be snow-packed and icy this time of year. Drive slowly, be alert for plows, and carry chains or have traction tires installed on your vehicle.

Weather & Visibility
When skies are clear, excellent views of Crater Lake can be enjoyed at Rim Village. During storms, however, the lake is usually obscured by clouds. In the winter, the lake is completely invisible about 50% of the time. To find out if it's visible right now, view our webcam at Rim Village.

The National Weather Service provides the most accurate weather forecast for the park. For current weather observations (temperature, wind speed, and snow depth at Park Headquarters), visit the website that hosts our weather station data.

Facilities
The Visitor Center at Park Headquarters is open daily 10 am-5 pm.
The Rim Village Cafe & Gift Shop is open daily 10 am-5 pm (except when the road to Rim Village is closed).
The Rim Village restrooms are open 24 hours (except when the road to Rim Village is closed).

There are no lodges, campgrounds, or gas stations open in the park this time of year. Visit our publications page to download a list of accommodations outside the park. Camping in pullouts and parking lots is prohibited.

Trails
The park's hiking trails are all buried under snow. Snowshoes or cross-country skis are recommended for exploring beyond the plowed roads. Rental snowshoes are available at the Rim Village Gift Shop for $16/pair (except when the road to Rim Village is closed). Visit our publications page to download a list of ski and snowshoe rental locations outside the park. For information on the park's winter trail system, download our winter/spring visitor guide.

The best place to walk without snowshoes is along the West Rim Drive. This year, crews began clearing snow from the West Rim Drive on April 1. The road is not yet open to cars, but a short distance (approximately 2.5 miles) has been plowed. Hikers, bicyclists, and pets on leash are allowed past the gate. For your safety, keep clear of snow plows.

Pets
Pets on a leash are allowed in the park, provided they stay within 50 feet of plowed roads and parking lots. They are also allowed on the Pacific Crest Ski Trail, but not on other trails, or off-trail. Pets are not allowed in park buildings.

Guided Snowshoe Walks
Ranger-guided snowshoe walks are offered on Saturdays, Sundays, and holidays through April 29. They start at 1 pm, last two hours, and cover 1-2 miles of moderate-to-strenuous terrain. There is no cost for the tour, and snowshoes are provided free of charge. Participants should be at least 8 years old and come prepared with warm clothing and water-resistant footwear. Space on each tour is limited. For more information and to sign up, call 541-594-3100.