Alerts & Conditions
Roads
The park is open 24 hours a day. However, the Pinnacles Road and part of the East Rim Drive have not yet opened to motor vehicles for the summer (see the map below). They are open to hiking, bicycling, and pets on leash. Crews have finished removing snow, but are now working to repair potholes and winter road damage.

Hiking
Some trails are currently closed. Watchman Peak and the top 1/4 of Garfield Peak are closed due to hazardous conditions caused by lingering snow. Godfrey Glen is closed for trail maintenance. The Cleetwood Cove Trail will be open on July 3, 4, and 5, but will likely be closed the week of July 6 for trail maintenance. Plaikni Falls, the Pinnacles Trail, and Mount Scott are open but are hard to access due to road closures. Right now, the best trails for lake views are Discovery Point, Sun Notch, and the first 3/4 of Garfield Peak. The best trails for wildflowers are Castle Crest and Annie Creek Canyon. Other open trails include Lady of the Woods, Crater Peak, Union Peak, and Boundary Springs.

Restrooms
Restrooms at Rim Village and Mazama Campground are open 24 hours. Vault toilets are open 24 hours at the North Entrance, Watchman Overlook, the top of the Cleetwood Cove Trail, and the Vidae Falls Picnic Area.

Drinking Water
There's a bottle filling station outside the Mazama Village Store. At Rim Village, water from the restroom sinks is safe to drink. You can buy bottled water at the Rim Cafe, Mazama Store, and Annie Creek Restaurant.

Visitor Centers
With public health in mind, both park visitor centers are closed. For information, call 541-594-3100. For emergencies, dial 911. Cell service in the park is spotty, but you might get reception on the Rim Drive. This summer, the park's nonprofit bookstore is being operated out of the Community House at Rim Village (9 am–5 pm daily). Passport stamps are available there and at the Post Office at Park Headquarters.

Ranger Programs
Following guidance from public health authorities, no ranger programs are being offered this summer, including boat tours. Junior Ranger activity books are available 24 hours at Park Headquarters and the Community House at Rim Village.

Post Office
A US Post Office window is open 9 am–2 pm, Monday through Saturday, at the Visitor Center at Park Headquarters.

Food & Gifts
The Rim Village Cafe & Gift Shop is open daily 10 am–6 pm. It serves sandwiches, chili, salads, and snacks. At Mazama Village, the Annie Creek Restaurant & Gift Shop is open daily for breakfast (7:30 am–9:30 am), lunch (11 am–2 pm), and dinner (5:30 pm–8:30 pm). It serves burgers, pizza, and other entrees. Nearby, the Mazama Village Store sells snacks, groceries, and camping supplies. It's open daily 11 am–7 pm. Crater Lake Lodge, at Rim Village, also serves meals, but is currently open to Lodge guests only.

Lodging & Camping
Lodging is available at Crater Lake Lodge and the Mazama Village Cabins. Camping is available at Mazama Campground. For all three, reservations are highly recommended well in advance. Call 866-292-6720 or book online. Lost Creek Campground is not open at this time. Camping in the park's pullouts and parking lots is prohibited. Visit our publications page to download a list of lodging and camping options outside the park.

Backpacking
Camping is allowed for backpackers who travel at least 1 mile from their car. A free backcountry permit is required for overnight trips, available 8 am–4:30 pm at the Ranger Station at Park Headquarters.

Gasoline
Self-serve, unleaded gasoline is available 11 am–7 pm daily at the Mazama Village Store.

Weather
The National Weather Service provides the most accurate weather forecast for the park. At Park Headquarters, rangers have been recording weather data since 1931. Observations are made each morning at 8 am and uploaded to the National Weather Service. To find out yesterday's high and low temperatures, rain and snow totals, and current snow depth, view the "daily almanac" for "Crater Lake NPS."

Pets
Pets are welcome in the park, but only in certain areas. Pets on leash are allowed in picnic areas, campgrounds, and parking lots, and on the paved sidewalks at Rim Village. They are also allowed on several trails: the Lady of the Woods Trail, Grayback Drive, and the Pacific Crest Trail. They are not allowed inside buildings.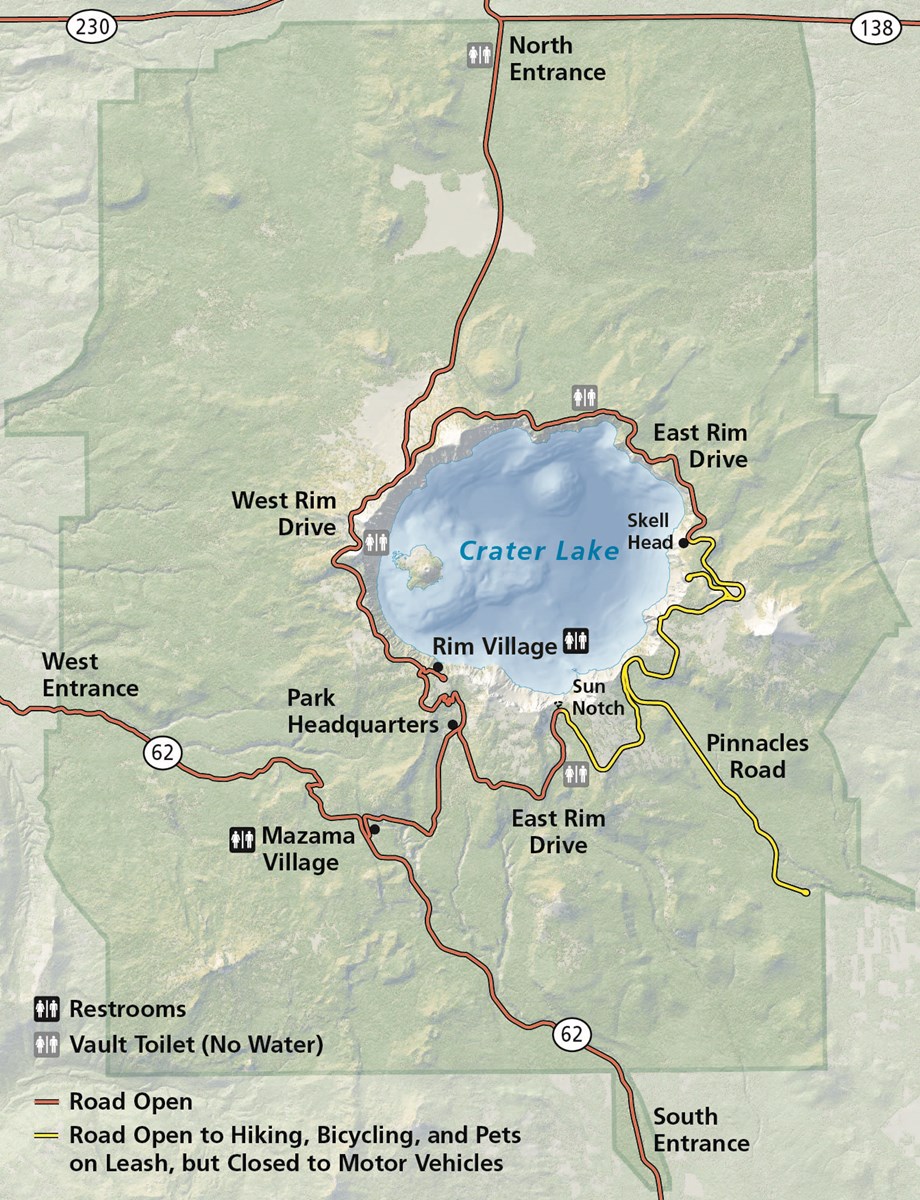 Last updated: July 3, 2020