Alerts & Conditions
Planning to visit soon? This webpage describes what is open and closed in the park right now. Other pages on our website may not reflect current COVID-related closures and restrictions, so this is the best page to read. After reading this page, feel free to call us at 541-594-3100 if you have any questions. The park's visitor centers are closed, but we are usually reachable by phone 9 am–5 pm daily.

Hours of Operation
The park is open 24 hours a day. You can arrive at any time. No reservations are needed to enter the park.

Entrance Fee
From May 22 through October 31, the entrance fee for most vehicles is $30. From November 1 through May 21, the standard fee is $20.

Roads
Some winter road closures are now in effect. The East Rim Drive and Pinnacles Road are closed to motor vehicles for the winter. The North Entrance Road and West Rim Drive are also currently closed due to hazardous conditions caused by snow and ice. Weather permitting, they may reopen sometime this week, but they will definitely be closing for the season on the evening of October 31. Highway 62 and the road to Rim Village are open, unless indicated otherwise in an alert at the top of this page. See the maps below. Learn more about seasonal road closures here. Find directions to the park here.

Park roads can be snow-packed and icy this time of year. Drive slowly, carry chains if you have them, and be alert for plows. The Annie Spring Entrance Station webcam can help you see what current road conditions are like. Visit TripCheck for road conditions and highway webcams outside the park. Learn more about winter driving safety here.

Lake Viewing
Weather permitting, you can enjoy spectacular views of Crater Lake at Rim Village. When it's raining or snowing, however, the lake is usually hidden by clouds. In October, the lake is typically invisible about 25% of the time.

Weather
The National Weather Service provides the most accurate weather forecast for the park. To find out the average high and low temperatures and average snowfall totals for each month of the year, consult the park's climate chart.

Food & Gifts
The Rim Village Café & Gift Shop sells grab-and-go sandwiches, salads, snacks, and souvenirs. It's open 10 am–5 pm daily, unless the road to Rim Village is closed.

Restrooms & Drinking Water
Restrooms at Rim Village are open 24 hours. To find them, drive past the Rim Village Café & Gift Shop and look for the small building with "snow tunnel" entrances. Water from the restroom sinks is safe to drink. Bottled water is available for purchase at the Rim Village Café & Gift Shop.

Lodging & Camping
The park's lodges and campgrounds are closed for the winter. To make reservations for next year, call 866-292-6720 or book online. Visit our Lodging & Camping page for a list of options outside the park. The closest places for overnight parking and camping are the Annie Creek Sno-Park (0.5 miles south of the park on Highway 62) and the Thousand Springs Sno-Park (2.4 miles west of the park on Highway 62). Camping in all Oregon Sno-Parks is free of charge through the end of October. Camping in the park's pullouts and parking lots is prohibited. Overnight parking is allowed only for people who are backpacking in the park (see below).

Visitor Centers & Ranger Programs
Both park visitor centers are currently closed, and no ranger programs are being offered. Junior Ranger activity books are available outside the visitor centers at Rim Village and Park Headquarters. You can also download a Junior Ranger activity book from home. Souvenir passport stamps are currently available at the Post Office during business hours (see below). Alternately, you can print your own passport stamp and paste it into your passport book.

Trails
Hiking opportunities are somewhat limited right now due to road closures. Also, hiking trails in the park are currently covered by several inches to a foot of snow. They may be hard to follow and potentially hazardous. Please keep back from cliff edges. A knowledge of winter hazards is recommended.

Backpacking
A free permit is required for overnight hikes, available 8 am–4 pm daily at the Ranger Station at Park Headquarters. Campsites must be at least 1 mile from the nearest road that is open to motor vehicles and not visible from any road or trail. If you have any questions about backpacking in the park, feel free to call 541-594-3060 to discuss your trip with a ranger. Read more about backcountry camping here.

Gasoline
The park's gas station is closed for the winter. A charging station for electric vehicles can be found 100 yards south of the fee booth, but it may not be accessible during periods of heavy snow accumulation. West of the park, the closest place to find gas is the Prospect Service Station, 29 miles from the park's fee booth on Mill Creek Drive. Gas and diesel are available 8 am–8 pm daily. South of the park, the closest place to find gas is the Crater Lake Junction Travel Center, 30 miles from the fee booth on Highway 97. Gas and diesel are available 24 hours.

Pets
Pets on leash are welcome in the park, but only in certain areas. They are allowed on paved surfaces (such as the sidewalks at Rim Village), in parking lots and picnic areas, and on several trails (which may currently be snow covered): the Godfrey Glen Trail, Lady of the Woods Trail, and Pacific Crest Trail. They are not allowed elsewhere, or inside buildings.

Post Office
A US Post Office window is open 9 am–12 pm & 1 pm–3 pm (except on Sundays and holidays) outside the Visitor Center at Park Headquarters.

Lost & Found
Call the park's Ranger Station at 541-594-3060.

Phone & Internet
Dial 911 to report any emergency, 24 hours a day. Cell reception in the park is spotty, but an emergency landline can be found outside the "snow tunnel" entrance to the Administration Building at Park Headquarters, adjacent to the Visitor Center. Free public WiFi is available at the Rim Village Café & Gift Shop.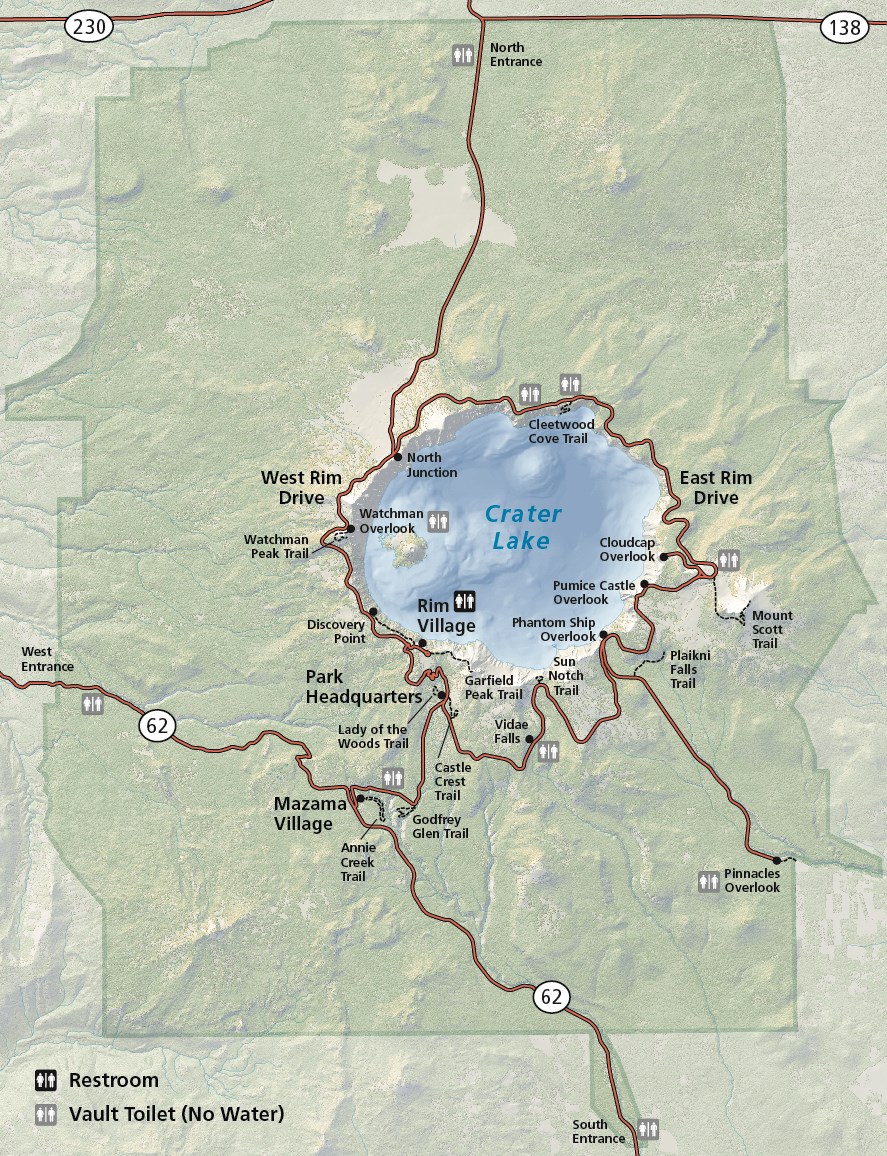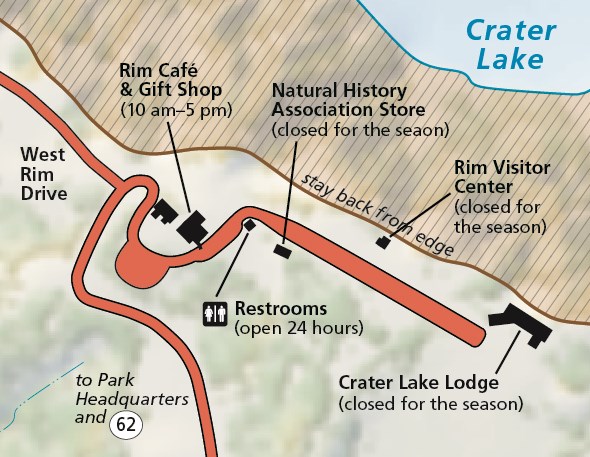 Last updated: October 24, 2021