Buffalo Soldiers in the National Parks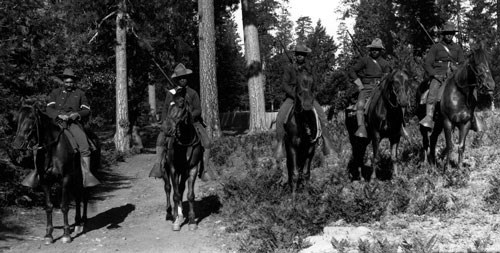 From the wild Alaskan wilderness, to the lava-flowing fields of Hawaii, to the giant sequoias of northern California, the legacy and story of the Buffalo Soldiers extends well beyond the dusty plains of the western frontier. Since the inception of the segregated Army units of African American soldiers in 1866, the Buffalo Soldiers served in various parts of the United States in various roles. Their myriad duties included protecting travelers in the desert southwest, bringing law and order to the gold rush region of Alaska and fulfilling the roles of the first park rangers in the country's national parks. Many of these duties were carried out in places that are now commemorated as National Park Service sites.

Althought the story of the Buffalo Soldiers officially ended in 1951 when the Army desegregated, their legacy lives on in the parks that bear their history. Here, we present some of these rich stories from various national parks that are rooted in the Buffalo Soldiers lore. Scroll down to discover these amazing stories and read about the national parks that these men cemented their legacy in.
Stories of the Buffalo Soldiers
More National Park Service Sites with Buffalo Soldiers History
Click to visit these additional National Park Service sites that have a Buffalo Soldiers history and see what each has to offer, virtually or in person.
Last updated: November 24, 2021