History of the 10th Cavalry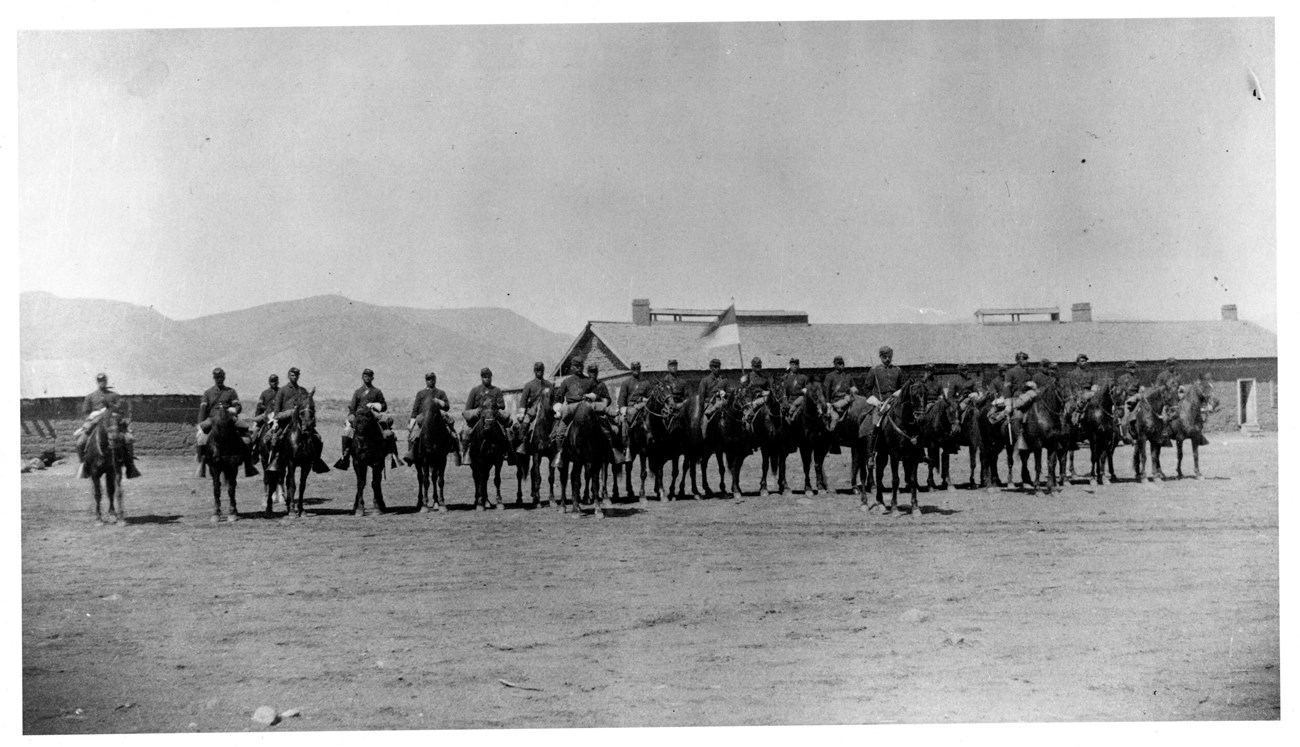 African American soldiers have served the United States since the Revolutionary War. During the Civil War, many escaped or emancipated slaves fought for the Union, as well as many free black men. In the Confederate States of America, slaves were sometimes forced to fight for the South. After the Civil War ended in 1865, Congress authorized six all-black Army units in 1866: two cavalry troops and four infantry regiments. The four infantry units (38th, 39th, 40th, and 41st Infantry) were later consolidated into the 24th and 25th Infantry. Men who joined the 9th and 10th Cavalry or the 24th and 25th Infantry had an opportunity for equal pay to their white counterparts, as well as adventure. Many black men fought in the Civil War, and continued their military career after Congress established the all-black units. Troops E, H, and I of the 10th Cavalry each spent a few months in southeast Arizona, and many of the same men later fought in Cuba and the Philippines, during the Spanish American War.

The term "Buffalo Soldier" has a few different origin stories. Two involve the 10th Cavalry and the Comanches they were fighting. Supposedly the Comanches called the black soldiers "Buffalo Soldiers" because the soldiers were able to march tirelessly and fearlessly across the Plains, just like the herds of bison (also known as buffalo). The name might have come from Comanches who thought the soldiers' hair resembled buffalo fur. Another origin story is that the soldiers wore buffalo hide coats in the winter to keep warm, and were thus named "Buffalo Soldiers." Originally the moniker only applied to the 10th Cavalry, then it expanded to include the 9th Cavalry, and later it also encompassed the 24th and 25th Infantry, so all the black units were eventually labeled "Buffalo Soldier." The US Army became desegregated after World War II in 1948.


If black enlisted men were literate, they could reach the rank of First Sergeant, but no higher. The US Army did not have a commanding black officer until 1877 when Henry Ossian Flipper graduated from the United States Military Academy at West Point and attained the rank of Second Lieutenant. If soldiers were not able to read and write, they could take classes from the Army chaplain, who provided some basic education as well as spiritual guidance.

Not only did soldiers have opportunities for education and equal pay, they also were able to explore vast areas out west, and later around the world. Soldiers in Troops E, H, and I who continued their military careers were able to travel the world.

Trace the fascinating history of Buffalo Soldiers throughout the United States and the world!

Last updated: August 19, 2018