History & Culture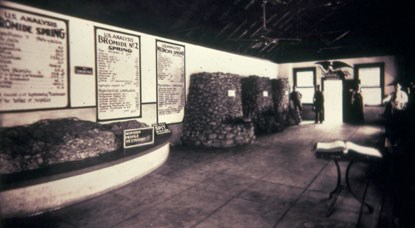 Tradition touches the present at Chickasaw National Recreation Area. People park their cars and pursue the same diversions people enjoyed at the turn of the Twentieth Century— after parking their buggy or getting off the train.
Tents have evolved from simple white cottons and poplins to domes sewn of bright, lightweight nylons, but the tents are still pitched by families seeking a week of fun and relaxation in shaded woodlands threaded by clear-running streams and dotted with mineral and freshwater springs. Horse-drawn buggies were traded for automobiles. Quaint old cars and campers foreshadowed today's RVs in the campgrounds by the Lake of the Arbuckles.
First Native Americans, and then early settlers of the surrounding plains, sought recreation here. Summer weekends still find family reunions picnicking at favorite spots. Some have returned every year for more than half a century.
For over one hundred years the park has been a refuge for outdoor tradition; a protected niche of parkland where styles may change, but where recreation remains a relaxing way of life.


Last updated: March 20, 2022