Creating the Park: 1902-1910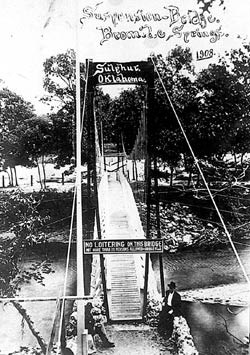 The reservation officially opened to the public on April 29, 1904 and within two years, on June 29, 1906, was renamed Platt National Park. During these early years, overall park development was slow and complicated by a general lack of funds and the complicated process of purchasing and relocating the community of Sulphur outside the new park's boundaries.
The reason for Platt National Park's quick and early popularity was simple. First, it was a popular destination before it became a national Park. Second, it was the only National Park for hundreds of miles around. During the summer, in an otherwise hot and dry, barren prairie the park was a unique collection of mineral and fresh water springs with cool creeks hidden in shady valleys. While lacking great size or grandeur, Platt National Park offered a place of cool water and shade for the entire family to relax.
Last updated: September 3, 2016