The Early Years: 1902-1932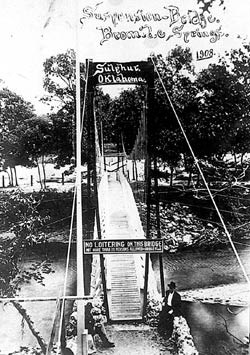 In 1902 the Federal Government purchased 33 mineral springs near Sulphur, Oklahoma Territory, from the Choctaw and Chickasaw nations to create the Sulphur Springs Reservation, also under Interior's jurisdiction. Established by Congress in 1902, the reservation officially opened to the public on April 29, 1904. On June 29, 1906, it was renamed Platt National Park in honor of the recently deceased Senator Orville H. Platt of Connecticut, who has helped establish the area four years earlier.

The town of Sulphur Springs, Indian Territory, had been built in the immediate area around the springs on tribal land. Improvements such as buildings were purchased by the federal government. Many residents relocated buildings outside of the new reservation boundaries. Most remaining buildings were dismantled by the government. Only one original building from the original town remains, a stone building used as park headquarters for almost a century and now used as the Platt Ranger Station.

During these early years, overall park development was slow and hampered by a general lack of funds and the complicated process of relocating the community of Sulphur Springs outside the new park's boundaries.

The reason for Platt National Park's quick and early popularity was simple. First, it was already a destination before it became a national park. Second, it was the only national park for hundreds of miles around. During the summer, in an otherwise hot and dry area, the park was a unique collection of mineral and fresh water springs with cool creeks hidden in shady draws. While lacking great size or grandeur, Platt National Park offered a place of cool water and shade for the entire family to relax.

The first major structure to be built in the new park was Lincoln Bridge in 1909.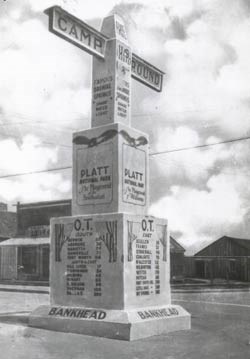 The 1910s and 20s were the first golden age for Platt National Park, as the park slowly evolved as a facility and visitors continued to come for the cool and 'health-giving' waters. The community of Sulphur also grew, and the park and town were in many respects inseparable during this time as Platt National Park became known as "the playground of the southwest." Major improvements included many plumbed restroom buildings and improvements to the road system, though these restrooms have been replaced and the original roads have been rerouted in the time since. Improvements still in place include the community buildings at Cold Springs and Bromide (brown clapboard sided buildings currently used as park offices), the concrete retaining dam at Panther Falls, and the pavilion at Black Sulphur Springs.
Last updated: December 7, 2021