Who was Platt?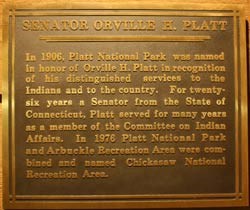 One of the more unusual features of Platt National Park was that the park name memorialized a person not directly tied to the place. Visitors often ask, "Who was Platt and why did he get a park named for him?"
During Senator Platt's final years in the United States Senate, he was actively involved in Indian Affairs and the work of the Dawes Commission. It was Senator Platt who sponsored the original legislation to establish the park as the Sulphur Springs Reservation in 1902. His work to keep the mineral springs found here accessible to all Americans was honored by Congress in 1906 when they directed that the Sulphur Springs Reservation be redesignated Platt National Park.
---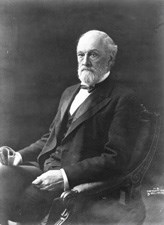 Orville Hitchcock Platt (July 19, 1827 - April 21, 1905) was a United States Senator from Connecticut. Born in Washington, Connecticut, he studied law in Litchfield, and was admitted to the bar in 1850, commencing practice in Towanda, Pennsylvania. He moved to Meriden, Connecticut in 1850 and continued to practice law.
He served in various positions in the Connecticut state government between 1855-1857 and was a member of the State senate in 1861 and 1862, and a member of the Connecticut House of Representatives in 1864 and 1869. Platt was state's attorney for New Haven County, 1877 to 1879, and was elected as a Republican to the U.S. Senate in 1879. He served in the Senate from March 4, 1879, until his death, for many years as a member of the Committee on Indian Affairs.
Platt died on April 21, 1905, aged 77, in Meriden, and was interred in Washington, Connecticut in the Cemetery on the Green.
Last updated: September 3, 2016