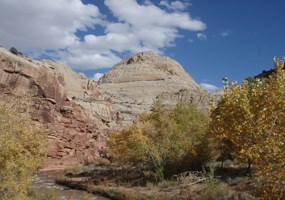 CAPITOL REEF
The most scenic portion of the Waterpocket Fold, found near the Fremont River, is known as Capitol Reef: capitol for the white domes of Navajo Sandstone that resemble capitol building domes, and reef for the rocky cliffs which are a barrier to travel, like a coral reef.
Nearly 10,000 feet of sedimentary strata are found in the Capitol Reef area. These rocks range in age from Permian (as old as 270 million years old) to Cretaceous (as young as 80 million years old.) The Waterpocket Fold has tilted this geologic layer cake down to the east. The older rocks are found in the western part of the park, and the younger rocks are found near the east boundary.
This layer upon layer sequence of sedimentary rock records nearly 200 million years of geologic history. Rock layers in Capitol Reef reveal ancient environments as varied as rivers and swamps (Chinle Formation), Sahara-like deserts (Navajo Sandstone), and shallow oceans (Mancos Shale).