People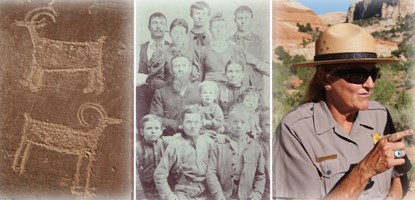 A geological palette of sedimentary and igneous textures creates the colorful canyons, ridges, buttes, and monoliths of Capitol Reef National Park. This area has been a homeland to people for thousands of years.

From 7,000 - 500 B.C.E., Archaic hunters and gatherers migrated through the canyons hunting game that is common now (bighorn sheep, deer, elk, pronghorn).

From 300 - 1300 C.E., the Fremont Culture began farming corn, beans, and squash. Petroglyphs etched in rock walls and painted pictographs remain as sacred remnants of the ancient Indians' saga.

For hundreds of years, ethnohistoric nomadic groups such as the Ute, Paiute, and Navajo inhabited the area seasonally. Today, thirty-two tribes have an ongoing association with Capitol Reef through current and/or historical traditional uses.

Beginning in 1854, several groups of explorers and surveyors made their way through the area that would become Capitol Reef and the surrounding areas.

Pioneers and other settlers arrived in the 1800s, settling in what is now the Fruita Rural Historic District. They planted and nurtured orchards of apples, pears, and peaches.

In 1937, Capitol Reef was established as a National Monument and a new chapter began in the history of Capitol Reef with the park founders.

Throughout, women have played an important role in the story of Capitol Reef.

Learn more about the people that shaped Capitol Reef by beginning a timeline tour here.
Last updated: April 25, 2019