Trip Suggestions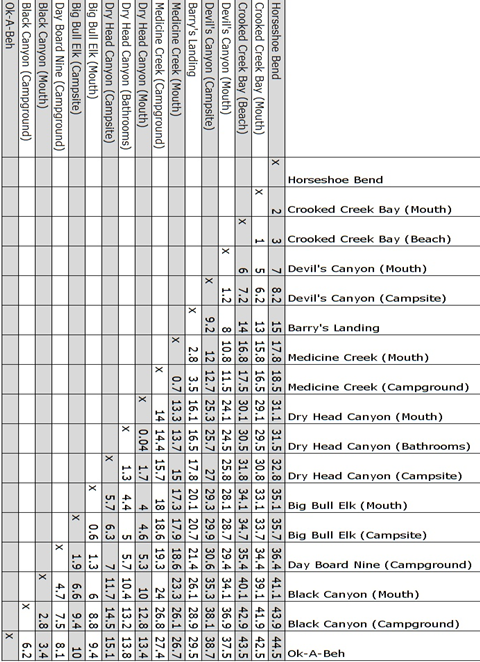 There are a number of options for taking single and multiple day trips. The typical paddler should not attempt more than 12-14 miles per day and most will have a more enjoyable experience at 6-8 miles per day.
South End
Horseshoe Bend to Crooked Creek: 4-6 Miles Round-trip
Launch at Horseshoe Bend and Paddle to the end of Crooked Creek Bay and back. This trip travels through both wide open areas and narrow sections with tall steep canyon walls. With two cars this can also be done as a four mile one way paddle.
Barry's Landing to Medicine Creek: 6-7 Miles Round-trip
Launch at Barry's Landing and paddle to the Medicine Creek Campground and back. This trip goes all the way around Barry's Island with even higher canyon walls than the Horseshoe Bend to Crooked Creek Option. There is no way to get a car into Medicine Creek so this must be done as a round trip. It is only a 1.5 mile hike from the dock and bathroom at Medicine Creek to the top of Barry's Island which provides beautiful vistas of the entire area.
This trip travels past the base of Devil Canyon Overlook where the cliffs reach heights over 1000 feet, blotting out the sun and effectively conveying the size and grandeur of Bighorn Canyon. It can be started from Barry's Landing or Horseshoe Bend and can be done as a loop to the Devil Canyon Campsite and back or as a one way trip with two cars. This shuttle will take about an hour and a half to set up. It is best to start from Horseshoe Bend on a one way adventure so as to travel with the flow rather than against.
North End
Ok-A-Beh to Black Canyon: 12-13 Miles Round-trip
The canyon walls on the North end of the lake are not as steep, but they are much more lush and green. The lake itself is quite wide in this section so it is best to travel near the shoreline to lessen the effects of wind and motorized traffic. The turnaround spot for this trip is the beautiful Black Canyon Campground. This trip must be done as a round trip.

Five Day Grand Tour of the North End
35-38 Miles Round-trip
This is the ultimate non-motorized Bighorn Lake adventure visiting all four of the boat-in only campsites on the North End. It features the right daily mileage to get a good workout and fill most of the day without overwhelming the average paddler. Every day starts at, ends at, or passes by a restroom. The first two days end at campgrounds with bear boxes making it easier to fit all food inside a bear canister when it becomes necessary on the third night.
Day One 6-6.5 Miles
Ok-A-Beh to
Black Canyon Campground
Day Two 7.5-8 Miles
Black Canyon Campground
to
Day Board 9
Day Three 7-7.5 Miles
Day Board 9
to
Dry Head Canyon Campsite
Day Four 5.5-6 Miles
Dry Head Canyon Campsite
to
Big Bull Creek Campsite
Day Five 9-10 Miles
Big Bull Creek Campsite
to Ok-A-Beh
Additional Information
Last updated: February 10, 2020