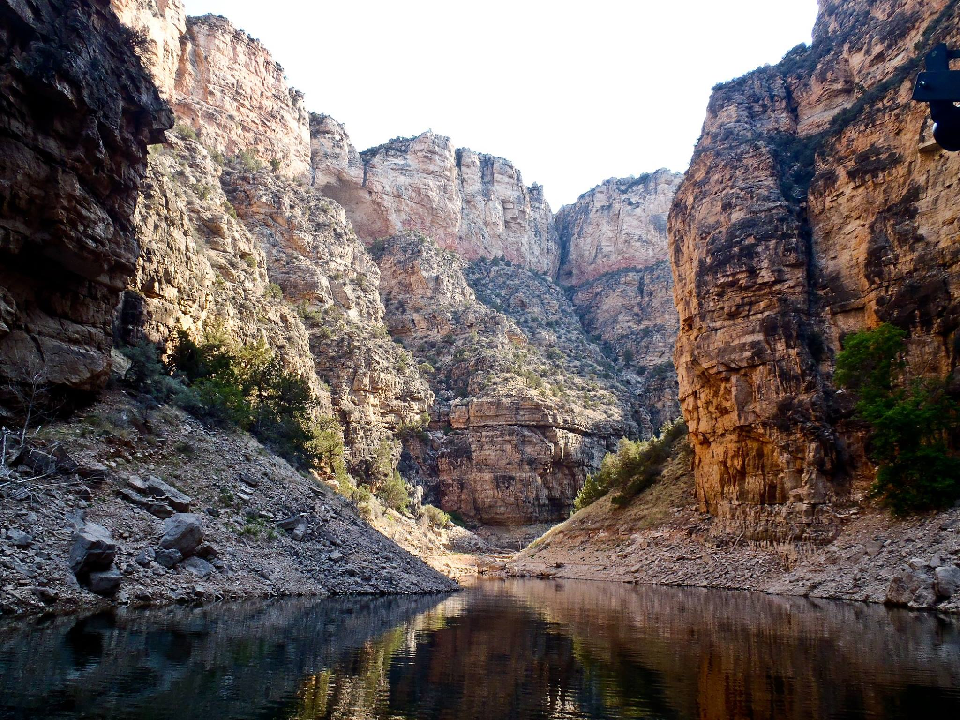 There Are No National Park Service shuttles!
The only way to avoid doing a loop is to use two vehicles to create a shuttle, parking one car at the put-in and one at the take-out. Paddling the entire length of the river requires leaving one car at the North end in Montana and driving three hours to the south end to put in. There is no road through the park from the South end to the North end. There are no NPS shuttles between the North and South end and there are no shuttles that run back and forth within the park. Hitchhiking back will not work and should not be attempted. Having an exit strategy is key to an enjoyable excursion.
There is a current on the river, but it is barely noticeable on a wind free day. The wind affects surface current by either increasing the natural south to north flow or in some cases reversing it. Currents may exceed 10mph if the wind is blowing hard and may switch direction mid-day. It is important to watch fatigue levels of all group members and to turn back accordingly. Assuming that the second half of the day will be with the current can lead to dangerous situations in which over-fatigued paddlers are forced to fight headwinds to return to shore.
The shoreline of Bighorn Lake changes dramatically as the water level changes. It is imperative to check the current lake level before departure. Lake levels can be checked on the park website. There are lake levels listed with the pullouts and campsites to help with trip planning.
Trespass
The Crow Indian Reservation surrounds most of the northern end of the Recreation Area and is closed to all public use. Within the Recreation Area, lakeshore camping is permitted up to full pool plus 30 elevational feet unless otherwise posted.